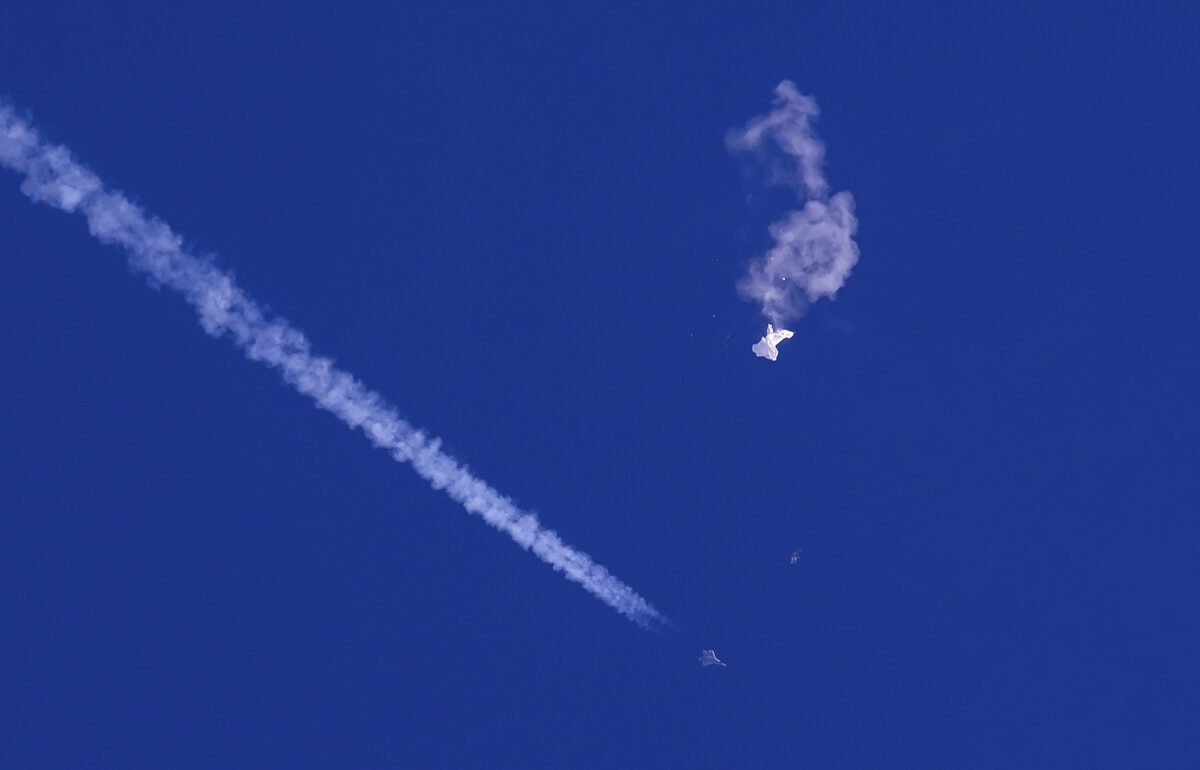 U.S. officials are not ruling out the possibility that a number of unidentified objects shot down in recent days may be of an extraterrestrial origin.
Gen. Glen D. VanHerck, the commander of the United States Northern Command and North American Aerospace Defense Command, was asked by reporters in a briefing on Sunday whether or not officials have ruled out that the objects may be of alien origin and if so, why.
"I'll let the intel community and the counterintelligence community figure that out. I haven't ruled out anything," VanHerck replied.
"At this point, we continue to assess every threat or potential threat, unknown, that approaches North America, with an attempt to identify it," he added.
VanHerck's comments came after the U.S. military shot down an unidentified object over Lake Huron, which is bordered by Michigan, on Sunday, after previously shooting down another unidentified object over Canada on Saturday, and another on Friday over Alaska.
Earlier this month, U.S. officials shot down a Chinese surveillance balloon that made its way across the Carolinas and approached the Atlantic coast.
Latest Object Was 'Octagonal Structure'
Beijing has acknowledged that the balloon belonged to them but had denied that it was being used for surveillance. Instead Chinese officials say it was a civilian meteorological balloon that had been blown off course due to the weather and inadvertently flew over sensitive military sights.
Wahington says the balloon traversed over sensitive military sites in America.
Speaking of the latest object to be downed over U.S. airspace, Rep. Jack Bergman (R-Mich.) told Fox News in an interview on Feb. 12 that the object was an "octagonal structure."
However, Pentagon officials on Sunday stopped short of providing an accurate description of the object, citing the need for further assessments. VanHerck also noted that the United States has not yet been able to determine what kept the latest objects aloft or the means of their propulsion.
He also cautioned the public not to speculate on the origins of the object, noting that the government has not yet determined this.
"I'm not going to categorize them as balloons," VanHerck said. "We're calling them objects for a reason. I'm not able to categorize how they stay aloft."
Earlier on Sunday, a White House National Security Council spokesperson told multiple media outlets that the objects shot down over Alaska and Canada did not closely resemble the Chinese surveillance balloon.
"These objects did not closely resemble and were much smaller than, the [Feb. 4] balloon and we will not definitively characterize them until we can recover the debris," the spokesperson said.
More Objects Could Be Shot Down
The Pentagon said on Sunday that a U.S. F-16 fighter jet shot down another airborne object flying at approximately 20,000 feet altitude over Lake Huron, bordered by Michigan, earlier in the day at the direction of President Joe Biden.
According to officials, the object flew over sensitive Department of Defense sites, however, an assessment found that it was not a "kinetic military threat to anything on the ground" but was a safety flight hazard."
"The location chosen for this shoot down afforded us the opportunity to avoid impact to people on the ground while improving chances for debris recovery," the Pentagon said. "There are no indications of any civilians hurt or otherwise affected."
Melissa Dalton, the Assistant Secretary of Defense for Homeland Defense and Hemispheric Affairs, also told reporters in Sunday's briefing that part of the reason the United States has identified an increasing number of objects over U.S. airspace in recent days is because of enhanced radar systems.
"In light of the People's Republic of China balloon that we took down last Saturday, we have been more closely scrutinizing our airspace at these altitudes, including enhancing our radar, which may at least partly explain the increase in objects that we detected over the past week," Dalton said.
Dalton and VanHerck also noted that more objects may be shot down in the coming days amid increased scrutiny of U.S. airspace.