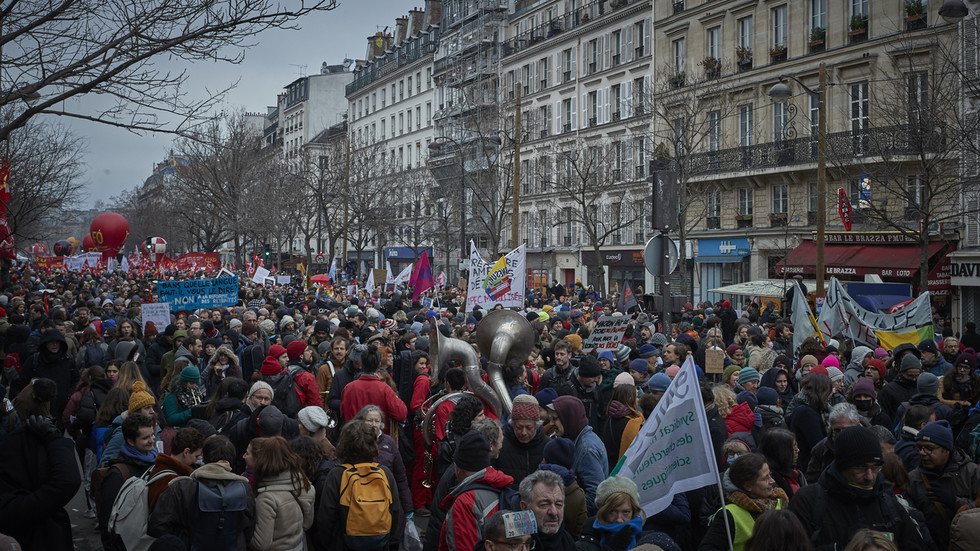 Despite strong union opposition and violent protests, lawmakers decided to raise the retirement age by two years.
French unions have vowed to pressure the government after senators voted Thursday to raise the national retirement age from 62 to 64. Protests and strikes organized before the measure was passed have already caused major disruptions.
The controversial amendment to France's pension system was approved in a vote of 201 to 115 after more than a week of deliberations in the conservative-dominated Senate. Debate will resume later Thursday to conclude parliamentary proceedings, with the Senate majority aiming to finalize the legislation by Sunday.
Liberal politicians have expressed their frustration following the result, with some arguing that the reform will "set the clock back almost 40 years". Meanwhile, unions have vowed to organize protests and strikes in opposition to the bill.
The unrest over the pension reform has been increasing for several weeks. On Tuesday, the unions called for the country to stop. As a result, over the past two days, France has essentially come to a standstill as thousands of people have taken to the streets for strikes and rallies across the country.
Read more
France paralyzed by pension reform protests
Protesters have blocked major centers of higher education, erected barricades in front of bus depots, slowed traffic on roads and highways, and obstructed fuel shipments outside oil refineries. Transport workers themselves have also gone on strike, with France's national rail operator saying train movements and metro operations across the country are "very seriously disrupted". Airlines have also been asked to reduce scheduled flights from Paris' Charles de Gaulle and Orly airports by 20% and 30% respectively.
On Tuesday and Wednesday, an estimated 1.28 million people took part in protests across the country, according to France 24. Unions are now calling for a new day of nationwide demonstrations on Sunday.
Meanwhile, French President Emmanuel Macron has insisted that raising the retirement age and tightening requirements for a full pension are "essential" because of the system's projected deficits over the next 25 years.
However, the reform has proved deeply unpopular with the public, with almost 60% supporting protests against it, according to an Elabe poll published on Monday.