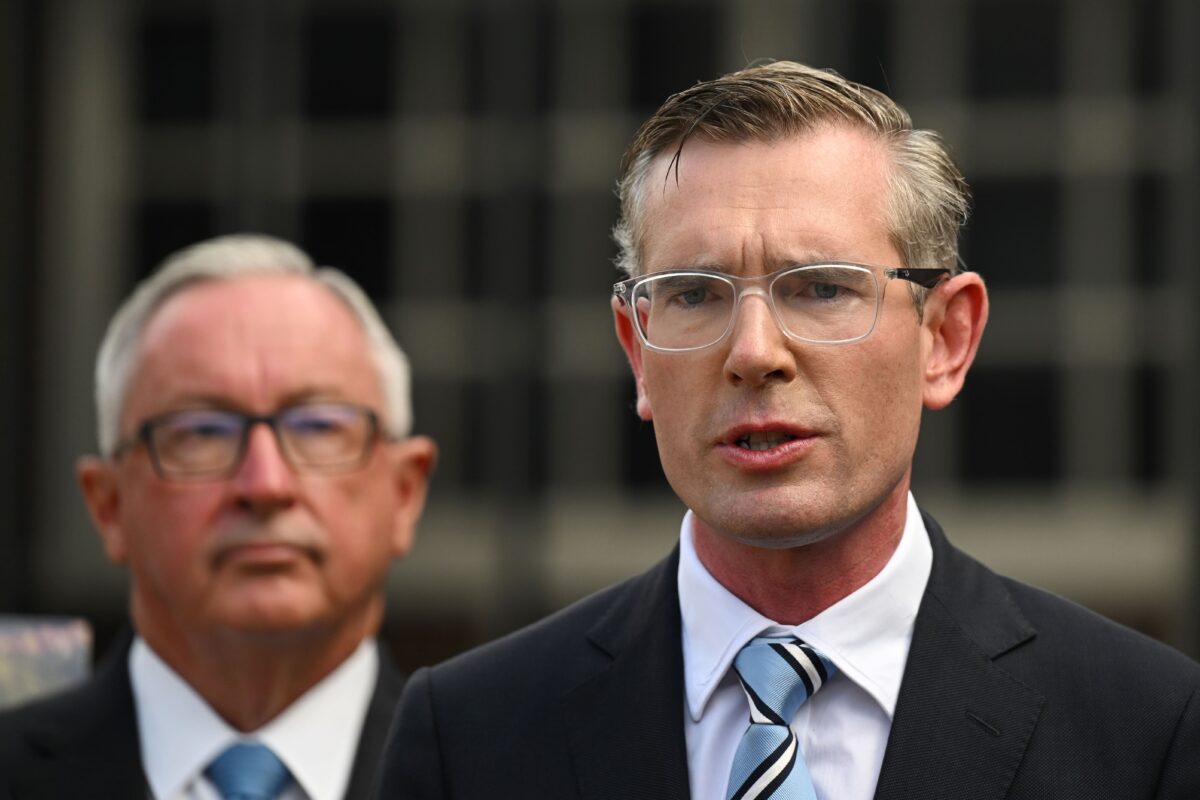 Heated exchanges marked the first New South Wales (NSW) election debate as the premier and opposition leader locked horns over big issues facing Australia's most populous state. 
Voters of NSW will take to the polls on March 25 to decide whether they want to keep the centre-right Coalition, which has governed the state for 12 years or hand over the reins of power to the centre-left Labor Party.
On the morning of Feb. 9, Premier Dominic Perrottet and Labor leader Chriss Minns kicked off the debate at the studios of Sydney's 2GB Radio, discussing issues like healthcare, infrastructure, nurse wages, cost of living, and education. 
Following a rather polite opening, the opposition leader dived right in and questioned the premier on the NSW health system crisis, saying 100,000 people were on the elective surgery waiting list.
NSW Labor Leader Chris Minns speaks to media the during a press conference at NSW Parliament, Sydney, Australia, on Sept. 23, 2022. (AAP Image/Bianca De Marchi)
Perrottet responded saying NSW had the "strongest health system anywhere in the country."
While admitting there were challenges, he said his party had invested $30 billion into the health system. 
"Why is it the case that in NSW we don't see the ramping issues that we see in other Labor states around the country," he asked.
Public Sector Wage Cap A Point of Contention
Another contentious issue was wages for nurses and teachers.
Minns is pushing for the wage cap for the public sector to be scrapped. The Labor Party is backed by several unions involved in the public sector.
"'We've got a situation where 70 percent of health workers in NSW are looking to move to other jurisdictions to work in their health services rather than here in NSW," he said.  
"I think the premier's decision to put a wage freeze in place months before an explosion in inflation devastated parts of the NSW frontline public services, so nurses and paramedics leave right when we needed them to stay." 
In June 2022, Premier Dominic Perrottet announced an increase to the current wage cap from 2.5 to 3 percent, and up to 3.5 percent by 2023-24.
The premier defended the current measures saying it "certainty to invest in the future" and maintained it was "twice as much as you see in Victoria."
"If you don't control expense growth in the budget, you can't invest in frontline services at 3 percent increase in NSW, that's twice as much as Victoria." 
"It's a fair and reasonable approach," the premier added, saying it allowed the government to invest in infrastructure, the metro line, motorways, and frontline services.
"Under Labor by scrapping that cap, it will cost billions of dollars to the taxpayers of New South Wales, which means they can't build the things that matter to the people of our state."
"When there wasn't a cap, expenses grew out of control," he argued, "That means you can't invest in the things that matter." 
Minns was questioned on how he would his promised public wage increases, while also ruling out privatisation, increasing government debt, or raising taxes.
Minns replied, "I'll give you this commitment any wage increases we give to frontline workers in New South Wales will be paid for by budget savings or productivity gains."
Fiery Exchange Over Paying for Infrastructure
The debate got fiery when the two men pressed each other on how they would afford Sydney's multibillion-dollar infrastructure projects.
Minns criticised the Coalition's privatisation of public assets as a means of funding infrastructure building, calling it "sell-offs."
Instead, Minns proposed to pay for big projects and pay public sector workers with dividends from state-owned corporations, which is about $1.5 billion (US$1.04 billion) a year.   
"One of the things that we need to understand then is that the dividends that the government receives from state-owned corporations fund infrastructure for the future," Minns said.
"And the big problem with your plan is that once you've privatised everything that the NSW government owns, how do you build infrastructure after that?" 
Minns accused the premier of not acknowledging that the M4 Motorway will be "paid off six times over."
"At the end of the day, you can't be in a situation where you're flogging off the family jewels or the family home to pay off the credit card." 
But the premier fired back, "There's absolutely no corporation dividends to pay for major infrastructure projects over time and it's a $17 billion infrastructure project." 
"What I'm saying is you always have a balanced approach to debt management and state asset recycling and a wages cap that ensures you have the capacity to build the infrastructure."
"And as a former treasurer of the state for five years, you can't be all things to all people, you've got to make the tough decisions or the state stalls," he said.
The host also asked Minns and Perrottet for their thoughts on the government's big spending on relief measures for families, including the Coalition's $500 million to give families funds to reduce their power bill.
"I just wonder whether families who are relatively well off like mine should have access to, I think, 20 different rebates and relief measures out there," host Ben Fordham said, "Shouldn't those things be means tested and targeted at families that need that help?"
Perrotet maintained that he wanted to "support all our families," while Minns said "the budget is out of control and I don't think we can support it."
"The premier announces that because of the massive spending from the treasurer, Matt Kean, I don't think it reasonable or responsible in the circumstances," Minns said.
The debate ended with a handshake between the two candidates, who both said they are open to the next exchange.