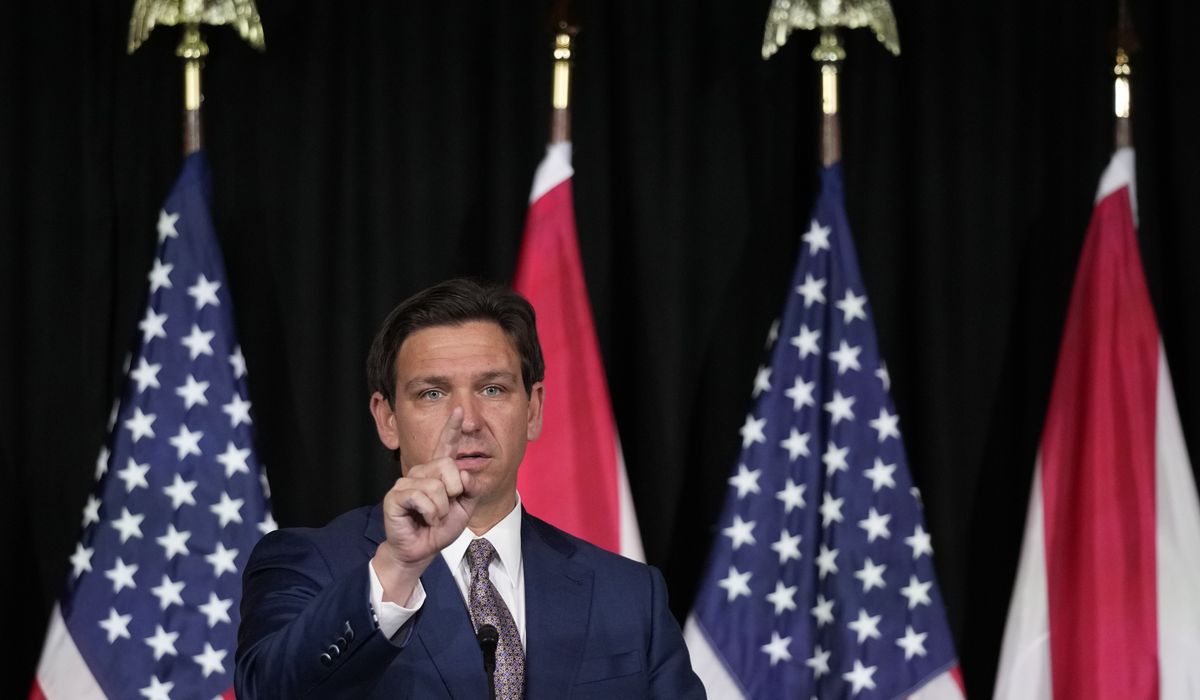 JACKSONVILLE, Fla. – Florida Gov. Ron DeSantis, on the verge of a 2024 presidential campaign, announced last week the state's most ambitious proposal to combat illegal immigration.
The legislation, which Mr. DeSantis said he would counter the "Biden border crisis," expand E-Verify to private sector companies, strengthen detention requirements for undocumented immigrants in Florida and invalidate out-of-state licenses issued to those who live here illegally among other changes.
It would end state tuition for immigrant students who are in the country illegally. Hospitals across the state would be required to report what are estimated to be millions of dollars in costs to care for patients who are in the country illegally. Immigrants who are in the United States illegally would also be barred from practicing law in Florida.
The proposal, if approved by the state legislature, would boost Mr. DeSantis on border security ahead of a possible presidential campaign, bolstering his position against both President Biden and his main GOP opponent, former President Donald Trump.
Mr. Trump campaigned in 2016 on a promise to secure the southern border, and he achieved part of that goal during his tenure by building part of a southern border wall and making it harder for immigrants who are illegally in the USA remain.
Mr. Biden reversed the strict border policies of Mr. Trump and stopped construction of the border wall on his first day in office.
Since then, millions of migrants have crossed the border illegally and filtered into other states, including Florida. The increase has pushed border security to the top of voters' list of concerns.
Mr. DeSantis unveiled his border security proposal two days after Biden announced new asylum restrictions.
Mr. Biden said he plans to seek a second term.
"If he runs again," said Mr. DeSantis, "that's a big problem for him. And I think they might be aware of that, because you can't defend your own country's borders? It's like your main job."
Mr. DeSantis has not announced plans for a presidential run. According to those familiar with his thinking, he will not announce his decision until after Florida's legislative session ends in May.
For now, DeSantis is proposing a number of high-profile conservative measures, including border security legislation, that have a good chance of passing the Legislature because Republicans hold supermajorities in both chambers.
"I think we will be able to do more in the next two months, when the Legislature reconvenes, than anyone has been able to do in modern Florida history," said Mr. DeSantis during an appearance in Jacksonville.
The border security plan of Mr. DeSantis aims to address rising college tuition costs, he said, by ending in-state tuition fees for immigrants who are in the country illegally.
"If we want to keep the enrollment line, then you have to say you have to be a US citizen living in Florida," said Mr. DeSantis. "Why would we subsidize non-US citizens when we want to make sure we can keep it affordable for our own people?"
Mr. DeSantis, who appeared next to a "Biden's Border Crisis" sign while addressing a hearing in Jacksonville, said his proposal should serve as a template for other states. A multi-state approach to curbing illegal immigration, said Mr. DeSantis, "will force the federal government to accept the program and finally secure and defend the borders of the United States of America."
Pro-immigration groups quickly condemned his plan.
"I'm surprised the governor hasn't proposed criminalizing the undocumented and those who use them to eat, sleep and breathe, that's how absurd and cruelly restrictive this legislative package is," said Samuel Vilchez Santiago, state director of Florida for the American. Action of the Business Immigration Coalition. "DeSantis' draconian, inhumane package not only hurts our state's diverse communities, but our economy as well."
The requirement for electronic verification of the proposal of Mr. DeSantis can be tough to beat.
Florida already requires E-Verify for public employees, but Mr. DeSantis would extend it to private businesses, including the agriculture and hospitality industries that rely on hiring immigrants.
It is estimated that about half of all Florida farmworkers are immigrants who are in the country illegally.
E-Verify requires employers to verify the eligibility of potential employees to work legally in the US through a website operated by the Department of Homeland Security.
Under DeSantis' proposal, employers who violate the state's electronic verification requirements twice in two years could lose their business licenses.
The measure would expand a bill he signed last year that required public employers to use E-Verify. Mr. DeSantis called last year's measure an "inappropriate" compromise.
The proposal would increase penalties for human trafficking.
The proposal would prohibit local governments in Florida from providing ID cards to those living here illegally, and those who register to vote would have to pledge that they are U.S. citizens and legal residents of Florida.
The governor's plan will be introduced by Republican state Sen. Blaise Ingoglia. It must win the approval of the Legislature, which begins meeting in March.