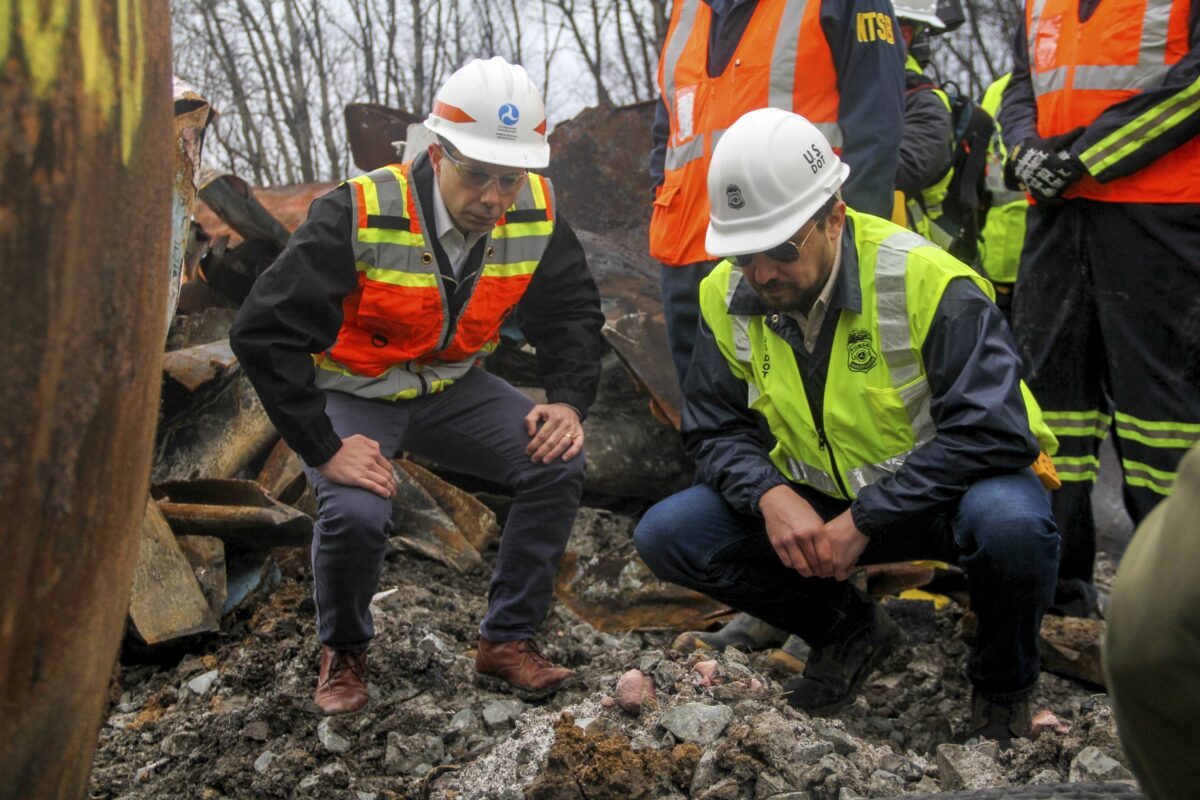 Amid objections from Michigan authorities who said they were not aware hazardous materials were headed into their state, the U.S. Environmental Protection Agency has ordered a temporary pause on shipments of contaminated waste from the site of Norfolk Southern Railway's Feb. 3 train derailment in East Palestine, Ohio.
"Everyone wants this contamination gone from the community," EPA Region 5 Administrator Debra Shore said. "They don't want the worry, and they don't want the smell, and we owe it to the people of East Palestine to move it out of the community as quickly as possible."
Shore vowed that the removal process will resume "very soon."
On Feb. 3, a Norfolk Southern train carrying 151 cars derailed in East Palestine, a village of 4,761 in eastern Ohio near the Pennsylvania border.
A black plume rises as a result of a controlled detonation of a portion of the derailed Norfolk Southern trains in East Palestine, Ohio, on Feb. 6, 2023. (Gene J. Puskar/AP Photo)
The National Transportation Safety Board reported that the train included 20 cars with hazardous materials, 11 of which derailed.
Seeking to avoid an uncontrolled explosion that officials claimed would send shrapnel into the air, toxic vinyl chloride was intentionally released and burned from five cars on Feb. 6, sending a massive cloud of black smoke into the sky that could be seen for miles around and was likened to a mushroom cloud caused by a nuclear weapon.
The burn triggered questions about the health effects that could potentially impact the residents of East Palestine.
EPA Takes Over Waste Disposal
Norfolk Southern had been responsible for waste disposal until Friday, Shore said. The railroad provided Ohio environmental officials with a list of disposal sites.
Moving forward, Shore explained that disposal plans including locations and transportation routes for contaminated waste will be subject to EPA review and approval.
"EPA will ensure that all waste is disposed of in a safe and lawful manner at EPA-certified facilities to prevent further release of hazardous substances and impacts to communities," Shore said.
On Feb. 21, the U.S. EPA ordered Norfolk Southern to pay for cleanup costs in East Palestine.
"Norfolk Southern will pay for cleaning up the mess that they created and the trauma that they inflicted on this community," EPA Administrator Michael Regan said. "I know this order cannot undo the nightmare that families in this town have been living with, but it will begin to deliver much-needed justice for the pain that Norfolk Southern has caused."
Ohio Gov. Mike DeWine said in a Feb. 23 statement that, under state EPA guidance, "Norfolk Southern brought in large dump trucks to move contaminated soil to U.S. Ecology Wayne Disposal, a licensed hazardous waste disposal facility in Michigan. This will be a continuous effort to properly manage and safely dispose of the waste.
"So far, 4,832 cubic yards of soil have been excavated from the ground and more may be removed as cleanup proceeds. When the process begins to dig up the tracks and remove the soil underneath, that soil will be hauled away immediately and taken to a proper disposal facility," the statement noted.
More than 1.7 million gallons of contaminated liquid have been removed from the derailment site, according to DeWine's office. Most of the 1.1 million gallons hauled off-site were sent to a Texas-based hazardous waste disposal facility, which has said it will no longer accept shipments.
A small amount was transported to Vickery Environmental in Vickery, Ohio, DeWine's office reported.
DeWine's office said that 15 of the 20 truckloads containing contaminated soil were shipped to the Michigan hazardous waste treatment and disposal facility in Wayne County in the Detroit area. Five truckloads were returned to East Palestine.
"Currently, about 102,000 gallons of liquid waste and 4,500 cubic yards of solid waste remain in storage on site in East Palestine, not including the five truckloads returned to the village," DeWine's office said. "Additional solid and liquid wastes are being generated as the cleanup progresses."
Michigan Authorities Unaware
The Michigan Department of Environment, Great Lakes & Energy said in a statement on Feb. 24 that it became aware of the shipments earlier that day.
The department said it is "working to monitor the disposal of hazardous soil and liquids from the Ohio train derailment at licensed hazardous waste facilities in Michigan to ensure that all health and environmental protection laws and procedures are rigorously adhered to.
"We expect any shipment of Ohio soils and liquids to be handled in accordance with all laws and regulations as any other contaminated site material that is disposed of at the facilities, which are subject to extensive monitoring to ensure that hazardous waste does not present a threat to the environment or human health," the statement read.
On the evening of Feb. 24, Wayne County Executive Warren Evans said that his team did not get advance notice that the materials would arrive. State officials "also got last minute bits and pieces of information," Evans added.
Evans said that Wayne County government officials should have been consulted before the contaminated waste was shipped to their area.
"I don't know how you do that without contacting the local officials so that we can, No. 1, know how to respond to our communities and No. 2, give advice in terms of routes that you may take," Evans said.
"I'm not here to say anybody was attempting to do anything nefarious," Evans added. "But I can say that the outward effect of it looks like we're being sandbagged."
The EPA said that it will coordinate with Michigan officials on toxic waste disposal from the derailment site from this point forward.
U.S. Rep. Debbie Dingell represents Ann Arbor and part of Wayne County. In a Feb. 24 statement, she echoed Evans' view that Michigan officials should have been notified about the toxic waste headed their way.
"We were not given a heads up on this reported action. Our priority is to always keep the people we represent safe," Dingell said. "We are making inquiries of EPA, DOT, Norfolk Southern, U.S. Ecology, the state of Ohio, and all others involved to understand what is being shipped, whether these are approved storage facilities, the implications of this decision, and how we ensure the safety of all Michigan residents."