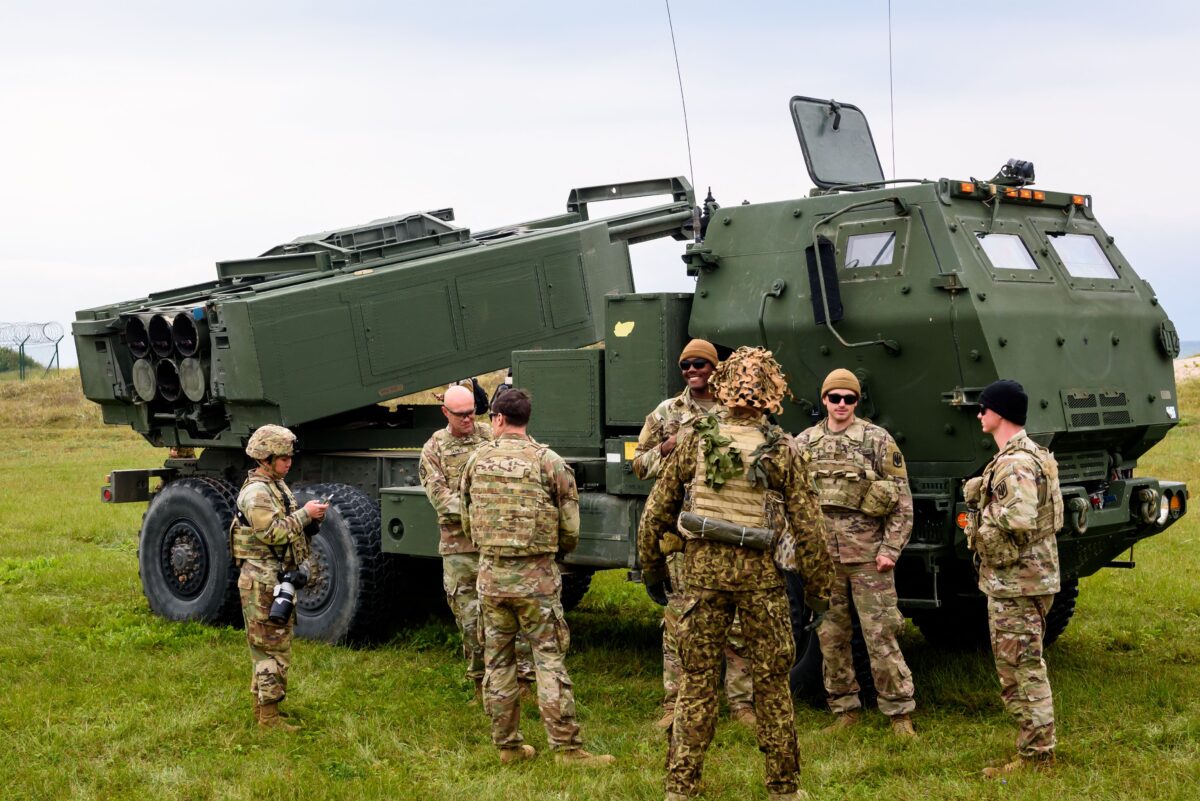 The Biden administration plans to sell nearly 20 High Mobility Artillery Rocket System (HIMARS) launchers, as well as various other weapons and related equipment worth around $10 billion to NATO ally Poland.
The Defense Security Cooperation Agency of the Department of Defense said in a statement that Congress was notified of the potential sale on Tuesday. Lawmakers will still need to sign off on it.
Poland, which borders Ukraine, requested to buy a number of weapons, including 18 M142 HIMARS launchers, 45 of the 185-mile range Army Tactical Missile System (ATACMS) missiles, and more than 1,000 Guided Multiple Rocket Launch System (GMLRS) rockets, among other things.
HIMARS launchers have played a key role in aiding Ukraine amid Russia's invasion, allowing Kyiv to destroy Russian ammunition warehouses and command and control centers with pinpoint accuracy.
The technically advanced systems can carry a six-pack of GMLRS rockets or one large Tactical Missile System, according to its manufacturer Lockheed Martin.
Weapons Will 'Improve Security' of Poland
Ukraine has regularly requested ATACMS missiles from the United States to use in the ongoing invasion but has been rebuffed. Poland would not be able to transfer any ATACMS to Ukraine without U.S. approval.
Also included in the deal are low-cost Reduced-Range Practice Rockets, support and communications equipment, spare and repair parts, test sets, batteries, laptop computers, personnel training and equipment, U.S. government and contractor engineering and logistics personnel services, and other related elements of logistics and program support.
"This proposed sale will support the foreign policy goals and national security objectives of the United States by improving the security of a NATO Ally that is a force for political stability and economic progress in Europe," the Department of Defense said.
It will also aid Poland's "military goals of updating capability while further enhancing interoperability with the United States and other allies," according to the Pentagon.
"Poland intends to use these defense articles and services to modernize its armed forces and expand its capability to strengthen its homeland defense and deter regional threats. Poland will have no difficulty absorbing this equipment into its armed forces," the statement said.
The principal contractor for the sale would be Lockheed Martin, which manufactures the HIMARS rocket launchers.
Poland Ramps Up Military Spending
According to the Pentagon, the proposed sale will have no adverse impact on U.S. defense readiness and will not alter the basic military balance in Poland.
The latest sale comes after Poland ordered 20 HIMARS, including 18 combat and two training rocket launchers from the United States in 2019, which were set to be delivered by 2023.
In May, the country, which has been a NATO member since 1999, ordered an additional 500 HIMARS launchers from the United States, but, according to Polish media, Lockheed Martin said it could only offer around 200.
Poland has been bolstering military spending in the past year amid the war in neighboring Ukraine, which is fast approaching its one-year anniversary.
The country splashed out the equivalent of 2.4 percent of its GDP on its military in 2022, The Defense Post reported, making it the third-highest percentage among NATO countries.
in January, Poland's Prime Minister Mateusz Morawiecki said the country will spend 4 percent of its GDP this year on bolstering the military, amid growing concerns over the ongoing Russia–Ukraine war.
"The war in Ukraine makes us arm ourselves even faster," Morawiecki told reporters on Jan. 30. "That is why this year we will make an unprecedented effort: four percent of GDP for the Polish army."
Reuters contributed to this report.