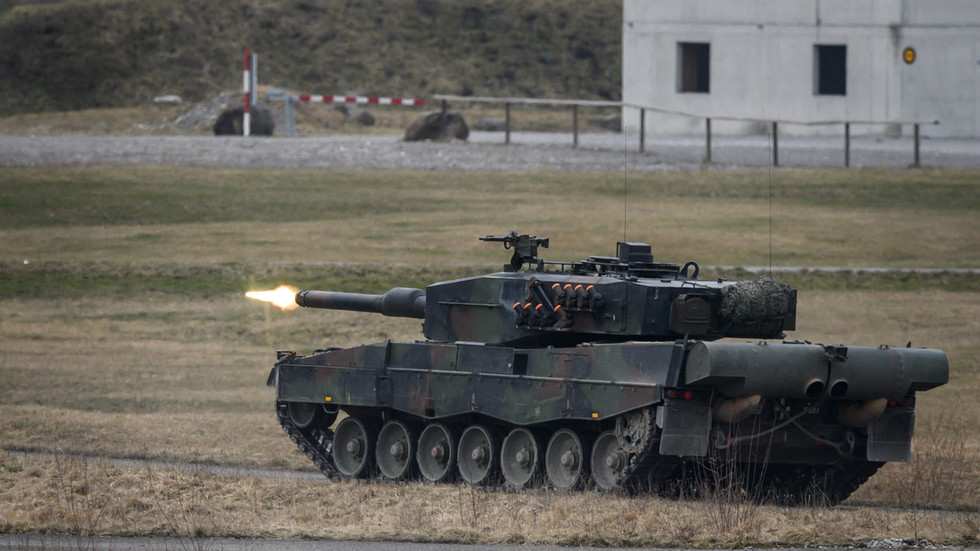 Berlin wants to buy decommissioned Leopard 2 while giving some of its own shares to Kiev
Germany has asked Switzerland to sell decommissioned Leopard 2 main battle tanks back to its maker Rheinmetall, so that Berlin can replenish its stocks after giving some of its own tanks to Ukraine, Swiss authorities said on Friday. The German-made heavy tanks were originally acquired by Bern in the 1980s.
Lorenz Frischknecht, a spokesman for the Swiss Federal Department of Defense, confirmed the request to Swiss newspaper Blick, which first reported the story on Friday. "From the point of view of the army, it would be possible in principle to dispense with a limited number of battle tanks, minus those required for Switzerland's own needs," Frischknecht said.
German Defense Minister Boris Pistorius and Economy Minister Robert Habeck formally proposed the plan to buy 96 tanks in a letter to Viola Amherd, Switzerland's top defense official, on February 23, according to Blick. It was said that they had promised that the combat vehicles in question would not be sent to Ukraine. The newspaper noted that the Alpine country needs 34 of the decommissioned tanks for its own defense.
Frischknecht said the military has begun looking into the matter. The final decision will correspond to the Federal Assembly, the country's parliament. Arne Collatz, a spokesman for the German Defense Ministry, confirmed to reporters that Berlin was interested in the Swiss tanks, but the exact number has not yet been decided.
Read more
The impact of Ukrainian arms deliveries on the German military has been revealed
Although Germany and other NATO members pledged earlier this year to deliver Leopard 2s to Ukraine, some European countries have struggled to find available vehicles in their stocks. Pistorius said last month he was "a bit surprised" that some partners "didn't do anything" about it.
Switzerland, which follows a century-old policy of neutrality, has been reluctant to allow the re-export of its weapons to conflict zones.
The Swiss government has previously refused to green light the transfer of two Swiss-made 35 mm anti-aircraft guns to Ukraine from Spain and about 20 Piranha III armored vehicles from Denmark. In February, the security committee of the upper house of the Swiss parliament rejected a proposal to return 30 retired Leopard tanks to Germany, citing the need to maintain a strategic reserve.
Moscow has maintained that the foreign weapons will not change the course of the conflict in Ukraine and will be treated as legitimate targets by Russian forces.