We need your help! Join our growing army and click here to subscribe to Revolver. Or simply give the gift of Revolver select the annual subscription and select "This is a gift" on the next page. meIf you want to give more during this critical time, you can make a one-time or recurring monthly donation donation — Whether it's $1 or $1,000, every bit goes into the battle to save our great nation.
---
Joe Biden often claims that his son Beau died in the line of duty and insinuates that he came home from Iraq in a flag-draped coffin. It is a troubling lie that he has repeated many times. In a sense, it is similar to stolen value, because while Beau served honorably in the US military, he died in the US of a brain tumor. Unfortunately, embellishing military careers to sound more dramatic and heroic than they were is not that uncommon. Is it the case of Ron DeSantis, who has faced criticism for giving the impression that he was a Navy SEAL? He may not be on the same level as Joe Biden, but it makes one wonder why he refuses to be more forthright about the issue. The "Navy SEAL" drama reignited after the GOP debate in Milwaukee.
During the debate, Gov. Ron DeSantis said, "I was assigned to the Navy SEALs in Iraq," leading many to believe he was implying that he was a SEAL himself. Critics argue that this statement gave the wrong impression. Perhaps he should have simply said, "I served in the US Navy as a JAG officer in Iraq," a service that is certainly honorable and commendable enough in itself. To clarify, DeSantis was never a Navy SEAL; he was a lawyer who worked with the Navy SEALs and other groups. He also worked as a "urinalysis coordinator."
DeSantis was responsible for helping to ensure that Navy SEALs and Army Green Berets missions in that vast swath of the western Euphrates River Valley were planned in accordance with the rule of law and that detainees captured were treated humanely, their commander said at the time. "He did a phenomenal job," Thorleifson, 55, said of DeSantis in an interview with the Herald/Times. "It was quite a complex time, with Iraqi sovereignty starting to take over." During that period, task force troops rounded up about 100 detainees, Thorleifson said. They were mostly men of military age, some of whom were found wearing suicide vests while others were simply in the wrong place at the wrong time. DeSantis, the lone attorney on the Judge Advocate General's Corps (JAG), not only ensured that the men were treated humanely and interrogated in accordance with the Geneva Conventions and US military regulations, but also ensured that, when justified. , were turned over to the appropriate legal authorities in Iraq for prosecution in that country's fledgling justice system, Thorleifson said.
Below is the document that shows DeSantis was also a urinalysis coordinator.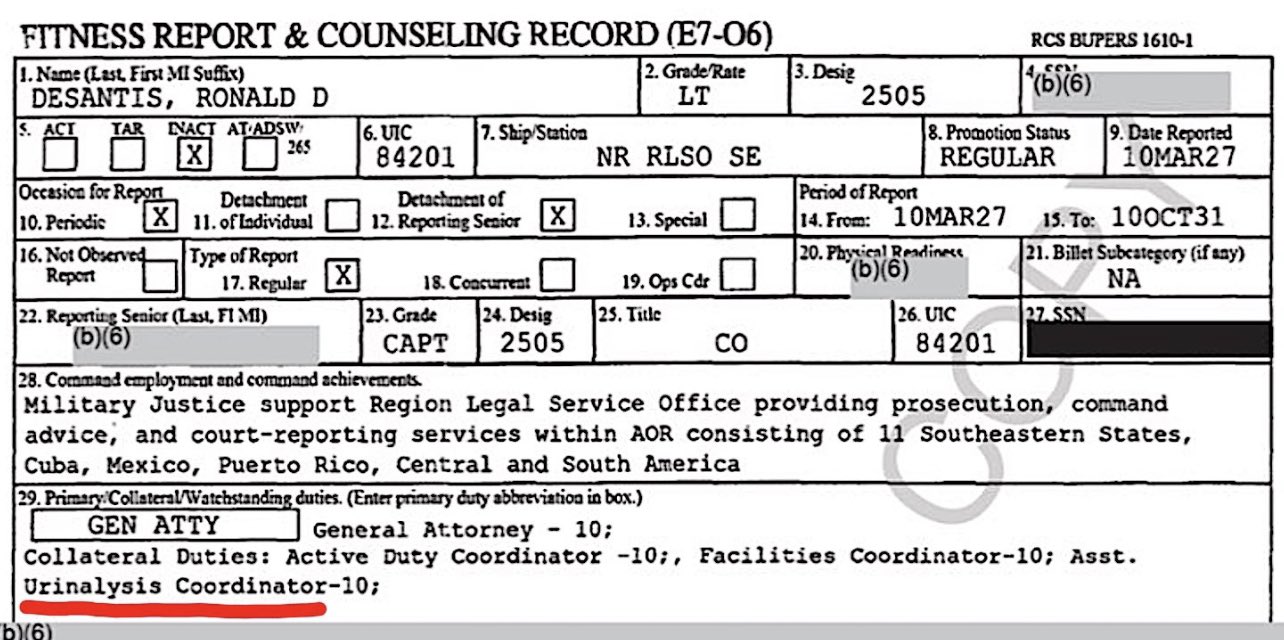 Even Trump hater Adam Kinzinger felt that Ron's GOP debate comment needed clarification.
Ron Desantis was a JAG. Nothing against JAGS, but stop trying to make people believe you're a Navy SEAL. Jags spend two weeks training against other people.

— Adam Kinzinger (Slavic Ukraine) 🇺🇸🇺🇦 (@AdamKinzinger) August 24, 2023
DeSantis continues to struggle to connect with voters, and is still losing ground in most polls. It is losing its own state in incredible numbers.
2024 Florida Republican Primary

Trump 59% (+21 as of May)
DeSantis 23% (-15)
Christie 4% (new)
Ramaswamy 3% (+3)
Haley 2% (-1)
Scott 1% (-2)
Cents 1% (-2)

H2H:
Trump 57% (+19)
DeSantis 23% (-17)@VictoryPolling | 590 LV | 8/21-23https://t.co/Wkz7lnIHc9 pic.twitter.com/cWVMqFyntP

— InteractivePolls (@IAPolls2022) August 24, 2023
Sky News outsiders who are watching the political situation in the United States believe that DeSantis did not get what he needed during the debate.
You can't help but wonder if this questionable "Navy SEAL" comment was made to enhance his reputation and resonate with debate viewers. However, as with many aspects of the struggling DeSantis campaign, this too has backfired and caused more harm than good.
---
SUPPORT REVOLVER — TO GIVE — SUBSCRIBE — NEWS SERVICE — GAB — GETTR — SOCIAL TRUTH — TWITTER