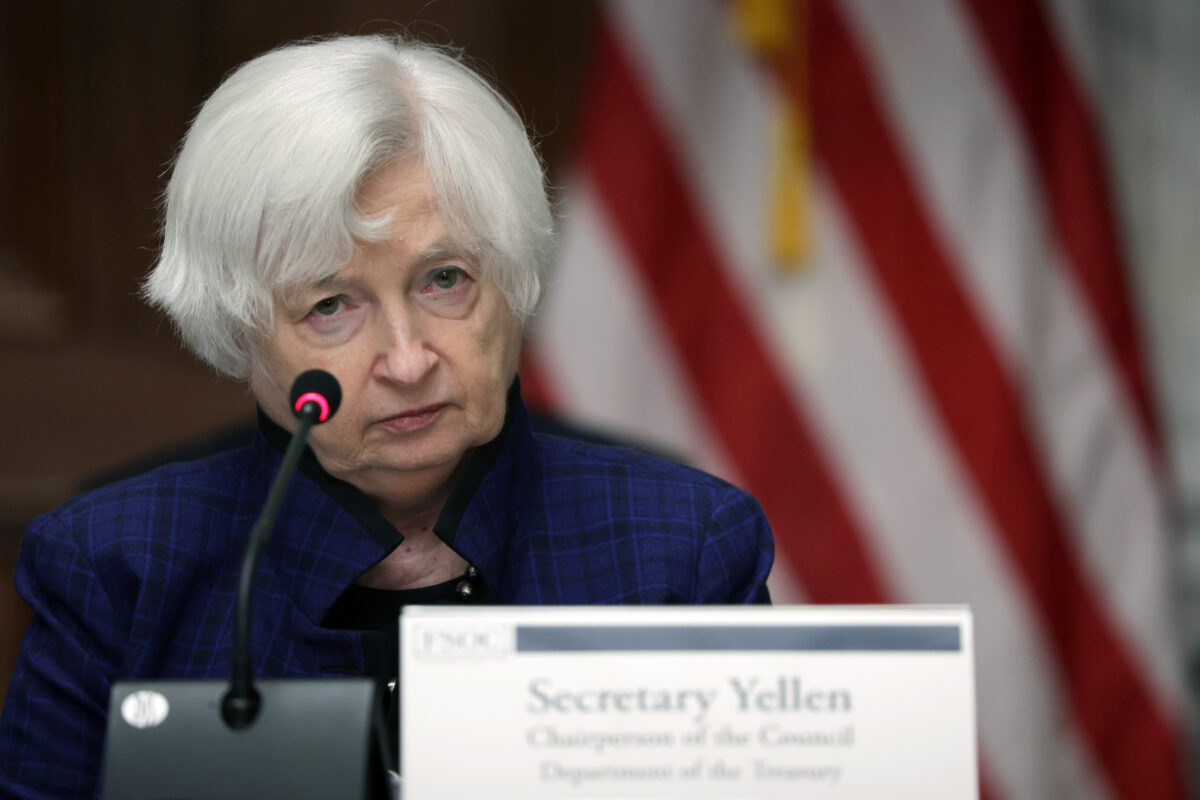 U.S. Treasury Secretary Janet Yellen said Sunday that she doesn't believe the federal government could still pay off all its bills before June 15 in a bid to underscore the urgency to resolve a standoff between the White House and House Republicans to raise the debt ceiling.
"Well, there's always uncertainty about tax receipts and spending," Yellen told NBC's "Meet the Press" on Sunday. "And so it's hard to be absolutely certain about this, but my assessment is that the odds of reaching June 15 while being able to pay all of our bills is quite low."
Yellen, in elaborating, said there would be hard choices to make about payments to Americans if there was a failure to raise the $31.4 trillion debt ceiling before the Treasury ran out of cash and was forced to default. Less than two weeks remain until June 1, when the Treasury Department has warned that the federal government could be unable to pay all its debts, which would trigger a default that could cause chaos in financial markets and spike interest rates.
"I indicated in my last letter to Congress that we expect to be unable to pay all of our bills in early June and possibly as soon as June 1. And I will continue to update Congress, but I certainly haven't changed my assessment. So I think that that's a hard deadline," she said.
While in Japan on Sunday, President Joe Biden told reporters he believed he had the authority to invoke the 14th Amendment to the U.S. Constitution to raise the debt ceiling without Congress, but said it was unclear that enough time remained to try to use that untested legal theory to avoid default. But Yellen said invoking the amendment "doesn't seem like something that could be appropriately used in these circumstances, given the legal uncertainty around it, and given the tight time frame we're on."
In a Fox News interview, House Speaker Kevin McCarthy (R-Calif.) said that he cannot start negotiations until Biden returns back from his Asia trip—which Republicans criticized due to the timing—and reiterated that spending remains a key problem. Both Biden and Republicans, including McCarthy, have blamed each other for the impasse.
President Joe Biden speaks during a press conference following the G7 Leaders' Summit in Hiroshima on May 21, 2023. (Kiyoshi Ota/POOL/AFP via Getty Images)
Biden would "rather be the first president in history to default on the debt than to risk upsetting the radical socialists who are calling the shots for Democrats right now," McCarthy wrote on Twitter over the weekend. And in Japan, Biden claimed that "MAGA Republicans" are the ones who are at fault and alleged they are pushing extremist policies.
Other Details
Some bills won't be paid if the United States pushes up against the debt ceiling deadline, Yellen reiterated Sunday.
"There will be hard choices to make if the debt ceiling isn't raised," she said. "And you know, I would simply say since 1789, the United States has a history of paying its bills on time. That's what the world wants to see a continued commitment to do that. It's what underlies US Treasury securities as the safest investment on the planet. And it's not an acceptable situation for us to be unable to pay our bills."
However, some Republicans have said Yellen and the White House might be engaging in scare tactics. Rep. Brian Fitzpatrick (R-Pa.) told CBS News on Sunday that there might be some leeway past the June 1 deadline that Yellen has warned about.
"The June 1st date was probably, according to Secretary Yellen, the earliest possible date," he told CBS News, noting that the federal government does "have enough cash flow" that is needed to "pay the interest on our debt."
"We're going start to see the state tax revenues come in the second week of June, so I think we're OK on that," Fitzpatrick said.
Rep. Josh Gottheimer (D-N.J.) told CBS that lawmakers should treat the June 1 deadline as absolute.
"Regardless if we have a few more days, the bottom line is we can't continue to play chicken with the full faith and credit of the United States of America. The risks are too significant, as we all know, both to paying our debts and what that would mean with our reputation in the world and obviously the government of China would love us to default," Gottheimer said.
Economists have warned that a U.S. default would risk triggering a widespread market selloff as well as a surge in interest rates that would send the global economy into a downturn. Stocks went down last Friday after a temporary walkout amid the negotiations.
That would mean the United States is more likely to place more strain on the economy, which has already been hard-hit by decades-high inflation and surging interest rates amid a series of Federal Reserve hikes in recent months.
Reuters contributed to this report.