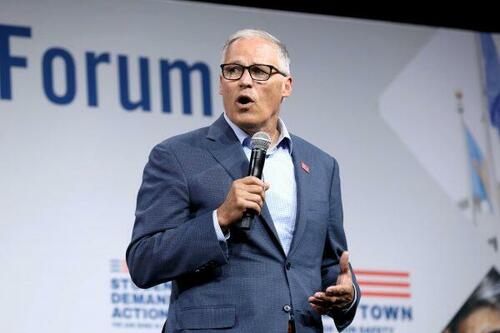 Written by Elizabeth Dowell via The Epoch Times (emphasis ours),
Washington state legislatures have passed another gun control restriction, implementing a ban on dozens of models of semi-automatic rifles on Wednesday.
Semi-automatic rifles line a wall at a gun store in Lynnwood, Wash., on October 2, 2018. (Elaine Thompson/AP)
Democratic Governor Jay Inslee is expected to sign the bill (HB 1240) and released his reaction to this latest effort to stop the growing list of mass shootings in the United States.
"WA does not and will not accept gun violence as normal. Banning the sale of assault weapons, our bill to enact training requirements and a waiting period, and our bill to improve manufacturer and retailer accountability will save lives." the governor posted on Twitter in response to the bill's passage.
Washington Governor Jay Inslee speaks during the Presidential Gun Sense Forum in Des Moines, Iowa, on August 10, 2019. (Scott Morgan/Reuters)
The Washington law would block the sale, distribution, manufacture and importation of more than 50 models of weapons, including AR-15s, AK-47s and similar-style rifles. Some exemptions are included for sales to law enforcement agencies and the military in Washington. The measure does not prohibit the possession of weapons by people who already have them.
Republican state lawmakers opposed the ban, with some arguing that school shootings should be addressed by remodeling buildings to make them less attractive as targets and others saying it infringes on people's right to defend himself
"HB 1240 clearly violates our state and federal constitutions, so it will end up in court immediately,State Sen. Lynda Wilson of Vancouver said in a statement.
President Joe Biden called for stricter gun control laws during a visit to Monterey Park, Calif., in March, where he met with families of the mass shooting that claimed 11 lives and injured nine more in January 2023 .
"I'm here on behalf of the American people, to cry with you, to pray with you. To let you know you're loved and not alone. Every case is different. But I know what it's like. I know what it's like to get that call." , Biden said in his speech.
The requirements need to be more effectively enforced before a person can purchase a firearm.
"It is common sense to check if someone is a felon, a domestic abuser before buying a gun,Biden added.
Gunmaker CEOs Marty Daniel of Daniel Defense and Christopher Killoy of Sturm, Ruger & Co. testified before Congress last year and denied any responsibility for mass shootings in the U.S. during the decade.
"I believe these murders are a local problem that needs to be solved locally," Daniel said in a statement. "These acts are committed by murderers. The killers are responsible."
Killoy, the chief executive of America's largest rifle maker, said that blaming an "inanimate object" for the deaths caused by killers is inaccurate.
"We strongly believe that it is wrong to deprive citizens of their constitutional right to purchase a legal firearm of their choice because of the criminal acts of evil people," Killoy said in a statement. "A firearm, any firearm, can be used for good or evil. The difference lies in the intent of the individual possessing it, which we respectfully consider should be the focus of any investigation into the root causes of criminal gun violence."
Texas Gov. Greg Abbott believes raising the minimum age to purchase assault rifles from 18 to 21 would not help solve the murder problem and would be unconstitutional.
"It is clear that the gun control law they want in Uvalde—as much as they want—has already been declared unconstitutional.," Abbott said in a statement during his re-election campaign last year.
California is one of the strictest states when it comes to gun control laws, as Governor Gavin Newsom continues to push for stricter reforms leading the nation.
"From our schools to our parks to our homes, our children deserve to be safe—in California, we're making it happen. As the Supreme Court strikes down important gun safety protections and states across the country treats gun violence as inevitable, California is doubling down on common-sense gun safety measures that save lives," Newsom said in a statement. "Our children's lives are at stake and we are putting everything on the table to respond to this crisis."