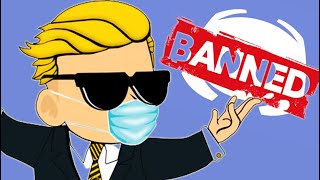 Americans on both sides of the political aisle are coming together in defense of small-time investors who have Wall Street execs shaking in their dress shoes.
After dumping cash into stocks hedge funds have been betting against, average investors mostly using apps on their phones cost these companies billions of dollars.
Attempting to quell the financial uprising, investment apps like Robinhood started blocking users from purchasing certain stocks and even took GameStop completely off of their search function.
Some people have even claimed the app sold their shares of GameStop stocks without their permission!
The top financial app received over 100,000 1-star reviews in the app store after they delisted multiple companies.
The blatant example of market manipulation has resulted in a massive outcry from Americans of every political affiliation.
A class-action lawsuit has already been filed against Robinhood, claiming the company, "deprived retail investors of the ability to invest in the open-market and manipulating the open-market."
The financial services company is being thrashed online and internet users are noting the ideological diversity of the people criticizing the move.
Alexandria Ocasio-Cortez (D-NY) called out Robinhood on Thursday, writing, "This is unacceptable. We now need to know more about @RobinhoodApp's decision to block retail investors from purchasing stock while hedge funds are freely able to trade the stock as they see fit. As a member of the Financial Services Cmte, I'd support a hearing if necessary."
Surprising many, Ted Cruz (R-TX) retweeted AOC, adding, "Fully agree."
However, in typical millennial fashion, AOC essentially told Cruz she'd be willing to work with any other GOP member besides him.
She claimed Cruz almost had her "murdered" during the Capitol protest and told him to resign.
Rashida Tlaib (D-MI) commented on a Motherboard Twitter post, saying, "This is beyond absurd. @FSCDems need to have a hearing on Robinhood's market manipulation. They're blocking the ability to trade to protect Wall St. hedge funds, stealing millions of dollars from their users to protect people who've used the stock market as a casino for decades."
Even conservative commentator Ben Shapiro admitted, "Robinhood absolutely should not be stopping trading of GameStop. Market mechanisms include the reality that some people will attempt to game the market mechanisms — and some will pay the price. Restricting who can buy and sell is using a hammer on free markets."
Marsha Blackburn (R-TN) wrote, "Free the traders on RobinhoodApp," and Twitter philanthropist Bill Pulte said, "I deleted my Robinhood account."
---
Hip-hop legend Ja Rule entered the discussion, calling the Robinhood decision, "a fucking crime" and encouraging his followers to hold.
He continued, "They hedge fund guy shorted these stocks now we can't buy them ppl start selling out of fear… we lose money they make money on the short… THIS IS A FUCKING CRIME!!!"
---
Biden Treasury Secretary Janet Yellen is being called out for involvement in stopping the trade of GameStop stocks because she also has financial ties to a firm currently losing money to the small investor surge.
The National Pulse writes, "Yellen will now face questions over her involvement in the move to stop ordinary traders on Thursday morning. She was cited as the front person of the Biden regime by Press Secretary Jen Psaki on Wednesday."
Will the people unite against Wall Street and the big banks who have been exploiting the working class for decades, or is this economic revolution set to be smothered before it spreads?
---