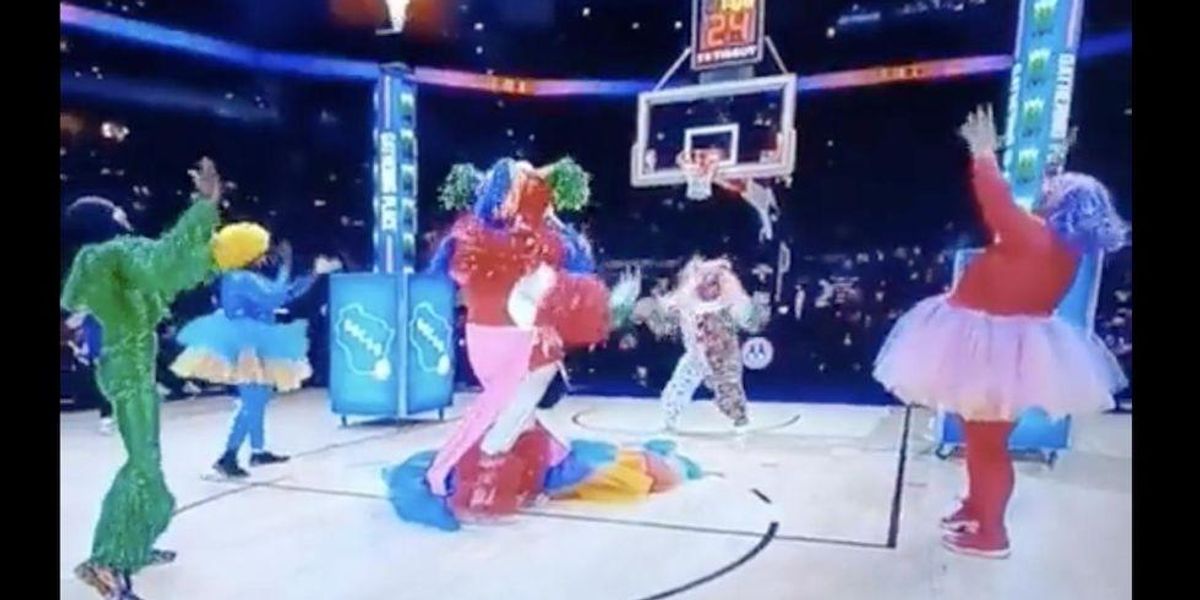 Drag queens performed for the crowd at halftime during "Pride Night" at the Milwaukee Bucks' home game against the Denver Nuggets on Wednesday, Fox News reported.
What are the details?
Here are a couple of clips:
u201c@Bucks PRIDE night!n#Show your priden#We are your familyn#See youu201d
— Julie Marie Totsch ud83cuddfaud83cudde6ud83cuddfaud83cuddf2 (@Julie Marie Totsch ud83cuddfaud83cudde6ud83cuddfaud83cuddf2) 167470143
u201chttps://t.co/t2CpaKY7aNu201d
— – (@-) 1674769746
As you can imagine, not everyone was happy about the drag queens doing their thing:
"As a bisexual woman, I am disgusted by the extremists in our community along with sports organizations and businesses promoting Drag Shows at family events," commented one Twitter user. "Since when did it become acceptable to sexually victimize children?! This is not the time or place for adult entertainment." "Are gay people insulted because your community is being combined with drag queens and trans grooming?" another commenter wondered. "Is that the public image you want to cling to? Is that really all you have to be 'proud' about? Is that the best you can do? It sure looks like it." like that, it kind of looks," observed another user. "The NBA grooms kids and is used as a tool to desensitize kids," said another commenter. "This is why I don't watch sports anymore."
Doug Russell, sports director for iHeart Radio Milwaukee and Madison, was outraged at "pearl-clutchers" worried about children attending during the drag show. But the conservative radio talk show host from St. Louis, Mark Reardon challenged Russell's argument:
u201c@DougRussell @Bucks My question is WHY are they needed in a @Bucks game? Rhetorical question. Loved @KinkyBootsBway u2026one of the best. I recommend it to everyone! But I also like that drag shows have a place like that where people have a choice. ud83eudd37ud83cudffdu200du2642ufe0fu201d
— Doug Russell (@DougRussell) 1674699299
But wait, there's more!
If you thought the drag queen show was the only thing going on in connection with the Bucks' "Pride Night," we've got a surprise for you! For starters, the first 10,000 fans in the door were to receive a Bucks Pride cap:
u201cThe perfect gift for a u2603ufe0f @Bucks Pride Night! nnThe first 10,000 fans will receive this beanie tonight courtesy of @Froedtert and MCW! ud83cudff3ufe0fu200dud83cudf08ud83cudff3ufe0fu200du26a7ufe0fud83cudfc0ud83eudd8cu201d
— Fiserv Forum (@Fiserv Forum) 1674684385
The arena was duly adorned with rainbow lights:
u201cHappy @Bucks pride night! ud83cudff3ufe0fu200dud83cudf08ud83cudff3ufe0fu200du26a7ufe0fud83eudd8cu201d
— Fiserv Forum (@Fiserv Forum) 1674694792
If you felt like going to the Bucks' pro shop, you could grab one of the shirts pictured in the tweet below, the back of which read: "LGBTQIA: Activist, Lesbian, Mentor, Advocate, Gay, Confidant , bisexual , Pride, Teacher, Transgender, Bispiritual, Counselor, Queer, Family, Intersex, Pansexual, Ally, Partner, Asexual, Friend."
u201cHappy Pride Night Bucks fans! Celebrate Pride with us tonight and grab one of these shirts! ud83cudff3ufe0fu200dud83cudf08ud83cudff3ufe0fu200du26a7ufe0fu2728nnA portion of sales will benefit @PathfindersMKE nnT-shirt: https://t. /hHGScgDcZzu201d
— Bucks Pro Shop (@Bucks Pro Shop) 1674687600
Bucks players stand up for the LGBTQ community in a video prepared for "Pride Night":
u201cThe power of sport can unite everyone.u201d
— Milwaukee Bucks (@Milwaukee Bucks) 1674662557
"The power of sports can bring everyone together, right?" guard Pat Connaughton said. "It doesn't matter your gender. It doesn't matter your ethnicity. It doesn't matter [your] political views, and it definitely doesn't matter your sexual identity."
Forward Joe Ingles added that it's "very important for fans and athletes and everyone in this world to make sporting events and any event for the LGBTQ community more accessible and welcoming."
After the game, you could "keep the Bucks Pride Night celebrations going" at a post-game party with "DJ Boyfrrriend":
u201cCheering on the @Bucks at @FiservForum tonight? ud83cudfc0 Keep the Bucks Pride Night celebrations going at The MECCA! ud83cudff3ufe0fu200dud83cudf08 The Postgame Party, hosted by @Froedtert & MCW, reports after the game. Enjoy live music by DJ Boyfrrriend, drink specials and more. ud83cudfb6u201d
— The MECCA Sports Bar and Grill (@The MECCA Sports Bar and Grill) 1674686254
Something else?
Last week, Philadelphia Flyers player Ivan Provorov was suspended for refusing to participate in the hockey team's pregame warm-up with players wearing rainbow colors on their uniforms and sticks Provorov cited his religion, Russian Orthodoxy, as his reason for not participating in the warm-up.
The author of ESPN's story on the controversy — Greg Wyshynski, senior NHL writer for the sports network — criticized Provorov on Twitter for his refusal to participate in warmups. NHL Network senior reporter EJ Hradek suggested that Provorov return to Russia and even fight against Ukraine if he didn't want to "assimilate into his peer group and the community and here in this country."
Do you like Blaze News? Bypass the censors, sign up for our newsletters and get stories like this straight to your inbox. Register here!