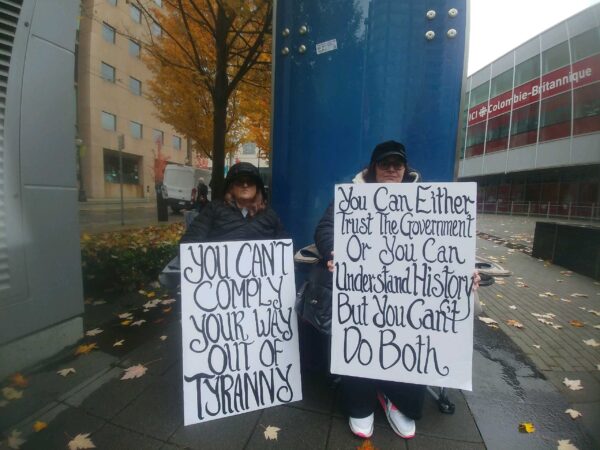 Several hundred people gathered on a rainy afternoon in Vancouver on Oct. 22 as two different rallies were held to protest growing government COVID-19 vaccination mandates and decry the media coverage surrounding them.
One of the rallies, which was quickly organized by a handful of longshoremen, took place in front of Transport Canada's Vancouver offices as a preemptive protest against an upcoming vaccine mandate not all workers feel comfortable with.
Members from the International Longshore and Warehouse Union (ILWU) is expecting Transport Canada to announce on Oct. 30 an agreement with the Vancouver Port Authority where all employees who work on Port Authority land will have to be fully vaccinated against COVID-19.
ILWU president Rob Ashton has asserted the union's opposition to a mandate, while illustrating how longshoremen have continued to work during the pandemic without any disruption to the supply of goods that come through British Columbia's ports, and with no devastating virus outbreaks.
"ILWU Canada has concerns with the potential of mandatory vaccination policies and has reached out to the Government of Canada to meet and discuss the details of these new regulations," Ashton said in a statement on the union's website in August, after the federal government announced its plan to mandate vaccinations for federally regulated workplaces.
"We also have concerns that this mandate could potentially hand employers overreaching powers, with workers bearing the consequences."
The ILWU represents over 7,200 longshore workers in B.C.
Some longshoremen who spoke at the Oct. 22 rally talked about the pending crisis unfolding throughout North America with merchant ships stranded at sea because of poor policy and government interference, while others encouraged the crowd to be resilient and strive to keep their jobs and freedoms despite the pressure surrounding vaccine mandates.
Tanya, Gaw, founder of the Action4Canada movement, generated some of the loudest cheers when she spoke passionately about standing up for Canadians' rights.
"No doctor or provincial legislation can pretend that any measure can override the charter or other constitutional rights," she said. "[B.C. Provincial Health Officer] Bonnie Henry has no power to be doing what she's doing."
"We need warriors," Gaw continued, "because the government has waged war against us."
On the other side of Vancouver's downtown, demonstrators gathered outside the CBC building to protest the coverage of the pandemic.
The keynote speaker was Polish-Canadian Leszek Szostak, also known by his pseudonym Joseph Conrad after the legendary Polish writer of the same name. Szostak, who has a following primarily in Poland of close to 150,000, discussed propaganda, and how he feels the media has unfairly used government talking points when covering the pandemic.
While the CBC served as a backdrop to the protest, Szostak emphasized the issue was not only with that particular media outlet.
"It's not just Canada, it's across the planet," he said.
Entrepreneur Francois Naudi supports the reason for the rallies and made time to attend.
"I felt it proper to be here and enjoy the company of like-minded people that are fighting for our rights and our freedoms, and segregation [of the unvaccinated] doesn't seem proper for a lot of us," he said.
"We might be the small numbers being exposed to this, the ones that are prepared to risk it all and lose that paycheque, but I'm here to support that choice."
Allen Forrest, who attended both rallies, and emphasized his duty to also show his support, as well as highlight the information many can't access.
"They [government] are going to take everything away from people," Forrest said.
"If we don't stand up now and let people know that what the media is telling them is completely wrong, that there's an alternate side to this, they're going to get their great reset. It's going to be really hard to reach some people because so many of them are into this Stockholm Syndrome where they're defending their captors. But we've got to do everything we can to reach as many as possible."
More rallies are scheduled in the coming weeks in Vancouver, including a solidarity rally for health-care workers on Oct. 26, and a stand for freedom rally co-ordinated by The Freedom Organization on Nov. 20.