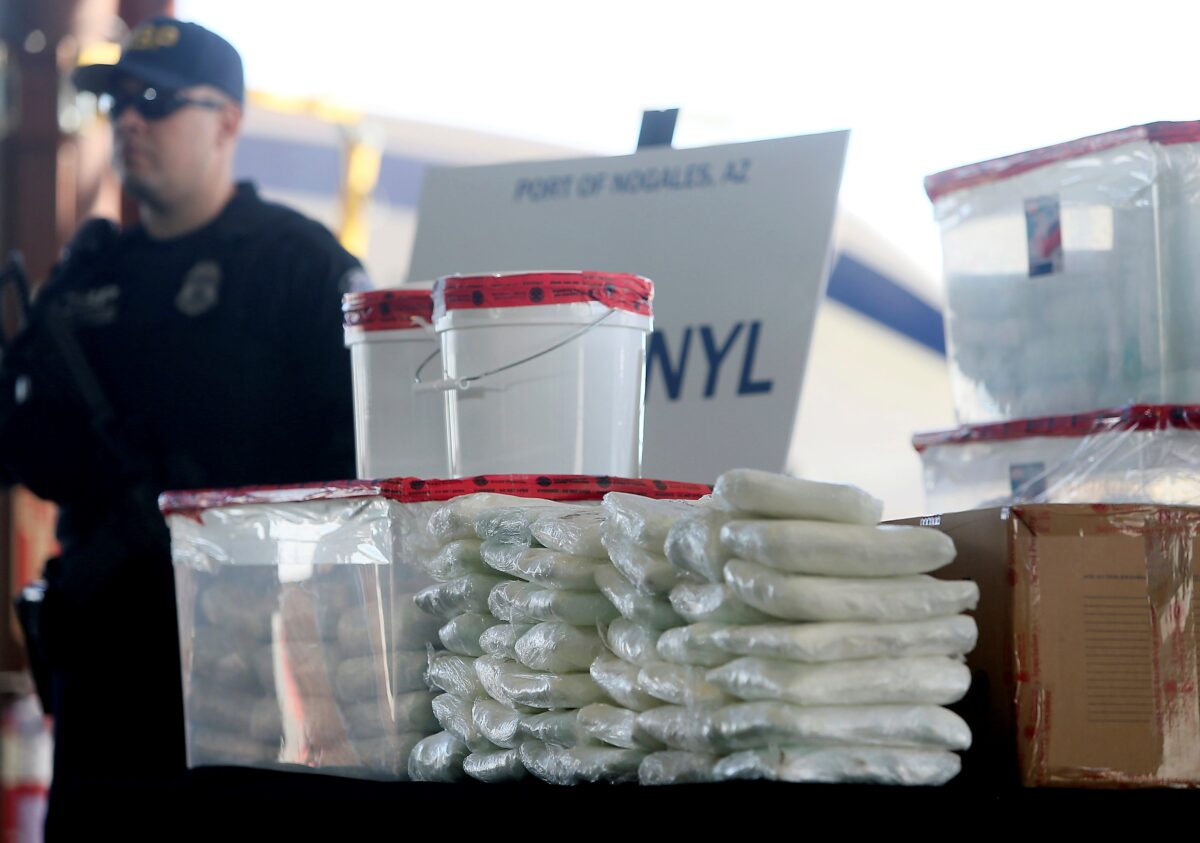 More than 100,000 Americans likely died from drug overdoses in 2022, marking the highest number on record, according to provisional data published May 18 by the Centers for Disease Control and Prevention (CDC).
The data show that the reported number of drug overdose deaths occurring in the United States decreased by 2 percent from the 12 months ending in December 2021 to the 12 months ending in December 2022, from 107,573 to 105,452.
However, the CDC estimates that number could reach 109,680, an increase of 0.5 percent year-on-year, following adjustments for delayed reporting.
The largest increase in overdose deaths in 2022 occurred in the states of Washington and Wyoming, where deaths surged 22 percent, according to the CDC.
Meanwhile, South Dakota had the biggest percentage decrease in overdose deaths last year, with deaths down 18 percent from 102 to 84, according to the CDC.
Iowa was the only state in which the number of overdose deaths remained unchanged in 2022, the data show.
The latest provisional data show that deaths associated with opioids, including fentanyl, continue to surge, reflecting statements made by the Drug Enforcement Administration (DEA) last year that the drug is killing Americans at an "unprecedented" rate.
Opioid-Related Deaths Rising
So far, 79,770 opioid-involved drug overdose deaths have been reported for the 12-month period ending in December 2022, which is a decrease from 80,997 in the previous year.
However, they likely will have accounted for nearly 83,000 overdose deaths last year, according to the provisional data from the CDC's National Center for Health Statistics.
"The reported and predicted number of drug overdose deaths involving synthetic opioids (including fentanyl but excluding methadone) and psychostimulants with abuse potential (such as methamphetamine) continued to increase compared to the previous year," the CDC said.
Both reported and predicted overdose deaths involving cocaine also increased year-on-year, it noted.
Fentanyl, a highly addictive and potent synthetic opioid, was first approved by the Food and Drug Administration to treat acute pain.
It is 50 times stronger than heroin and 100 times more potent than morphine. It is also extremely addictive. Just a two-milligram dose can prove fatal.
Mexican cartels are known to import fentanyl from China before pressing it into pills or mixing it into other counterfeit pills made to look like Xanax, Adderall, or oxycodone, and selling them to unaware buyers who then accidentally overdose.
Border Crisis Impact on Fentanyl Deaths
Cartels have also reportedly been using xylazine, a central nervous system depressant used to tranquilize animals, as a cutting agent for fentanyl.
While the Biden administration has made combating fentanyl a priority and has increased efforts to seize the drug at the U.S–Mexico border, many Republicans have blamed the president's border policies for further worsening the ongoing crisis.
Speaking at a town hall meeting in El Paso, Texas, earlier this month ahead of the expiration of Title 42, senior immigration officials warned that the worsening immigration situation at the southern border would likely lead to an increased amount of fentanyl coming into the United States and a rise in overdose deaths among Americans.
On Thursday, the House of Representatives passed the Republican-led Halt All Lethal Trafficking bill which would list Schedule I narcotics under the Controlled Substances Act.
According to the DEA, Schedule I narcotics are defined as those with "no currently accepted medical use and a high potential for abuse."
President Joe Biden had previously thrown his support behind the legislation, which he said will help "improve public safety and save lives."
The latest data come as overdose deaths surged throughout the COVID-19 pandemic, rising to more than 71,000 in 2021 from around 58,000 in 2020.
"The gasoline that was COVID has diminished, but the underlying fire of the opioid epidemic remains," Keith Humphreys, a drug policy adviser and professor of psychiatry at Stanford University, told The Washington Post. "The country still faces an enormous public health and safety challenge."