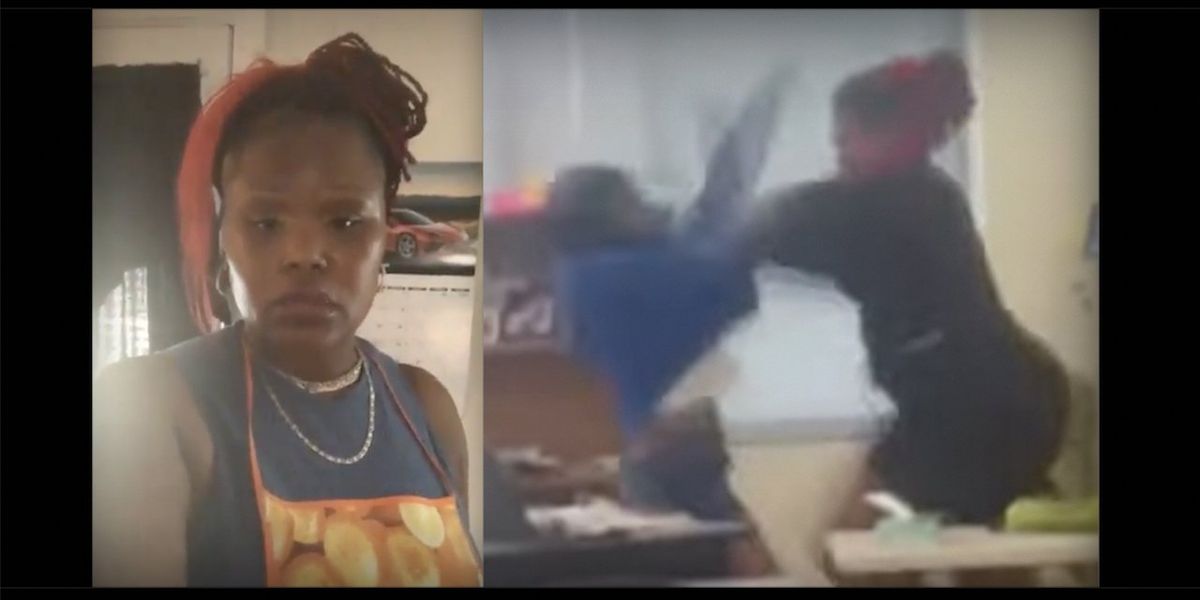 The North Carolina substitute teacher who was caught on video last week physically fighting a high school student over a confiscated cell phone is speaking out and defending her actions.
"This young lady attacked me and went for blood," Xaviera Steele said in the video after the viral incident.
Xaviera Steele Image source: Atlanta Black Star video screenshot
What is the background?
Steele and a juvenile student were caught on video arguing over the phone in a Rocky Mount High School classroom early Monday morning. The student appears to try to grab the phone from Steele's hand; Steele then pushes the student away. The student swings at Steele with his right arm, after which Steele takes the student down, throws punches, and nails the screaming student while yelling for someone to get another teacher into the classroom
u201c// Edited at viewer discretion //nnRocky Mount Police are investigating a fight involving a student and a substitute teacher at Rocky Mount High School this morning.nnPolice have identified the submarine, but there are no charges. has yet to be announced.nn@destineetv will share more on @WRAL at 6.u201d
— Keenan Willard (@KeenanWillard) 1681760480
Both Steele and the student have been charged with simple assault, WTVD-TV said.
The teacher speaks
Steele spoke about the altercation in a lengthy video that is part of an Atlanta Black Star story about the incident.
"I've been working with young people for 22 years," he said. "I started in high school tutoring youth. In elementary school, I taught dance, cheer, drill team. I've taught Sunday school…praise and worship dance." Steele also said she provided "office support to the school district" before becoming a "substitute teacher."
He added: "In all my 22 years, I've never experienced what I experienced on Monday. I've never been attacked by young people. I love young people; that's why I work with them. I have a heart for them. That young lady lashed out and went for blood.Steele also said the student ripped an "inch of my hair."
Steele also said a fake page had been created that made her say, "F the kids and F the job." She rejected this claim: "It was never for the children because our children are our future. But… [the student in question] she was in my space… I followed the protocol for whoever said I touched her first. … And I tried to call an administrator or someone in the office three times." She later said she was "backed into a corner" by the student.
Steele added that in the space of a month one teacher "had her head hit" and another teacher "had a gun pulled on her."
"As much as I love the kids, I can't put my life or my life on the line anymore," Steele continued. "I'm going to say goodbye to this profession. I went to school three times for real estate. Oh yeah, I'm facing charges too. … If I get a charge on my record, that's where my career comes back. … I have four children. My children would never do that. You better believe I raised my children well. They would never disrespect any authority figure or an adult. They know to come to me."
After thanking those who donated to a GoFundMe page set up by her husband, which has raised more than $10,600 as of Monday morning, Steele also lamented that "so many people are leaving the [teaching] profession".
"Tell your kids to put their phones away," he also said, before pleading with parents to "please make sure your kids follow directions, respect authority…otherwise there's a baton or … a police officer's gun or someone's gun. … waiting for them."
Steele added: "Please raise your children, spend time with them, love them. Teach them well [from] bad."
Do you like Blaze News? Bypass the censors, sign up for our newsletters and get stories like this straight to your inbox. Register here!