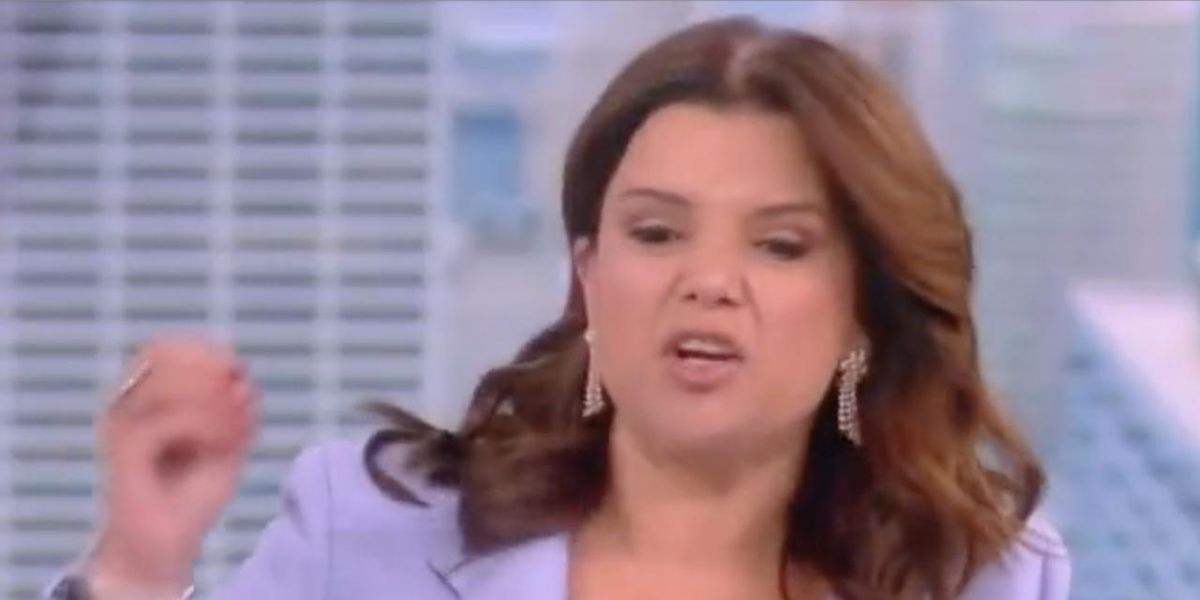 Ana Navarro on Monday's episode of "The View" downplayed the race of the black police officers accused of killing black man Tire Nichols in Memphis earlier this month.
"People would have done more to help a dog out than they did to help Tire Nichols," Navarro said in a clip. "And that's inhumane. And what we've seen, in this case, is that good cops come from any gender, class, color. And bad cops can be from any gender and color, and those cops were blue before they were blacks".
Navarro added that "these cops were part of the Scorpion Unit. It couldn't have been more aptly named because they were full of venom and hate and eager to kill. That night they were hunting, hunting for a victim, that it was just this young man, Tire Nichols. And I think we're so tired, everybody's so tired, and especially black mothers are so tired of seeing this over and over again."
Navarro's take can be seen in the second video below:
u201cFurious Ana Navarro proclaims: "People would have done more to help a dog than to help Tire Nichols." (It was the middle of the night and there was no one on the street)nAnd she says the cops killed him because "These cops were blue before they were black" and they were "hunting" him.u201d
— Nicholas Fondacaro (@Nicholas Fondacaro) 1675094892
What is the background?
Nichols, 29, was hospitalized after being arrested Jan. 7 for reckless driving and died of his injuries three days later. The five officers involved were fired for violating department policies after an internal investigation, and were arrested and booked into jail. Each officer was charged with second-degree murder, aggravated assault, two counts of aggravated kidnapping, two counts of official misconduct and official oppression.
In an interview Friday morning with Memphis Police Chief Cerelyn "CJ" Davis, CNN's Don Lemon asked, "Five black officers, one black police chief in a black community — what do you think about the race of the officers? and what does that say about the community and the country about the police, the care…" Davis interjected that "race" is not the reason for police problems.
On Friday evening, police released a video of the beating of Nichols as officials prepared for the riot. CNN's Van Jones wrote an op-ed that night saying that even though black officers are accused of killing Nichols, "black people can harbor anti-black feelings" and can be influenced by racism.
What else was said on 'The View'?
Whoopi Goldberg, another "The View" co-host, echoed Navarro's downplaying of race, saying it's not a black or white issue, but a problem with "surveillance itself."
"Things don't seem to make sense to people unless it's someone they can feel, or they can recognize… Do we need to see white people get beat up too before anyone does anything?" Goldberg added. "I'm not suggesting that, so don't write to us and tell me what a racist I am. I'm just asking, is this what people need to see to wake up and realize that this affects us all?"
u201cClaiming she 'doesn't suggest that,' Whoopi suggests that white people need to be beaten by the police before reforms happen.n"Do we need white people to be beaten too before anyone does anything?… Don't write to us and tell me what a racist I am."u201d
— Nicholas Fondacaro (@Nicholas Fondacaro) 1675094892
Do you like Blaze News? Bypass the censors, sign up for our newsletters and get stories like this straight to your inbox. Register here!