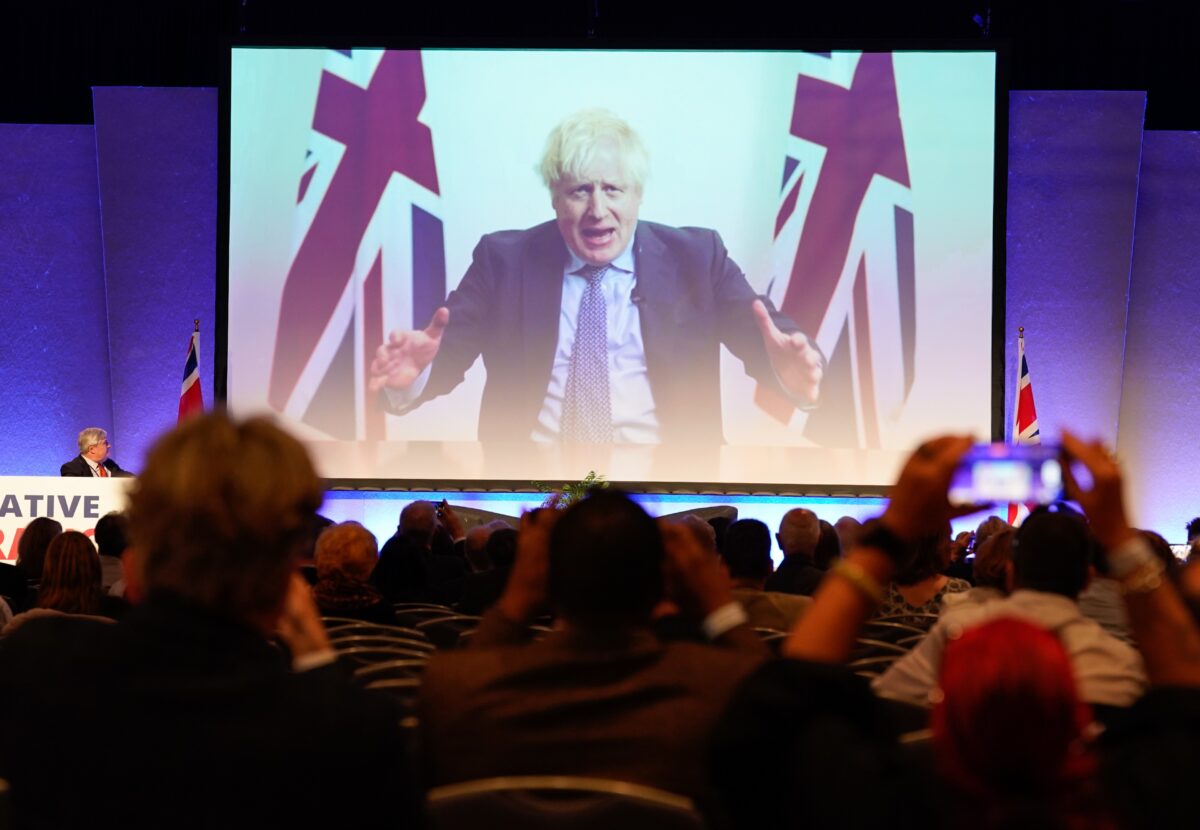 Prime Minister Rishi Sunak is facing criticism from within his party ranks as a new Conservative grouping loyal to former Prime Minister Boris Johnson holds its first formal meeting.
The Conservative Democratic Organisation (CDO)—which was set up in the aftermath of Johnson's removal from office and amid anger at the installation of Sunak as prime minister without a vote by the party membership—held its first conference in Bournemouth on Saturday.
The group—backed by Tory peer and donor Lord Cruddas and organised by Brexiteer David Campbell Bannerman—pledges to restore democracy to the Conservative grassroots.
Johnson himself was not present at the conference, but sent a video message in which he thanked CDO members for continuing to campaign "for freedom and democracy."
The organisation has repeatedly insisted it is not focused on bringing back Johnson, but speakers at the conference included several of his most prominent backers.
Prime Minister Rishi Sunak departs 10 Downing Street to attend Prime Minister's Questions at the Houses of Parliament, in London, on April 26, 2023. (Stefan Rousseau/PA Media)
'Damaging Our Party'
Former home secretary Priti Patel told the conference that the Conservative Party has not covered itself in "glory" in the last year, adding: "In fact, some parts of Westminster and colleagues have done a better job at damaging our party than the opposition, even the left-wing campaign groups, the civil service that you know we all struggle with day in, day out."
She lamented the ousting of Johnson, whom she called "our most electorally successful prime minister since Margaret Thatcher."
Patel said the parliamentary Conservative party "turned their back on the membership and effectively broken that golden thread in terms of the democracy from the bottom of the party right up to the top," adding that "we have to rebuild that."
Former culture secretary Nadine Dorries told the conference the Conservatives are "drifting" and "no longer have that inspirational leader and those visionary policies that people can go out and vote for."
It comes after the Conservative Party lost more than 1,000 councillors and control of 48 councils overall in the local elections earlier this month.
Brexit-backing MPs were further angered last week by the government's decision to revoke just around 600 retained EU laws, rather than the 4,000 pledged, by the end of this year.
But the Johnson loyalists stopped short of suggesting the former prime minister should make a return.
Jacob Rees-Mogg, a former Cabinet minister, said it was a mistake to get rid of Johnson but he claimed that deposing Sunak would be an "even bigger mistake."
He added: "The Tory party would be toast if we change leader again … but that doesn't mean we agree with him on every policy."
'Recipe for Disaster'
Sunak used an interview in The Mail On Sunday to stress his Brexit credentials, saying: "I voted for Brexit, I campaigned for Brexit, I believe in Brexit, and when I was chancellor I started to deliver some benefits of Brexit."
Senior Tory MP Tobias Ellwood, who represents Bournemouth East, hit out at his party colleagues for stoking division.
The Defence Committee chairman wrote in The Times: "A drag anchor of a right-wing caucus is in our ranks, and it has already written off any prospects of victory in 2024.
"As statecraft finally returns to No. 10, guiding us into far calmer waters, less-than-subtle plots are afoot to shift our party to the right during the blame game that invariably follows electoral defeat."
He criticised an excessive focus on tax cuts, "Europe-bashing," and culture wars, warning: "This is a recipe for disaster, as disloyal as it is reckless. It fails to recognise the fighting chance we have of winning."
Energy Secretary Grant Shapps played down suggestions of unrest within Tory ranks.
He told the BBC on Sunday: "I think this is a party that still, after years in government and despite having to put up with things like the pandemic, the war in Ukraine, and all the costs attached to it, is actually buzzing with ideas. We're able to get together and we're able to hold conferences, and have different ideas come forward."
PA Media contributed to this report.