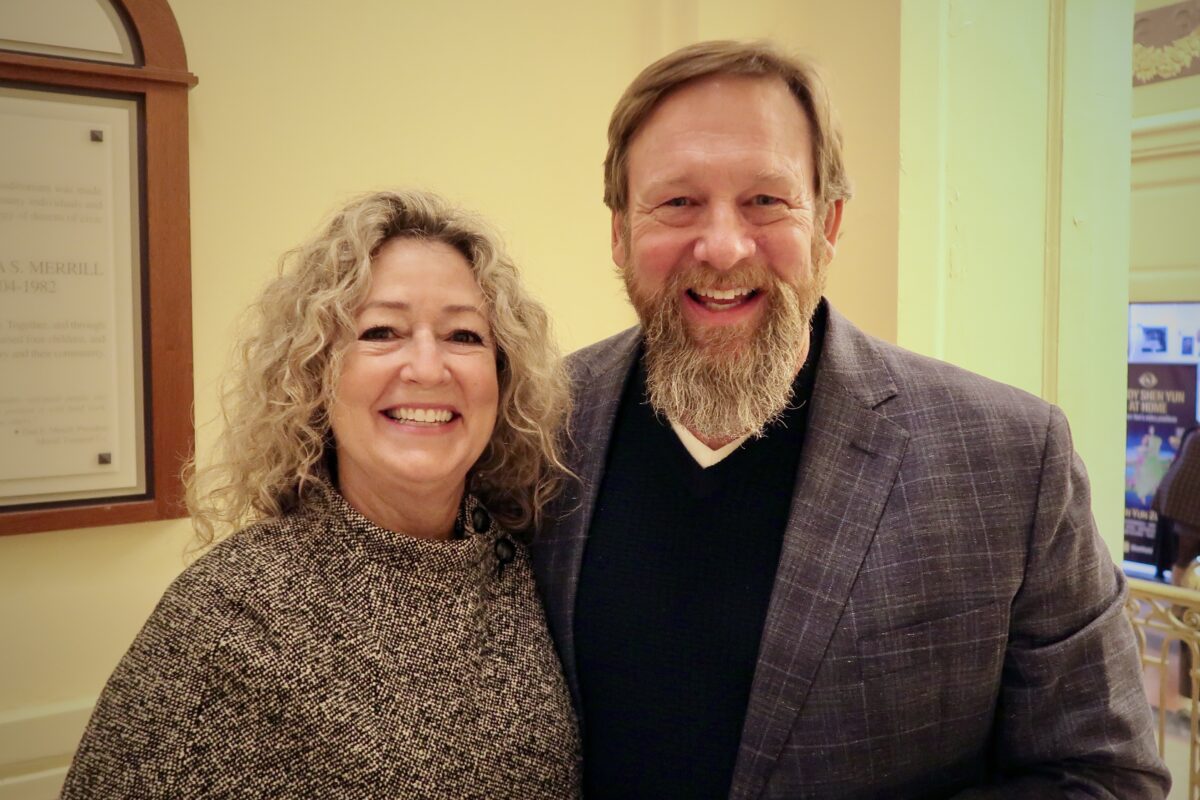 PORTLAND, Maine—Scott Braley and Teresa Bates enjoyed Shen Yun Performing Arts at the Merrill Auditorium in Portland, Maine on Feb. 25 .
Mr. Braley, an engineer who owns his own business, said, "It was wonderful, just the choreography was great and the coordination between all the dancers was amazing."
Ms. Bates said, "It was something different than I've never seen. I really enjoyed watching the authentic dancing. I enjoyed it."
Based in New York, Shen Yun was founded in 2006 by leading Chinese artists and quickly became the world's premier classical Chinese dance and music company. Shen Yun's mission is to revive traditional Chinese culture.
The stories enthralled them. "I enjoyed them all,"Mr. Braley said. "For me it was great to have the introductions before each piece. It made it easier to recognize what was going on." He described a story-based dance about a monk, and the Mongolian ethnic dance that Ms. Bates felt was especially memorable as well.
Ms. Bates had lots of smiles as she watched. "I liked the Mongolian chopsticks. I enjoyed that one, that was fun. But they were all great."
"Obviously China is one of the most historically significant places in the world, and to see the different periods from the different dances was very interesting," Mr. Braley said. "Just the history, and the strength of the history, and the people."
Ms. Bates said she was surprised to see that the stories extended up to the present day. One of the story-based dances showed followers of the spiritual meditation practice Falun Gong, also known as Falun Dafa, carrying on traditional values with the principles of truth, compassion, and tolerance. But in China today, they are persecuted by the Chinese Communist Party, and Shen Yun dramatized this tragedy.
"It was kind of profound," Ms. Bates said. "That was kind of eye-opening."
Mr. Braley said that even though the Chinese regime would try to censor such information, Shen Yun could show it through th arts.
"It's interesting that, because the performances are here in the States, they're able to provide that information that otherwise people here might not get, because they don't see it on the TV," Mr. Braley said. "You know, the Chinese government obviously does not release such things, so it's an opportunity for people here to hear and see those things."
Ms. Bates said it was sad that Shen Yun cannot perform this in China, and was heartened that from their base in New York, Shen Yun had "the freedoms that you have here to express whatever you want to express."
Both enjoyed Shen Yun. "It was fantastic, a truly enjoyable show," Mr. Braley said.
"Great job. Can't wait for next year's," Ms. Bates said.
The Governor of Maine, Janet Mills, also honored Shen Yun with an official letter of welcome.
Official letter from Gov. Janet Mills to welcome to Shen Yun Performing Arts to the State of Maine.
Reporting by Erin Xia.
The Epoch Times is a proud sponsor of Shen Yun Performing Arts. We have covered audience reactions since Shen Yun's inception in 2006.