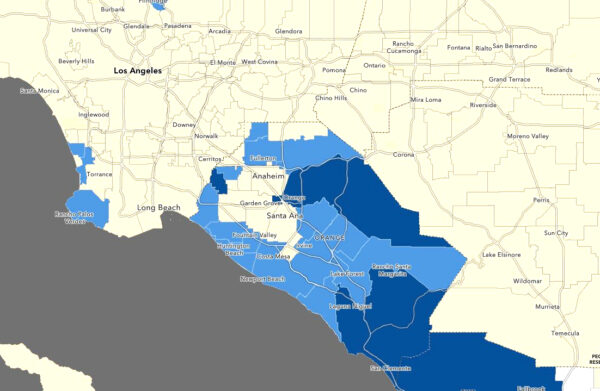 As California Gov. Gavin Newsom has pushed a proposal to incentivize school reopenings this month using grants, he has faced opposition from teachers' unions, as well as some legislators and district leaders.
But Orange County school districts have been more receptive to hybrid- and in-person-learning than those in some neighboring counties.
On the state's map showing the status of school closures, districts open for in-person or hybrid learning are colored blue. Districts with distance-learning only are a sandy yellow. Orange County looks like something of a watering hole in the desert, surrounded by sandy-colored Los Angeles, Riverside, and San Bernardino counties.
It does have a sandy patch of its own, covering Santa Ana, Garden Grove, Westminster, Stanton, and Anaheim.
Schools in the Newport-Mesa Unified School District in Orange County have been opened for hybrid-learning since September (aside from a few weeks in January when students in grades 7–12 were kept home).
"Getting them back here on campus has made such a difference, and how thrilled the kids are to be able to be around one another," Kristin DeMicco, principal of Lincoln Elementary School in the Newport-Mesa district, told The Epoch Times.
She spoke of the success of the hybrid model in her school, including its positive impact on students and the fact that it's had no reported cases of COVID-19.
Very few students at her school have opted for distance-learning. In September, only 15 of the 348 students decided to stay online. Another six or seven opted for distance-learning after the winter break. That's a total of about 6 percent of students, compared to 10 percent district-wide.
Regarding how teachers feel about it, DeMicco said, "I can't speak for everybody, but I know I get a sense on this campus that everybody is happy to be here and enjoys being able to work with the kids in person."
Catherine Hewko, a fourth-grade teacher who has been at the school for 19 years, agreed.
"There's only a certain amount of time that you can spend behind your computer screen and continue to be engaged," Hewko told The Epoch Times.  "We've had … students who have remained at home for a few weeks, and just reconnecting with them, they are desperate to come back."
The phrase she hears flying around about distance-learning is: "It's boring."
Hewko currently has nine students in the morning and 11 in the afternoon, with the school divided into cohorts to avoid crowding in classrooms.
Union Calls Hybrid 'Utter Failure'
The Newport-Mesa Federation of Teachers has pushed for a return to distance-learning. In an open letter to the district in November, it said "the current state of the hybrid is a complete and utter failure … a literal accident waiting to happen."
It criticized safety measures, saying they could not be properly enforced. Students were taking off their masks when not watched by the teachers and not maintaining distancing, it said. The letter said it was hard on children to "expect them to resist normal impulses" while at school in-person.
The union's president told the L.A. Times last month she still felt safety protocols were insufficient and educators were "deeply concerned" about the district's middle schools and high schools reopening after the three-week hiatus.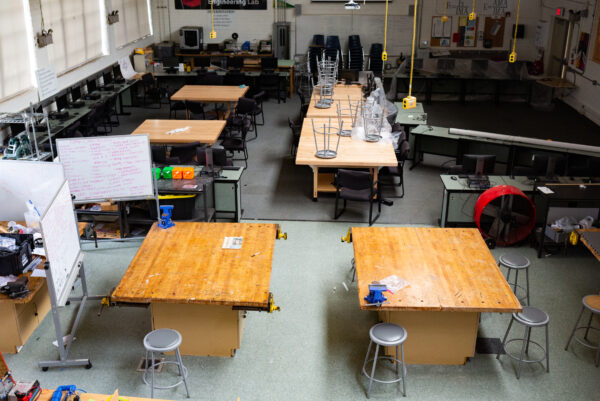 On a state-level, teachers' unions have pushed for more stringent conditions before resuming in-person learning. Those conditions include lower COVID-19 transmission rates, tracking and enforcement of safety measures at schools, and a more rapid rollout of vaccines for educators and others.
But Newsom has said a return to school would be far too much delayed by waiting for vaccines. During a video conference with the Association of California Administrators, Newsom said, "If everybody has to be vaccinated, we might as well just tell people the truth: There will be no in-person instruction in the state of California."
Teachers are not yet included on the Orange County Health Care Agency's (OCHCA) vaccination timeline.
OCHCA Public Information Manager Jessica Good told The Epoch Times via email: "Until our ICU's stabilize over the next few weeks and Dr. Clayton Chau, County Health Officer, and our OC COVID-19 Vaccine Task Force review our hospitalization data again, that plan will remain in place for the time being."
Matthew Hardy, communications director for the California Federation of Teachers (CFT), sent the Epoch Times a statement regarding the Newport-Mesa district: "Our goal as a union is to ensure the safety of our staff, our students, and our communities. Newport Mesa Unified School District has been in person … during the largest surge of the pandemic.
"We commend our colleagues in Newport Mesa for working through the most trying of times as the school district continues to figure out their safety protocols. They deserve an incredible amount of praise for doing quality work in spite of the circumstances."
CFT released a reopening plan this month calling for universal mask-use in schools, social distancing, increased air ventilation, hybrid attendance models to reduce crowding in classrooms, expanded testing, and continued remote-learning options for staff and students.
Safety Measures at Lincoln Elementary
DeMicco outlined safety measures in place at her school. Students are split into cohorts for morning and afternoon classes to reduce class size, with no more than 16 students in a classroom at the same time.  Students are to stay 6 feet apart and everyone is required to wear a mask.
"We're having kids wash their hands when they enter a classroom, whether it's coming in for the morning or coming in from snack or encouraging hand washing and hand sanitizer throughout the time that they're here," DeMicco said.
There are HEPA filters throughout the campus—in each classroom, in the hallways and office. The school hired 40 new custodians and trained them on enhanced cleaning.
"We have a lot of PPE that's available to our staff, including K-95 masks whenever anybody wants one," DeMicco said. "And so I don't feel any tension or anything like that on this campus. I think we feel like we need to be here and want to be."