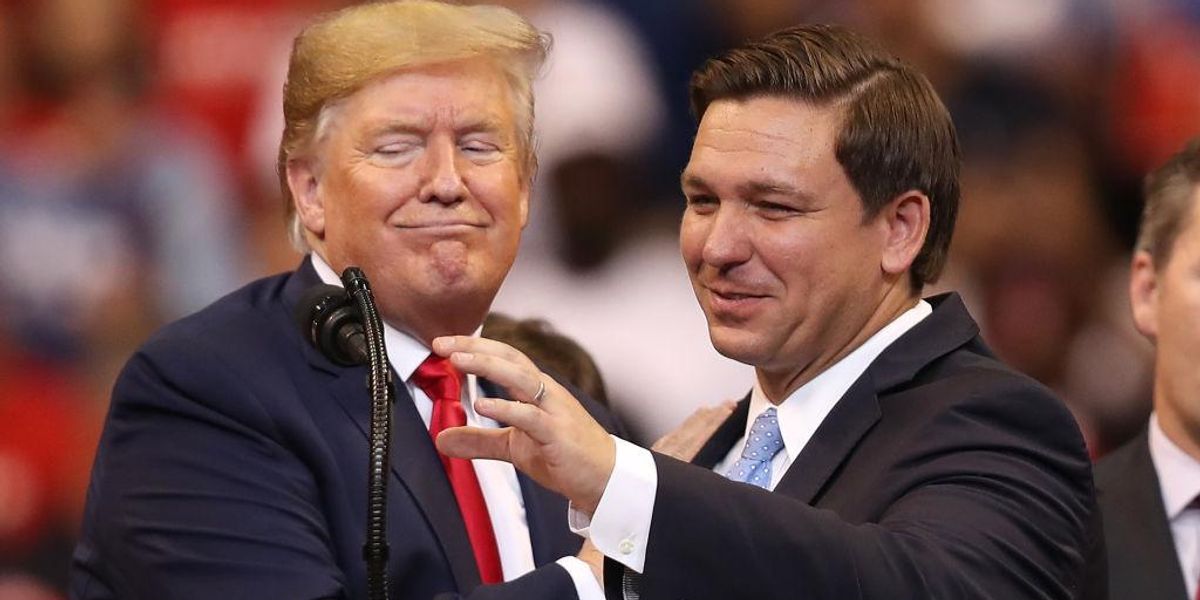 Florida Gov. Ron DeSantis is gearing up for a presidential run in 2024. At the same time, former President Donald Trump is firing at "disloyal" DeSantis for considering a possible run for the White House in 2024.
The Washington Post reported Saturday: "Advisors to Florida Gov. Ron DeSantis are actively preparing for a possible presidential run, according to two Republicans with knowledge of the conversations who described meetings and preliminary staff moves, the latest sign DeSantis is laying the groundwork for a national campaign."
The report stated that top dogs on the potential DeSantis 2024 campaign team "have already identified multiple potential hires in early primary states such as New Hampshire and Iowa."
The political source told the outlet that Phil Cox and Generra Peck are in discussions about a 2024 run. Peck was the campaign manager for Ron's dominant 2022 gubernatorial victory against Charlie Crist. Cox is a former executive director of the Republican Governors Association and was a senior adviser to DeSantis' re-election campaign.
Also Saturday, Trump took a shot at DeSantis for even considering a 2024 presidential run during a campaign event at the Statehouse in downtown Columbia, South Carolina.
"When I hear that I could [run] I think he's very disloyal," Trump said of DeSantis.
Trump accused DeSantis and his administration of "trying to rewrite history" regarding their response to the COVID-19 pandemic.
"There are Republican governors who didn't shut down their states," Trump told reporters while aboard his plane, according to CNN. "Florida was shut down for a long period of time."
"They're trying to rewrite history," Trump declared.
In March 2020, DeSantis signed an executive order to close bars and nightclubs. He also ordered restaurants to close their dining rooms and use takeout and delivery only.
Florida's Republican governor fully reopened the state in late September 2020. DeSantis also signed an order to protect businesses from local governments trying to shut them down for violations of the mask mandate.
Trump also said DeSantis "changed a lot of his view" on COVID-19 vaccines, adding that the Florida governor "promoted the vaccine as much as anyone."
Trump ruled out the possibility of DeSantis beating him: "He's not going to lead, I got him elected. I'm the one who elected him."
However, a University of New Hampshire poll released Thursday showed DeSantis (42 percent) leading Trump (30 percent) by 12 points.
A Marquette Law School poll released Thursday found that 45 percent of registered voters prefer DeSantis over 38 percent who prefer President Joe Biden in a hypothetical matchup. Meanwhile, Trump and Biden are deadlocked at 40%.
A Morning Consult poll from earlier this month showed Trump receiving 46 percent of the Republican primary vote to DeSantis' 33 percent.
Trump endorsed DeSantis in 2018, and the then-rep narrowly beat Democratic darling Andrew Gillum.
Earlier Saturday, Trump made a stop in Salem, New Hampshire.
"This is it. Let's start right here as a candidate for president," Trump told members of the New Hampshire GOP at their annual meeting.
Trump rejected the idea that he was not committed to running in 2024.
"They said, 'He's not rallying, he's not campaigning. Maybe he's lost his step,'" Trump said, then added, "I'm angrier now and I'm more engaged now than ever."
During the Columbia appearance, Trump touted the support of Sen. Lindsey Graham (R-C.) and South Carolina Gov. Henry McMaster.
Do you like Blaze News? Bypass the censors, sign up for our newsletters and get stories like this straight to your inbox. Register here!