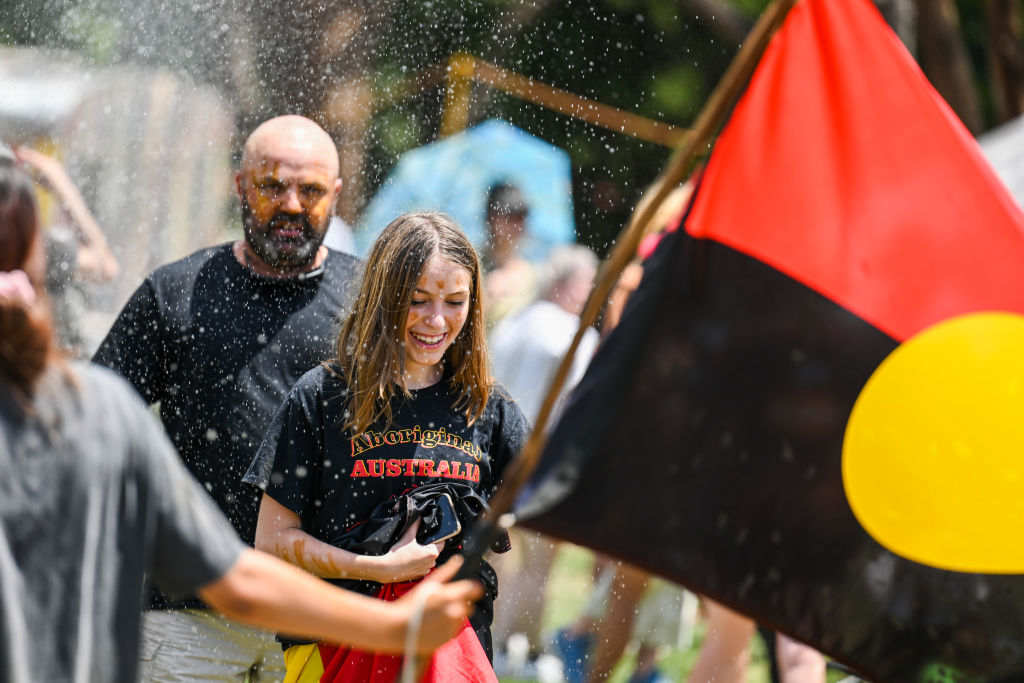 Commentary
The federal Labor government's proposal to enshrine an "Indigenous Voice to Parliament" in the Constitution is the wrong way to recognise Aboriginal people or help those in need.
It is simply not true that Indigenous communities are not heard in the public arena.
What started with a trickle of Aboriginal voices, with the election in 1971 of Neville Bonner from Queensland to the Senate on behalf of the Liberal Party, has now steadily grown to 11 members of Aboriginal heritage in the 2022 Commonwealth Parliament.
Each member has a voice backed by voters via proper democratic processes, making them a legitimate representation of their electorate and people.
Any mechanism other than normal parliamentary processes undermines the Parliament and the voter's right to choose their representatives.
So, what do we see in the Voice?
What we see is a second "Voice," a second bite of the cherry—for one group only.
The proposal also smacks of paternalism without proof that it will help those who are desperately in need.
So, with the announcement of the No Case Committee on the referendum called "Recognise a Better Way," there will be a showcase of many other voices, Aboriginal and non-Aboriginal, who will be in opposition to the government's misplaced and unnecessary proposal.
This picture shows the Opera House illuminated in the colours of the Aboriginal flag in Sydney on Australia Day on Jan. 26, 2023. (Robert Wallace/AFP via Getty Images)
There is also a lack of appreciation of the inherent problem of Prime Minister Anthony Albanese, who in the aftermath of the May 2022 election, said, "I commit to the Uluru Statement from the Heart in full."
His Indigenous Affairs Minister Linda Burney recently also claimed that not enshrining the Voice into Parliament would ignore the "wishes of the more than 1,200 First Nations leaders who took part in nationwide consultations that led to the Uluru Statement."
Yet the Statement was composed by a small coterie and presented in Alice Springs to a gathering of just 250 delegates.
It is simply not the wish of a small proportion of the Aboriginal population that counts. It is those of all Australians that count.
In a referendum, that means a majority of votes in a majority of states.
Referenda rarely succeed, and for good reason. The last successful referendum in Australia was in 1977, where three of four propositions carried.
Interestingly, a referendum on ensuring that Australian Senate and House of Representatives elections were held simultaneously gained 62 percent support nationally but failed in three states. The other successful referenda were essentially housekeeping.
The Voice proposal is not housekeeping, it seeks to upend the Parliament.
Enshrining a Voice Has Its Consequences
Just as non-party aligned independent senators can hold their support to win favours from a desperate government, so too could the Voice hold up legislation in the same manner.
Yet, while independent senators can be removed by voters, and often are, the Voice cannot be removed.
Imagine a future Labor-Greens bloc that wishes to block legislation from the Liberal-National Coalition.
It could run to the Voice and have them hold up legislation on all sorts of pretexts—lack of consultation, insufficient resources etc.—and, if that fails, run to the courts.
Governments are under enough pressure to deliver for all Australians. The Voice will cost Australians, forever.
Our Recommendations
"Recognise a Better Way" understands there is much to do in Aboriginal Australia. It has a three-point plan to recognise prior occupation and help those in need:
Recognise prior occupation of Aboriginal people in a preamble to the constitution. Prior occupation reflects history. The Albanese Voice proposal is a form of recognition of present peoples who already have a vote, and many voices.
Establish an all-party Parliamentary standing committee for native title holders. Legislation is unique to these citizens and there is no awkwardness about identifying who is entitled. Native title holders, with few exceptions, are most in need. The Albanese Voice proposal fails to appreciate that most Aboriginals are doing well.
Support Aboriginal community-controlled organisations. Aboriginal Australia is well organised, and politicians never stop consulting with these voices: but their governance must be improved. The Albanese Voice proposal adds another layer to a very crowded field.
Aboriginal Australians do not need more voices; a minority need a way into the wider society.
Written on behalf of Recognise A Better Way, the No Case Committee for the Voice referendum.
Views expressed in this article are the opinions of the author and do not necessarily reflect the views of The Epoch Times.