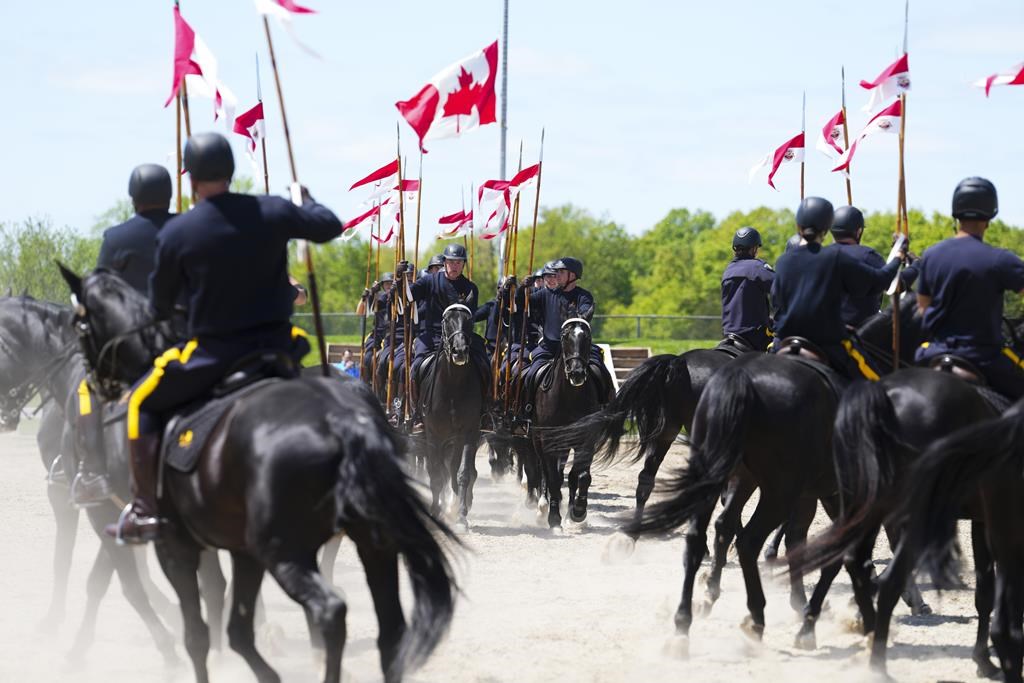 Maxwell Newhouse remembers the earth quivering below his feet when 32 riders wearing bright scarlet jackets, on top of their large black horses, moved across a field in seamless patterns.
It was 25 years ago and his first time watching an RCMP Musical Ride, a horsey ballet where Mounties don the iconic red serge, hoist their lances and pay tribute to Canada's heritage.
"It's just the Canadian experience. It was just beyond anything I've ever witnessed," said Newhouse, a painter from British Columbia.
"When I saw it, it cured me. I went home and I couldn't stop painting. I literally painted them for more than 10 years."
As the RCMP celebrates its 150th anniversary, Newhouse reflected on the century−long tradition that has shaped him as an artist.
Some of the hundreds of depictions he has painted are featured in his book, "The RCMP Musical Ride," showcasing the intricate formations that require the utmost control, timing and co−ordination.
Mounties say the ride is a symbol of tradition, honour and pride where officers can build relationships with communities.
"As an artist, I'm always looking for Canada," Newhouse said. "How do we identify ourselves? I think the Mounties are part of that."
RCMP members perform dozens of rides in Canadian communities each year. Performances are to be held in seven provinces this year.
The ride is made up of police officers who have gone through a competitive application process and extensive training at the stables in Ottawa.
The horses also receive comprehensive training and build relationships with their riders.
"Sometimes people will start off with a horse they're not all that fond of, but as rider and horse grow to understand and trust each other, that bond grows," said Sgt. Maj. Bill Stewart, the former Riding Master, in the book "The Spirit of the Ride: The RCMP Musical Ride" by Monique Cooper and Joel Walker.
The first public ride dates back to 1887 at the riding school in Regina, about 13 years after the North−West Mounted Police began their march west on horseback from Dufferin, Man.
Mounted cavalry drills had been part of officers' routines, a tradition that came from former British cavalry members.
The riding school burned down in 1887 and the next publicly recorded ride happened 20 years later in 1901. The tradition continued until the First World War.
It then returned in 1920, the same year the force's name was changed to RCMP, and has since become a staple.
The Musical Ride horses were originally various colours, but in 1938, former Commissioner Stuart Wood mandated Mounties only use black ones.
Wood had gone to the coronation of King George VI and liked how the Life Guards' red jackets contrasted against their black horses. Mounties also have red jackets, so he wanted to replicate that look.
Black horses, however, were hard to come by. That's why, in 1939, RCMP established a breeding program in Regina, selecting horses for their black coats, size and temperament.
In 1942, the program was moved to Fort Walsh, Sask., in the province's southwest Cypress Hills region.
The program was moved in 1968 to its present location in Pakenham, Ont., 59 kilometres west of Ottawa.
Fort Walsh remains a national historic site.
"I think of Fort Walsh as the (Musical Ride) horses' spiritual home," said Frances Polson in "The Spirit of the Ride."
"I remember in the evenings, the horses would come over the hill, thundering hoofs and a great herd of moving bodies."
A few famous horses have come out of Fort Walsh, including Burmese, a black beauty that was gifted to the late Queen Elizabeth. Burmese was one of the her favourite horses because it had a quiet temperament, lots of spirit and was dependable.
Nero, a horse also from Fort Walsh, was famous for knowing all the formations and teaching other horses.
Nero was taxidermized and put on display at the RCMP Heritage Centre in Regina. However, the horse's black coat has over the years turned brown due to light damage and the effects of taxidermy chemicals.
Horses that don't make the cut for the Musical Ride are auctioned off.
While basic equestrian training ended at the Training Academy in Regina in 1966, nearly all Mounties are eligible to apply to be part of the tradition.
They are required to have two years policing experience, but they don't need to have previous equestrian training.
The Musical Ride receives hundreds of applications each year. About a dozen or so get to try out and only a handful are chosen.
They spend endless hours in the saddle, grooming horses, cleaning stalls and sweeping floors. Members take part in the ride for three years and then go back to their regular policing duties.
As one Mountie put it in "The Spirit of the Ride," being selected for the ride is "almost as good as winning the lottery."
For Newhouse, it offers a sense of pride.
"I know (RCMP) get a lot of bad press, but they're paying attention and I have faith," he said. "There's a long history that they can be proud of."
By Jeremy Simes