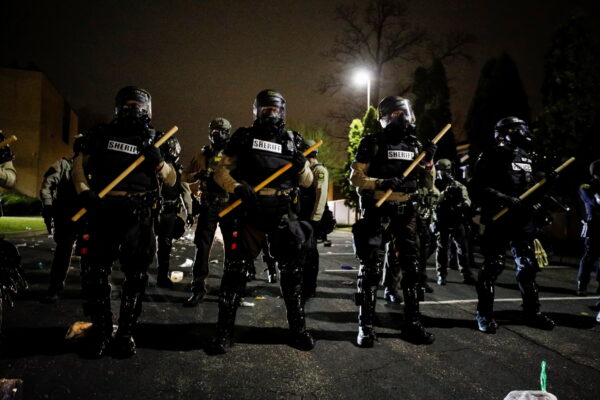 A 20-year-old motorist with an outstanding arrest warrant was fatally shot by a police officer in Minnesota on Sunday afternoon, prompting a crowd of at least a few hundred people who are in the area during the Derek Chauvin trial to protest outside the Brooklyn Center Police Department Headquarters.
The man killed in the incident has been identified by relatives at the scene as Daunte Wright, 20, according to the Star Tribune.
Law enforcement officers from the Brooklyn Center Police Department initiated a stop for a traffic violation in the area of the 6300 block of Orchard Ave in Brooklyn Center shortly before 2 p.m. Sunday, before determining that Wright had an outstanding warrant, the Brooklyn Center Police Department said in a release.
According to the department, Wright re-entered his vehicle when officers attempted to take him into custody. One officer then discharged their firearm, hitting Wright. Wright and his girlfriend who was in the vehicle then traveled several blocks before striking another vehicle and coming to a stop, police said.
Medical personnel at the scene attempted to perform life saving measures, but Wright was pronounced dead shortly afterwards, the department said.
After nightfall, a few hundred protesters had gathered outside the suburban police department, which was guarded by hundreds of officers in riot gear, Reuters reported. Protesters were seen throwing trash at police. After police declared an unlawful assembly and issued a dispersal order at 10 p.m., police set off flash bangs and chemical irritants to disperse the crowd.
Earlier, about 100 people, some visibly upset and one carrying a sign demanding "Justice for George Floyd," confronted police in riot gear. The incident took place about 10 miles from where George Floyd was died in Minneapolis last May.
Some vandalized two police vehicles, pelting them with stones and jumping on them. Police fired rubber bullets, hitting at least two in the crowd, with at least one man left bleeding from the head, a Reuters witness said.
According to a Twitter post by a Minnesota-based community organizer, protesters were being directed to the Minnesota Freedom Fund for help with bail payments in the case of any arrests during the protests, which devolved into riots Sunday night. Minnesota Freedom Fund describes itself as "fighting back against #Minnesota's unjust #bail system and paying #immigrant bonds."
Vice President Kamala Harris in October last year vowed to take steps on criminal justice reform that would include establishing a national registry for police officers that break the law, and also ending the cash-bail system.
"An unlawful assembly has been declared, dispersal order has been issued. They're ready to "make arrests" soon," the post read. "Bail: @MNFreedomFund."
"If mace or tear gas is deployed: guide for washing out chemical irritants from eyes with water. DO NOT use milk," he added.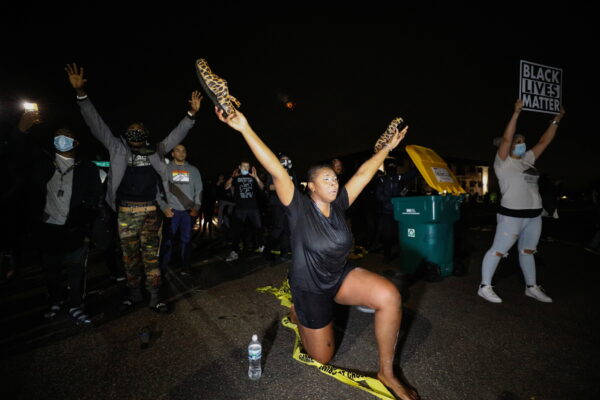 Minnesota Gov. Tim Walz said in a statement that he was "closely monitoring the situation in Brooklyn Center."
"Gwen and I are praying for Daunte Wright's family as our state mourns another life of a Black man taken by law enforcement," he said.
Brooklyn Center Mayor Mike Elliot described the killing of Wright as "tragic."
"We are asking the protesters to continue to be peaceful and that peaceful protesters are not dealt with with force," he said. "I understand that officers have left the scene," he added.
Police said Wright's girlfriend sustained non-life threatening injuries during the crash, and was transported to North Memorial Health Hospital in Robbinsdale.
The Brooklyn Center Police Department said that an independent investigation is underway following the incident, and will be performed by the Bureau of Criminal Apprehension. It said it believes body-worn cameras and dashboard cameras "were activated" during the incident.
Reuters contributed to this report.