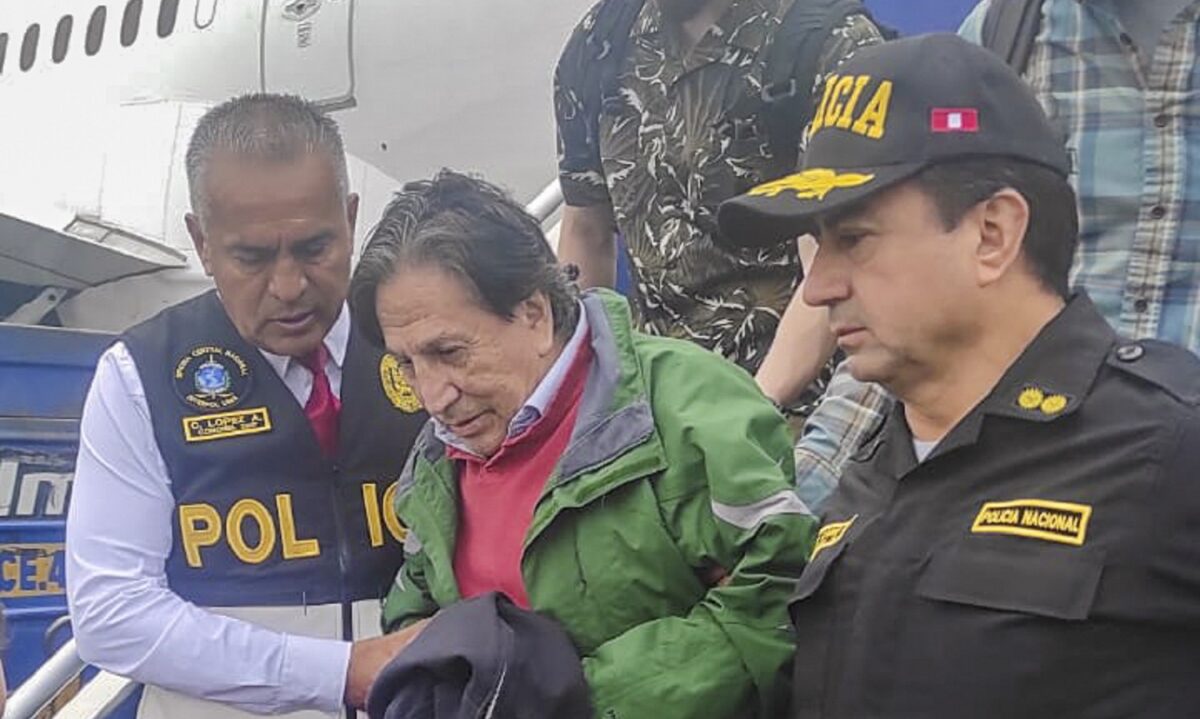 LIMA, Peru—Former President Alejandro Toledo arrived in Lima Sunday after being extradited from the United States to face charges he allegedly received millions of dollars in bribes in a giant corruption scandal that has ensnared four of Peru's ex-presidents.
Toledo, who was Peru's president from 2001 to 2006, had surrendered to U.S. authorities on Friday, ending a yearslong legal battle against his extradition, which started in 2019 when he was arrested at his home in Menlo Park, California.
Police and officials from Peru's prosecutor's office received Toledo, 77, at Lima's airport early Sunday. Police released a photo of Toledo, looking disheveled, accompanied by agents. He was transferred to a court in Lima's historic center.
Peru's former president will serve 18 months of preventative detention while he is investigated for allegedly taking at least $20 million in bribes from Odebrecht, a giant Brazilian construction company that has admitted to U.S. authorities that it bribed officials to win contracts throughout Latin America for decades. Toledo has denied the charges.
Police guard the entrance to the police terminal next to the international airport from where Peru's former President Alejandro Toledo will be taken to a detention facility after arriving in Lima, Peru, extradited from the United States, on April 23, 2023. (Guadalupe Pardo/AP Photo)
After his arrest in California, he was initially held in solitary confinement at the Santa Rita Jail about 40 miles (60 kilometers) east of San Francisco but was released in 2020 because of the COVID-19 pandemic and his deteriorating mental health. He was held under house arrest after that.
He had sought a stay on his extradition, pending a legal challenge to the U.S. State Department's decision to send him back to Peru, but a court of appeals denied his latest motion and a federal judge ordered him to surrender.
Toledo had been living in California since 2016 when he returned to Stanford University, his alma mater, as a visiting scholar to study education in Latin America.
Prison officials in Peru have not decided where Toledo will be held but have said it could be the prison that already holds ex-president Alberto Fujimori (1990–2000) and ex-president Pedro Castillo (2021–2022). Fujimori is serving a 25-year prison sentence for his role in the murders of 25 Peruvians during his administration. Castillo is being held in pretrial detention while being investigated for rebellion in attempting to dissolve Parliament in 2022.
He is one of four ex-presidents linked to the Odebrecht corruption scandal that has shaken Peru's politics, with nearly every living former president now on trial or under investigation.
Former President Ollanta Humala is standing trial on charges that he and his wife received over $3 million from Odebrecht for his presidential campaigns in 2006 and 2011. Both have denied any wrongdoing.
Ex-leader Pedro Pablo Kuczynski, who left office in 2018, is under house arrest for similar charges.
Ex-leader Alan García, in office from 2006–2011, fatally shot himself in the head in 2019 as police arrived at his home to arrest him.
By Franklin Briceno