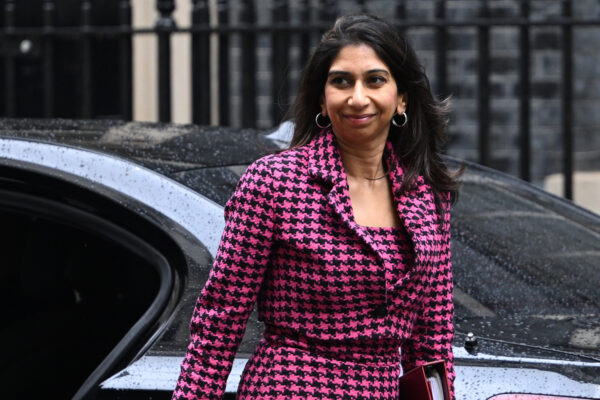 Nigel Farage has warned there is a danger of the UK moving towards a "Chinese-style social credit system" after a dossier revealed his bank reportedly closed his account after deeming that his views did "not align with [their] values."
On Wednesday, former Brexit Party leader Nigel Farage released pages of documents in the Daily Mail that he obtained after he made a subject access request to his former bank Coutts.
In July, Mr. Farage claimed the prestigious bank he has been with for over 40 years has closed his account with "no explanation."
He said that he believe that he had been persecuted for his views and that he may have been deemed a politically exposed person (PEP), a term used for someone who, through their prominent position or influence, is more susceptible to being involved in bribery or corruption.
'At Odds with our Position as an Inclusive Organisation'
The Epoch Times has not been able to independently verify the documents published in full in the Daily Mail and has contacted Coutts for comment.
In the 40-page memo by the bank's Wealth Reputational Risk Committee, Brexit is mentioned 86 times, Russia 144 times and PEP ten times. His support for former President Donald Trump as well as his views on immigration, net zero and the COVID-19 vaccine are listed as reasons to exit him.
The bank goes into great detail about all his public statements about his questioning of net zero policies. It also flagged up that he reshared a tweet by the comedian Ricky Gervais mocking transgenderism, which the bank called "a transphobic comedy sketch."
It also cited his friendship with tennis player Novak Djokovic, who is opposed to COVID-19 vaccinations.
In the document, Coutts officials noted that closing his accounts could not be justified on the basis of his wealth as his "economic contribution" was "sufficient to retain on a commercial basis."
It also stated that, "The Committee did not think continuing to bank NF [Nigel Farage] was compatible with Coutts given his publicly-stated views that were at odds with our position as an inclusive organisation."
This puts it at odd with reports from the BBC using unnamed sources that said Mr. Farage's account was withdrawn because his funds had dropped below the required threshold.
Coutts requires its customers to borrow or invest at least £1 million or save at least £3 million, according to an eligibility questionnaire on its website.
Mr. Farage said: "It is going to be published in full. It is a document that is full of every negative thing that has ever been said about me, it is prejudicial in a way that only the metropolitan elite can do.
"But it is the truth and this is the culture that has overtaken the Royal Bank of Scotland group under their new leadership. It puts them hugely at variance with, I would suggest, the majority of their customers."
Mr. Farage added: "I think that the march of woke corporatism needs to be checked and if it is not then we will finish up with a Chinese-style social credit system.
"Only those with acceptable views will be able to participate fully in society. I am effectively de-banked. How do I pay my gas bill? What have I done wrong? I haven't broken the law. I happen to have an opinion on issues that is more popular outside the M25 than it is in inner London postcodes."
'Sinister nature of much of the Diversity, Equity & Inclusion industry'
Home Secretary Suella Braverman arrives for a cabinet meeting at 10 Downing Street in London on June 20, 2023. (Leon Neal/Getty Images)
Conservative ministers condemned the "absolutely disgraceful" decision by Coutts to close Nigel Farage's bank accounts.
"The Coutts scandal exposes the sinister nature of much of the Diversity, Equity & Inclusion industry," wrote Home Secretary Suella Braverman on Twitter.
"Apparently anyone who wants to control our borders and stop the boats can be branded 'xenophobic' and have their bank account closed in the name of 'inclusivity,'" she added.
"Natwest and other corporates who have naively adopted this politically biased dogma need a major rethink. This is also an issue for the public sector too, which is why I'm reviewing our policies at the Home Office," she said.
Energy Security Secretary Grant Shapps told Sky News: "I think it is absolutely disgraceful. I don't have to agree with everything Nigel Farage says to recognise that free speech is a very important part of our domestic life.
"What has happened with some of these banks through this regime, which is known as the PEP regime is actually scandalous.
"People shouldn't have their bank accounts closed because of their political or any other view. And banks shouldn't be refusing to open accounts on that basis as well.
"Yet there is a very long-running problem within this country where banks are misapplying the guidance and rules. And not just closing accounts, but refusing to open them in the first place, and that should not be the case."
In Parliament on Wednesday, MP David Davis called it a "thinly veiled political discrimination."
'Debanking'
In the past few weeks, other people involved in the Brexit Party revealed that their accounts have been frozen.
Brexit Party MEP Christina Jordan claimed she had been kicked out of her bank after 30 years.
Furthermore, the insurgent parties Reclaim and Reform have previously warned that banks' environmental, social, and governance policies are being used to penalise certain views such as critiquing net zero policies.
Toby Young's Free Speech Union said it had been lobbying the Treasury for the past nine months to change the payment regulations to stop banks, and companies like PayPal, "debanking" people because they disapprove of their political views.
Mr. Young's Free Speech Union and the Daily Sceptic blog were frozen by PayPal without a clear explanation, though later restored.
PA Media contributed to this report.