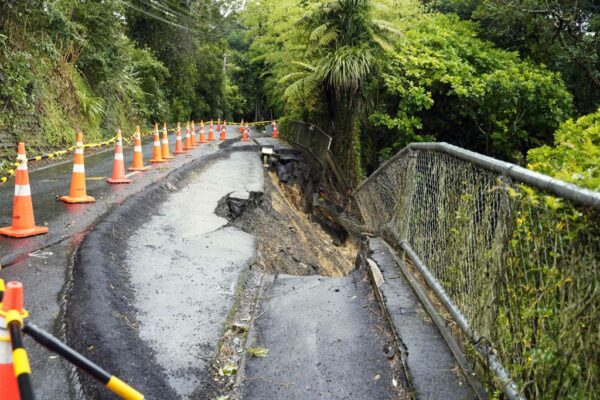 Residents of New Zealand's North Island are bracing for heavy rains and winds as Cyclone Gabrielle moves south and closes in on the coast.
Local mayors across the island have declared local state of emergencies, particularly for the northernmost regions, with Auckland Mayor Wayne Brown warning residents that the worst was yet to come.
"The next 24 hours will be challenging for all Aucklanders," he told reporters. "Please pay attention to [the weather forecast], and remember, things can be worse than expected."
The national forecaster, MetService, reported that since noon local time, it had recorded wind gusts of 150 to 160 kilometres per hour (93 to 99 miles), and some stations on the east coast of the North Island recorded 15 to 30 millimetres of rain in a single hour.
It has also recorded wind gusts of 130 kilometres per hour in Auckland.
The cyclone is expected to hit the northern tip of New Zealand and then hug the coastline in a southeast direction over the next 36 hours. The northern areas of the South Island will also be affected.
Conditions are expected to begin easing late Tuesday and throughout Wednesday.
The size of Cyclone Gabrielle is clear in this video.
Since noon, we're recorded gusts of 150 – 160 km/h, and some stations in Gisborne have recorded rain rates of 15 – 30mm in a single hour. pic.twitter.com/1dZ1A4dxEU
— MetService (@MetService) February 13, 2023
Prime Minister Chris Hipkins thanked New Zealand's first responders and acknowledged the fatigue that families and businesses are experiencing in the face of consecutive extreme weather events.
"Many people just haven't been able to catch a break. The need in the community is significant. The effect of the repeated weather events has compounded that our social service agencies are stretched to capacity," he told reporters in the post-cabinet press conference on Feb. 13.
To support local communities affected by the string of recent wet weather events, the prime minister announced an $11.5 million (US$7 million) community support package to aid community organisations and groups.
"Nearly 25,000 people have so far been assisted with food, clothing, shelter, bedding, and accommodation. People have lost their homes and their vehicles. Families are facing additional challenges getting children back to school. And many families will be facing anxiety industries from the significant disruption they've experienced," Hipkins said.
The funding is being reallocated from under spent COVID relief funding.
Meanwhile, the prime minister has yet to declare a national emergency because the National Emergency Management Agency has determined that "threshold has not been met."
The national cabinet continues to receive updates every four hours.
Hipkins urged people to "be prepared, stay inside if you can, and have a plan in the event that you need to move."
People out looking at the effects of Cyclone Gabrielle at Mathesons Bay Beach on the Matakana Coast in Auckland, New Zealand, on Feb. 13, 2023. (Fiona Goodall/Getty Images)
Tens of Thousands Without Power
Hipkins revealed that 46,000 people had lost power as of 1:30 p.m. on Monday, with the bulk being residents in Northland.
Electricity distributer Northpower said that as of 4 p.m., 15,500 of their customers are without power.
"The situation is continually changing," the company said on its website.
"Our main priority is to liven main lines that supply the most customers. We will continue to scope, reduce outage areas and work on repairing these main lines first."
Another power company, Vector, said that as of 6 p.m., the number of power outages had risen to 22,000.
"To give some context, we have more than 600,000 electricity customers. We expect the number without power to continue to fluctuate, up and down, as it has throughout the day," it said.
A general view of a damaged road after a storm battered Titirangi, a suburb of New Zealand's West Auckland area, on Feb. 13, 2023. (Diego Opatowski/AFP via Getty Images)
While its crew was working to restore power, it warned that many families would need to make it through the night without electricity.
"Our crews continue to work in terrible conditions to restore homes and businesses, where they can do so safely. But, as we head towards nightfall, this will become more difficult and there will be some outages that will not be safe to work on," it said.
Sharing New Zealand's Experience on the World Stage
Cyclone Gabrielle, which was downgraded from a category two to category one storm, comes just two weeks after the greater Auckland region was inundated with heavy rains and flash flooding.
In response to that event, Hipkins said the country would be seeing more extreme weather events in the near future due to climate change.
In his upcoming meetings with other world leaders, Hipkins said it will be an opportunity to share New Zealand's experience as an illustration of the "global importance" of climate change.
"I think the globe is increasingly seeing the effects of climate change," he said.
Transport Comes to a Standstill
The strong winds and rains has caused the delay or cancellation of transportation services across the Auckland region.
Trains are not running until "at least" midday Tuesday while ferry services finished on Monday evening. Busses are still operating largely as normal.
Auckland Transport warned drivers of multiple road closures and slips across the region, causing detours.
"High winds are causing trees to come down which may close roads or lanes at short notice. Keep a lookout for debris and fallen trees on the road, and as always drive to the conditions," Auckland Transport wrote on Twitter.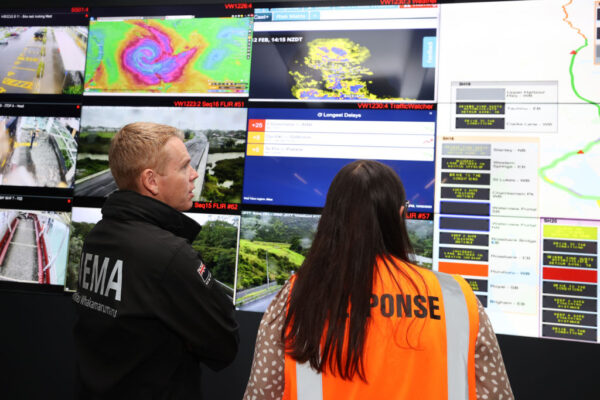 New Zealand Prime Minister Chris Hipkins is briefed ahead of Cyclone Gabrielle's arrival at Waka Kotahi Auckland Transport in Auckland, New Zealand, on Feb. 12, 2023. (Fiona Goodall/Getty Images)
Air New Zealand also cancelled more than 500 flights on Monday, impacting over 29,000 customers, of which 10,000 were international flyers.
Based on present weather predictions, the airline is planning to resume domestic and international operations on Tuesday.
"Rebooking is well underway with around 6,500 customers left to be rebooked as of this morning. Customers are currently being rebooked onto the next available service to give them certainty they have a flight booked," Air NZ's Leanne Geraghty said.
The disrupted flights also affected the prime minister, who is in Auckland and was unable to attend the scheduled cabinet meeting in Wellington in person as a result.