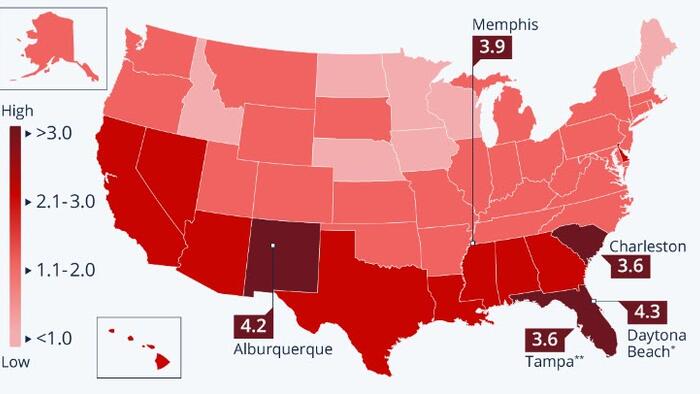 New Mexico and Florida are the most dangerous states for pedestrians in the US, according to a report by the NGO Smart Growth America. The two U.S. metro areas with the highest average rates of pedestrian fatalities are also in these states. South Carolina, with the 5th most dangerous metro area for pedestrians, is the only other state to have an annual average of more than 3 pedestrian deaths per 100,000 residents between 2016 and 2020.
As Statista's Kathraina Buchholz reports, the data shows this the states where pedestrians die most frequently in traffic are typically located in the American South and Southwest. Delaware is the only state that does not follow this pattern and is the fifth most dangerous for pedestrians in the country with nearly 2.9 people per 100,000 people killed on average in recent years. Smart Growth America believes this is because the South and Southwest metros are more likely to be designed for cars than for multiple road users. For example, these cities experience more sprawl, which again correlates with more pedestrian deaths.
You can find more infographics at Statista
According to the source, Pedestrian deaths have been steadily increasing in the United States to more than 6,500 people in 2020, up from about 5,500 in 2015. By 2021, the organization's preliminary estimate is that a record 7,300 people will have died while walking across the country. That's in line with the governor's Highway Safety Associations estimate of a 40-year high for pedestrian deaths this year. The trend did not decrease during the first half of 2022, the latest time for which data exists.
The study also highlights that older people, poor people and people of color die while walking in greater numbers. In the time period of the study, an average of 4.2 out of 100,000 Native Americans and 3.0 out of 100,000 black Americans died this way each year. By comparison, the average annual death rate in the country was only 1.9 per 100,000 during these years. This is due to the poorest and most marginalized communities most often they live near high-speed roads and in places with inadequate pedestrian infrastructure.