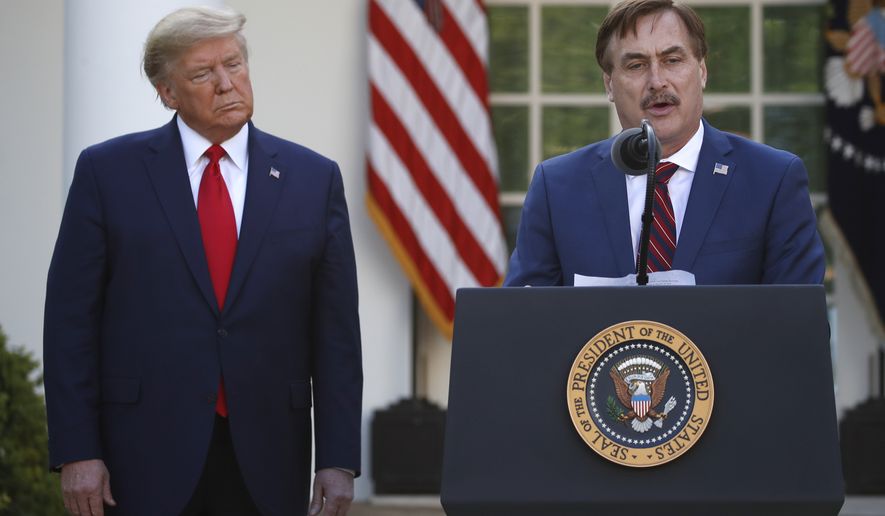 Mike Lindell, the inventor of My Pillow, said he might run for governor of Minnesota, adding that he was promised an endorsement by former President Donald Trump.
The former president had told him that he would back his bid for Minnesota's governor, Lindell told The Associated Press on Jan. 23.
"Mike, if you did it, I would get behind you," Lindell said Trump told him.
"Of course it would help," he said to the wire service, answering a question about whether it would help him if Trump endorsed his run. "Why wouldn't it help? The guy was the best president in history."
He added a caveat to Axios in saying he is currently trying to prove his claims about alleged voter fraud during the Nov. 3 election and won't make a decision until the fight is finished.
Lindell in early January said he has so far poured more than $1 million into proving his claims and is working with former Trump national security advisor Michael Flynn, according to the Star-Tribune.
"I think I would bring common sense and unity," Lindell said of a possible GOP bid for the state's highest office. "It's a business, where you run things like a business. I look at problems and solutions and what it's going to manifest into."
The Epoch Times has reached out to the Trump team for comment.
Last week, Lindell told local news outlets that Bed Bath & Beyond and Kohl's are among the retailers that dropped his products following his claims of election fraud.
"I just got off the phone with Bed Bath & Beyond. They're dropping MyPillow. Just got off the phone not five minutes ago. Kohl's, all these different places," Lindell said. "These [companies], they're scared, Bath & Beyond, they're scared. They were good partners. In fact, I told them, 'You guys come back anytime you want.'"
"They're succumbing to the pressure from these attacks," he added in an interview with the AP. "I'm one of their best-selling products ever. They're going to lose out. It's their loss if they want to succumb to the pressure."
Bed Bath & Beyond told The Epoch Times that its move to stop selling MyPillow is "data-driven, customer-inspired and are delivering substantial growth in our key destination categories."
Separately, Lindell was spotted at the White House earlier this month leaving the West Wing carrying notes that appear to outline recommendations for the president. The words "move Kash Patel to CIA acting" were seen on the notes, referring to the former intelligence official.