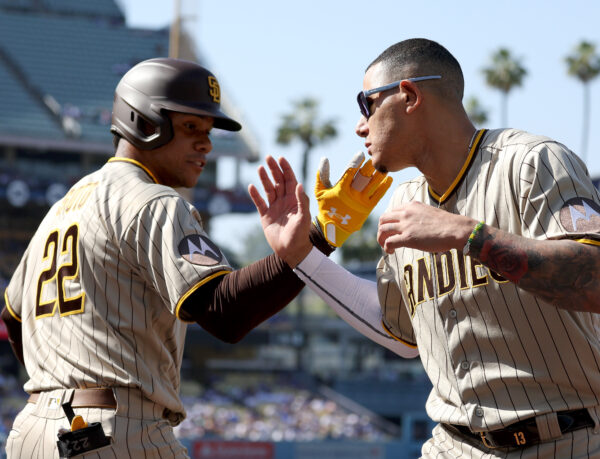 LOS ANGELES—Just off the injured list, J.D. Martinez made his presence felt with a big blast.
He hit a go-ahead three-run homer in the first inning, Julio Urías tossed seven strong innings and the Los Angeles Dodgers beat the San Diego Padres 4–2 on Saturday for their fourth straight victory.
The NL West leaders earned their fifth consecutive series win and have won 17 of their last 20 at Dodger Stadium. Their 14-6 home record is tops in the division. The Dodgers stretched their lead to six games over the third-place Padres.
"We got a chance to go for the jugular tomorrow and that's our intent," Dodgers manager Dave Roberts said.
Martinez came off the IL on Thursday after being out since April 23 with a back issue. The five-time AL All-Star signed with the Dodgers as a free agent in the offseason.
"At the beginning, I felt I was pressing a little bit too much," Martinez said. "The lineup is really potent. You got six, seven guys that can carry the team. They really control the strike zone."
The Padres got solo shots by Juan Soto in the first and Ha-Seong Kim in the second off Urías, both with two outs.
After an error by Mookie Betts in his fifth start of the season at shortstop, Urías retired the next nine batters in a row.
Urias (5–3) helped himself out of a jam in the sixth with runners on the corners. He fielded a comebacker by Xander Bogaerts, spun and threw to second to launch an inning-ending double play.
Julio Urias (7) of the Los Angeles Dodgers pitches against the San Diego Padres during the first inning at Dodger Stadium in Los Angeles on May 13, 2023. (Harry How/Getty Images)
"It was a very frustrating inning because there was traffic on the bases, so to get that double play was huge," Urías said through a translator.
Urías allowed two runs and three hits in seven innings. The left-hander struck out four and walked none.
"He picked us up and went deep in the ballgame, just what we needed," Roberts said.
The Padres had the tying runs aboard with two outs in the ninth against Brusdar Graterol. Max Muncy made a barehanded grab and throw in one motion to Freddie Freeman, who did the splits in stretching for the ball. Bogaerts was ruled out, but the Padres successfully challenged the call and Nelson Cruz followed with a single to center.
Caleb Ferguson came on and struck out pinch-hitter Jake Cronenworth to end the game and earn his first save of the season.
San Diego lost its fourth in a row and six of seven. Padres starters have gotten little run support during the skid that began a week ago.
Juan Soto (22) of the San Diego Padres celebrates his solo homerun with Manny Machado (13), to take a 1-0 lead over the Los Angeles Dodgers, during the first inning at Dodger Stadium in Los Angeles on May 13, 2023. (Harry How/Getty Images)
Joe Musgrove (1–1) got hit with a pitch-clock violation in the third with Will Smith at the plate. Musgrove and catcher Austin Nola were among five absent-minded Padres who mistakenly headed toward the dugout with two outs. They quickly retreated.
Freeman doubled leading off and scored on Smith's RBI single for a 4–2 lead. Freeman's 30 career at-bats against Musgrove are the most among all major league players, and his 13 hits are the most against the right-hander.
"You saw Musgrove had to grind," Roberts said.
Musgrove gave up four runs and eight hits in 5 1/3 innings. He struck out five and walked four. He never had a 1-2-3 inning, getting pulled with two outs in the sixth.
Trainer's Room
Padres: OF David Dahl (right quad strain) began a rehab stint with Triple-A El Paso on Friday.
Dodgers: RHP Noah Syndergaard threw a bullpen Saturday and his right index finger "seemed OK," Roberts said. He will consult with the training staff in deciding whether Syndergaard makes his scheduled start Monday. Syndergaard cut his finger on Tuesday in Milwaukee and is wearing protective adhesive on it.
Up Next
Padres: LHP Ryan Weathers (1–1, 2.50 ERA) starts the series finale in a switch with RHP Michael Wacha, who goes Monday against Kansas City.
Dodgers: RHP Tony Gonsolin (0–1, 1.93) makes his fourth start of the season in pursuit of his first win.
By Beth Harris