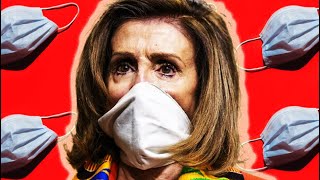 House Speaker Nancy Pelosi suggested Thursday that any lawmakers who refuse to wear masks or get vaccinated could be prevented from having access to the House floor.
Pelosi has decided, despite CDC guidelines to the contrary, that masks still need to be worn by everyone, yet some GOP lawmakers are refusing to go along with her decree.
"We could come to a place where we say if you don't want to wear a mask…if you're not vaccinated, don't even come to the floor. We have facilities up above in the gallery where people can come to vote," Pelosi declared during a briefing:
As ever, it is one rule for Pelosi and the Democrats, and another for everyone else, because over at the White House there wasn't a mask in sight as Democrats all shook hands and even….. HUGGED… dun dun daaaaaaaaaa:
The hypocrisy hasn't gone unnoticed:
———————————————————————————————————————
ALERT! In the age of mass Silicon Valley censorship It is crucial that we stay in touch.
We need you to sign up for our free newsletter here.
Support our sponsor – Turbo Force – a supercharged boost of clean energy without the comedown.
Also, we urgently need your financial support here. ———————————————————————————————————————