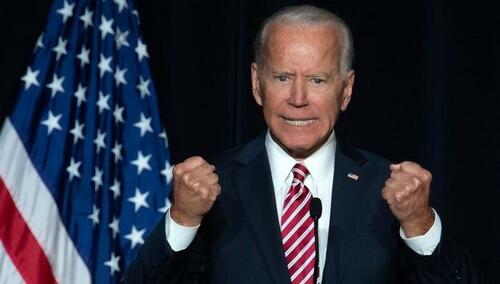 'It's infuriating': Biden may revive 'kids in cages' at border, sending progressives scrambling
Liberals are furious with President Biden for the second time in a week, after a report that he is considering revive the border policy that would keep migrant families in detention centers – breaking one of his central campaign promises.
"Keeping immigrant families and children in cages along the border is dangerous, ineffective and wrong," said Rep. Greg Casar (D-TX), a freshman House Progressive from the 35th Congressional District in the state, reports The Hill. "It is dangerous and wrong to imprison refugee children, regardless of political party."
Casar and other Democrats were reacting in part to a report in The New York Times that said Biden was considering bringing back elements of Trump's detainee policy. Progressives and a range of interest groups argued that Biden promised a different path on the issue. These are now at risk of being unleashed, they say.
"We can't go back," Casar said, suggesting that Biden's potential embrace of "children in cages" (which were built during the Obama-Biden administration) would be "giving in to anti-immigrant fear mongering " and effectively mimicking the GOP Playbook.
"It's outrageous," Detention Watch Network director of advocacy Setareh Ghandehari said in a comment to The Hill. "He (Biden) specifically made several statements condemning Trump's use of family detention and family separation and promised to do something different and specifically end family detention," he continued.
"And what we've seen is a continued backsliding on their promises."
Last week Biden angered Democrats after he launched a plan to support the D.C. City Council's plan to introduce a crime bill that would reduce penalties for violent crimes.
As Axios points out, some Democrats are casting Biden's moves as a betrayalespecially since they were not given advance notice of the White House's thinking before it was made public.
"The lack of communication about policy decisions related to immigration is an insult," Sen. Bob Mendez (D-NJ) told the outlet. "It would be like making civil rights legislative ideas and thoughts without consulting the Congressional Black Caucus."
More via Axios;
Deputy Raúl M. Grijalva (D-Ariz.) said in the Chamber. returning to border detentions would be "callous and inhumane." while Rep. Maxwell Frost (D-Fla.) said he was "disgusted and disappointed" that the White House was considering such a plan. White House spokeswoman Karine Jean-Pierre would not confirm or deny possible border detentions, but said Biden "wants to build an immigration system that is safe, orderly and humane."
Homeland Security Secretary Alejandro Mayorkas held a call with members of the Congressional Hispanic Caucus on Tuesday to try to smooth things over. said several members of the convocation. But Rep. Jesus "Chuy" Garcia (D-Ill.) said afterward, "We haven't resolved anything."
The outlet suggests the outrage has something to do with Biden's new chief of staff, Jeff Zients, not making himself available to progressive lawmakers like his predecessor, Ron Klain.