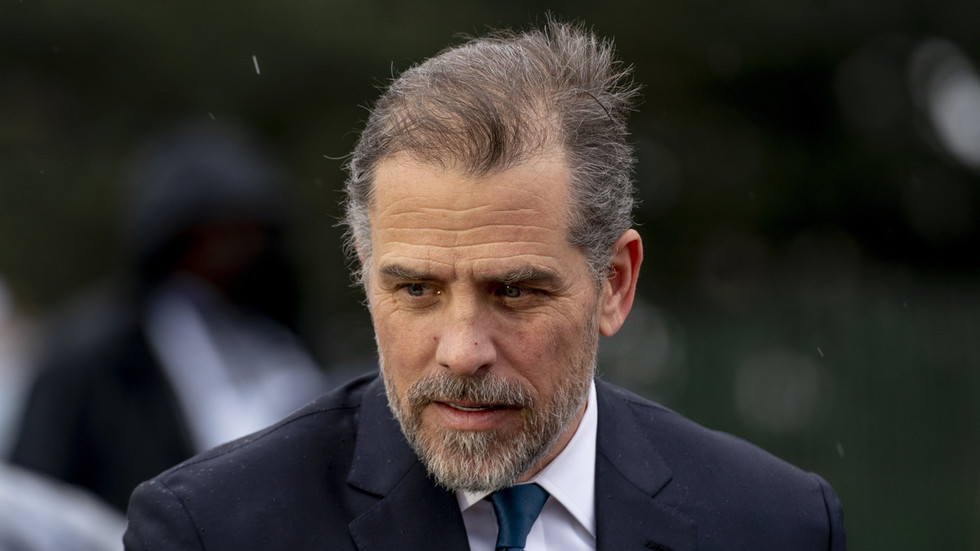 Lawyers for the US president's son reportedly held talks with prosecutors about a pending criminal investigation
Lawyers representing Hunter Biden have set up a meeting with officials from the United States Department of Justice (DOJ) to discuss the status of a criminal investigation into the son of President Joe Biden.
The meeting will take place next week and will include a senior DOJ official as well as U.S. Attorney David Weiss, the Delaware prosecutor who has led the Hunter Biden investigation since 2018, CNN reported Friday, citing unidentified sources. familiar with the matter. Fox News, which confirmed the report, said Biden's lawyers requested the meeting weeks ago and that it is unrelated to allegations made this week about an Internal Revenue Service whistleblower investigation ( IRS).
CNN said prosecutors have narrowed the scope of the investigation to include possible charges of failing to file taxes, tax evasion and falsely declaring on a federal gun purchase form that he had not used illegal drugs. Weiss is also reportedly considering charges related to money laundering and unregistered foreign lobbying.
The tax case relates at least in part to Biden's income from businesses in Ukraine and China. The IRS whistleblower, who has not been identified and has requested permission to testify before Congress, oversaw the agency's investigation into the younger Biden's alleged tax violations. The whistleblower reportedly claims the investigation has been undermined by "political considerations" and that Attorney General Merrick Garland misled Congress about how the case is being handled.
Read more
Former CIA chief reveals efforts to help Biden win 2020 election
There is no indication that the scheduling of next week's DOJ meeting with Biden's lawyer suggests prosecutors are ready to make a decision soon on whether to file charges, Fox said, citing a source. There is "growing frustration" at the FBI that most of the investigative work into the Biden allegations was completed last year, NBC News reported Thursday. The IRS finished its part of the investigation more than a year ago, the report added.
In October 2020, just three weeks before the presidential election, a bombshell report from the New York Post appeared about alleged foreign influence peddling by the Biden family. The report was based on correspondence contained on a laptop that Hunter Biden had abandoned at a repair shop in Delaware.
Former CIA Director Mike Morell recently admitted in congressional testimony that Joe Biden's presidential campaign played a role in creating an open letter, signed by 51 former intelligence officials, that claimed that Hunter Biden's allegations had "the classic characteristics of a Russian intelligence operation." Morell, who acknowledged that he wanted to help Joe Biden get elected, said the letter was pushed by Biden campaign staffer Antony Blinken, now the US secretary of state. The media and the Biden campaign used the letter to discredit the Post's report, which was censored by Facebook based on an FBI misinformation warning.