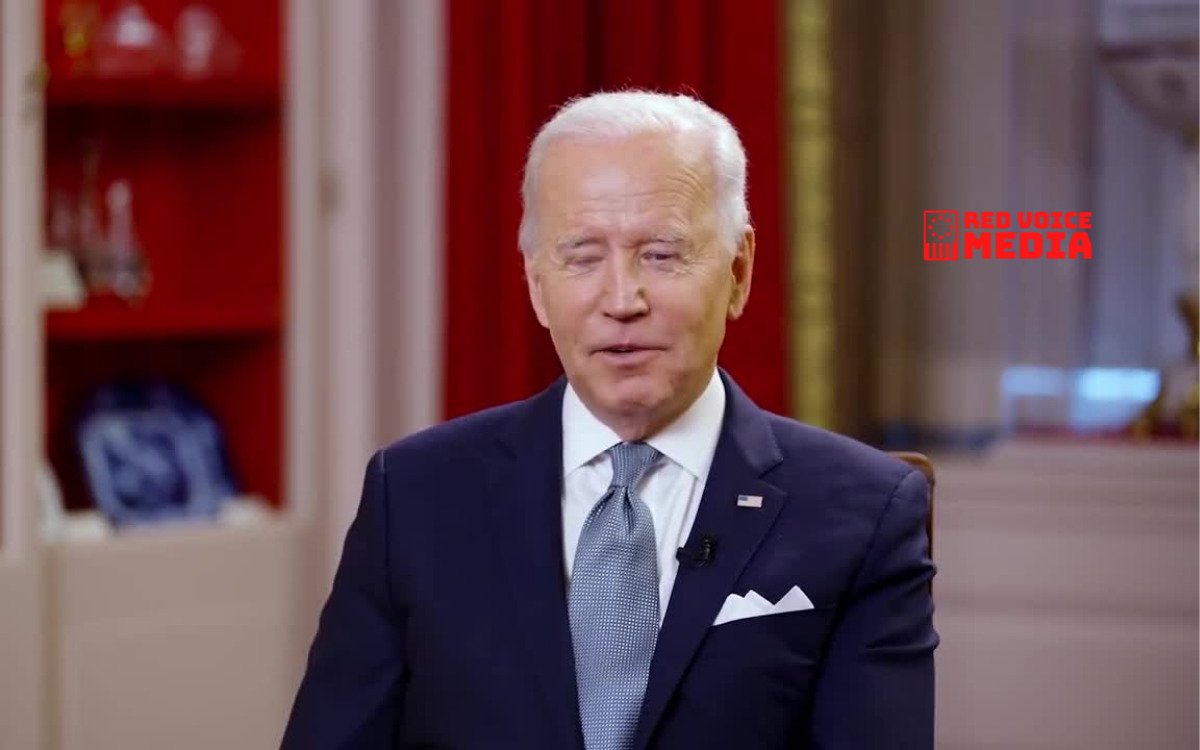 WASHINGTON, DC – It seems as though Joe Biden was in peak form yet again while delivering an address outside of the White House, as he delivered one of his trademark fumbled utterances while trying to reference some sort of story about him travelling with China's Xi Jinping.
On April 8th, Biden was accompanied by Vice President Kamala Harris and newly-appointed Supreme Court Justice Ketanji Brown Jackson during an address held outside of the White House.
Go Ad-Free, Get Exclusive Shows and Content, Go Premium Today
But as most have come to understand, it's not an official Biden speaking engagement unless he cranks out one or more of his fumbles, gaffes, nonsensical words or phrases – as these oratorical mishaps have proven to be more "reliable" than Brian Stelter's "sources." Dare I say, you can count on them more than an abacus.
While at the podium, Biden stated, "America's a nation that can be defined in a single word. I wasinthafootinuh…ta-uh…foot…uh, excuse me, foothills of the Himalayas with Xi Jinping. Travelling with him [more inaudible gibberish] travel 17,000 miles when I was vice president, I don't know that for a fact."
Make Gas Great Again! Save Money On Gas, Drive Further, and Reduce Emissions With New Fuel Treatment
So, one may be wondering – just what exactly what Biden trying to say there? Well, even the White House's official transcript of the speech isn't quite sure of some of the things Biden stated (although they were much more generous in certain areas).
According to the White House transcript of Biden's stammering, it read, "America is a nation that can be defined in a single word.  I was in the foothi- — foot- — excuse me, in the foothills of the Himalayas with Xi Jinping, traveling with him.  (Inaudible) traveled 17,000 miles when I was vice president at the time.  I don't know that for a fact."
Man – even the White House came clean to a degree and admitted that there are just some things that fall out of Biden's mouth that they can't clean up, much like the minimum wage grocery store employee who isn't paid enough to clean up the body fluids found on aisle seven. It seems even the best of stenographers have to, at times, throw their hands up in the air and say, "Yeah – I've got no clue what he said there."
Listening to a Biden speech at times can be frustrating and even dreadful, almost like listening to a mumble rap song without the beat or someone performing slam poetry 30 minutes after chugging a bottle of NyQuil. When left to his own devices, Biden often makes less sense than the plotline for the 2001 movie Donnie Darko.
According to LasestLY.com, Biden was referring to a time where he met with Xi Jinping and was asked what defined America in one word through a translator. Biden responded at the time that the one word he would use was "possibilities." The instance he attempted to describe, and the speech in general would have been decent, had the President been able to actually say it coherently.
Between the odd utterances and the habitual look on his face reminiscent of an old man who lost his wife in the store, it can really make one wonder just how in the hell he wound up in the White House.
Get Dr. Zev Zelenko M.D.'s NEW Z-DTOX and Z-Stack Protocol, use code RVM for discount