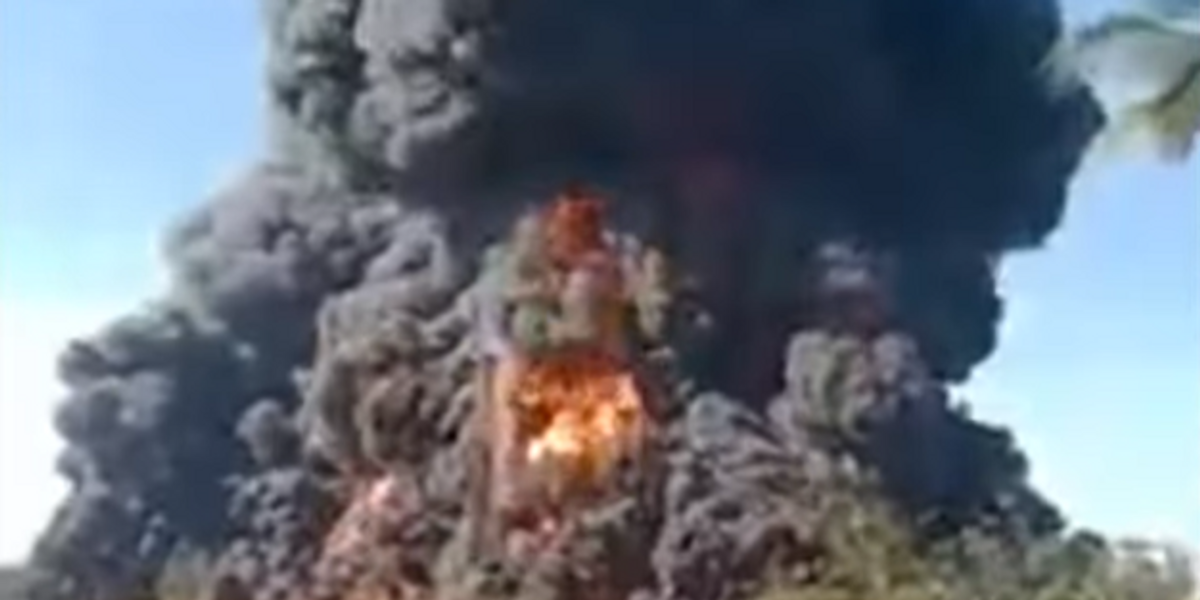 The fires engulfed three separate oil facilities owned by the same company in one day. The oil facilities were owned by Pemex and were located in Texas and Mexico.
Petroleos Mexicanos, better known as Pemex, had fires at three of its oil facilities on Thursday. The infernos left eight people injured and five others missing as of Thursday night. One person died in the fire, according to Bloomberg.
Five people were missing and three were hospitalized after a fire broke out at a Pemex warehouse in Ixhuatlan del Sureste in the Mexican state of Veracruz, according to Mexico's state oil company.
The fire was extinguished. However, the cause of the fire has not yet been determined.
Pemex also confirmed that there was also a fire at its Minatitlan refinery in Veracruz, Mexico. Five people were injured in this fire. The fire did not affect the operation of the refinery and did not damage any equipment, according to the oil company.
Pemex said: "It is assumed that the possible cause of the fire was the runoff of the product on a hot surface."
On the same day, a third fire broke out at the Pemex refinery in Deer Park, Texas. The fire has been extinguished and the incident was downgraded to a "clear" situation.
The video shows thick, black smoke billowing from the oil rig fire and can be seen from miles away.
u201cALERT ud83dudea8 In just one day, 3 fires broke out at three different facilities in Mexico and the United States operated by Mexican oil company Pemex, according to reportsu201d
— Insider Paper (@InsiderPaper) 1677271539
u201cThree fires broke out Thursday at different facilities in Mexico and the United States operated by the Mexican oil company Pemex.nnFive missing, eight injured.nnhttps://t.co/GR1AudZ3bzu201d
— Citizen Free Press (@Citizen Free Press) 1677275569
u201c#Mexiconu2018Pemex reported that it located the bodies of two of the five workers missing after the fire at a storage plant in Ixhuatlu00e1n del Sureste, Veracruz.u2019nu201d
— Shane B. Murphy (@Shane B. Murphy) 1677296847
There have been dangerous and fatal accidents at Pemex facilities in the past.
Reuters reported on Friday that "Earlier this week, at least two people were killed after a vehicle collision inside a Pemex refinery in the Mexican state of Hidalgo, according to media reports locals".
Last November, 19 people were injured after a leaking pipeline carrying ethane gas exploded in Veracruz.
Last September, a gas pipeline exploded in the Mexican state of Tabasco, forcing the evacuation of all the workers at the Paredón hydrocarbon separation station.
In January 2022, the same government-owned pipeline in Tabasco leaked oil that caused a fire in Huimanguillo.
In August 2021, five people died and six were injured when a fire broke out at Pemex's oil rig in the Bay of Campeche in the southern Gulf of Mexico.
Do you like Blaze News? Bypass the censors, sign up for our newsletters and get stories like this straight to your inbox. Sign up!