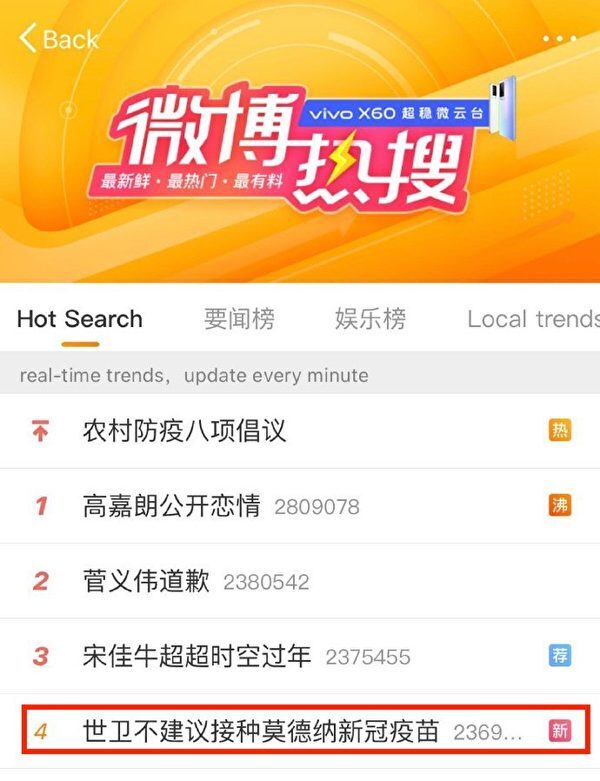 A negative news report on Moderna vaccines recently set off a debate on China's social media.
Moderna is an American COVID-19 vaccine maker based in Cambridge, Massachusetts.
On Jan. 27, an article titled "WHO Does Not Recommend MODERNA COVID-19 Vaccines" appeared on a host of Chinese state media outlets, including the Global Times, Guancha, iFeng Tech, and official accounts of local governments. This topic became so heated that it once rocketed to the fourth place in the list of the most searched hashtags on China's social media Weibo.
However, the coverage was found to be fundamentally wrong and interpreted out of context after the original title was identified on the WHO site.
The story was even deemed to be an attempt to cater to the popular Chinese mentality for xenophobia.
The original title on the site of the Chinese-language WHO read on Jan. 26: "WHO: at least 15-Minute Observation Follows a Moderna Vaccine Shot, not Applicable to Children under 18 and Pregnant Women."
Chinese netizens expressed their views on the event.
Some believed China's state-run media outlets were smearing foreign vaccines to help promote domestic ones.
Moderna and Pfizer are two major competitors to China's Sinovac and Sinopharm in the global vaccine market.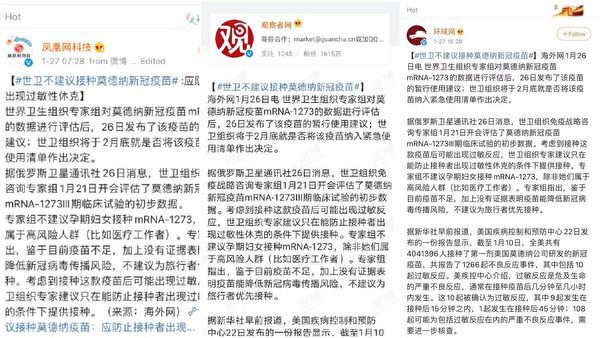 "They're playing up," netizens commented.
Some ridiculed: "If they had got it right, it couldn't have become a hot word," and "Smart guys. Doing whatever they like just to meet their own goals."
After the original article was publicized, iFeng Tech changed its title to "WHO Does Not Recommend Pregnant Women to Take Moderna Vaccines."
Both the Global Times and Guancha deleted their articles following the report.
However, the wrong wording in the ranking list has remained there intact.
It is not the first time that the CCP media has belittled foreign COVID-19 vaccines.
According to a Jan. 25 report in RFI, the CCP failed to take the lead in the vaccine race. Therefore, it set the state propaganda machine in motion to purposefully disseminate fake news against its competitors.
In a Jan. 20 report, Reuters said The Global Times, a tabloid published by the People's Daily, the official newspaper of the CCP, had published more than ten reports in the past week critical of vaccines and inoculation schemes in the West.
On Jan. 16, Liu Xin, journalist and anchor of a Chinese English-language state TV channel, tweeted a post that ten people died several days after they received Pfizer vaccines in Germany.
However, Germany's weekly news magazines The Mirror and Focus reportedly pointed out that these deaths had no connection with vaccines. On the other hand, China promoted its own vaccines as a better alternative.
Brigitte Keller-Stanislawski, head of the department of safety of medicinal products and medical devices of Paul Ehrlich Institute, Germany, defended Moderna shots.
He said at a press conference that the ten people died from their own main diseases, coinciding in time with the vaccination, according to a Jan. 15. report on Indian daily Business Standard.
He also said that the deceased were aged from 79 to 93, all with antecedent diseases.
A Jan. 25 report in an American news outlet makes it clear that China's state media has started a misinformation campaign against the American vaccines, "questioning the safety of the Pfizer and Moderna shots and promoting the Chinese vaccines as a better alternative."