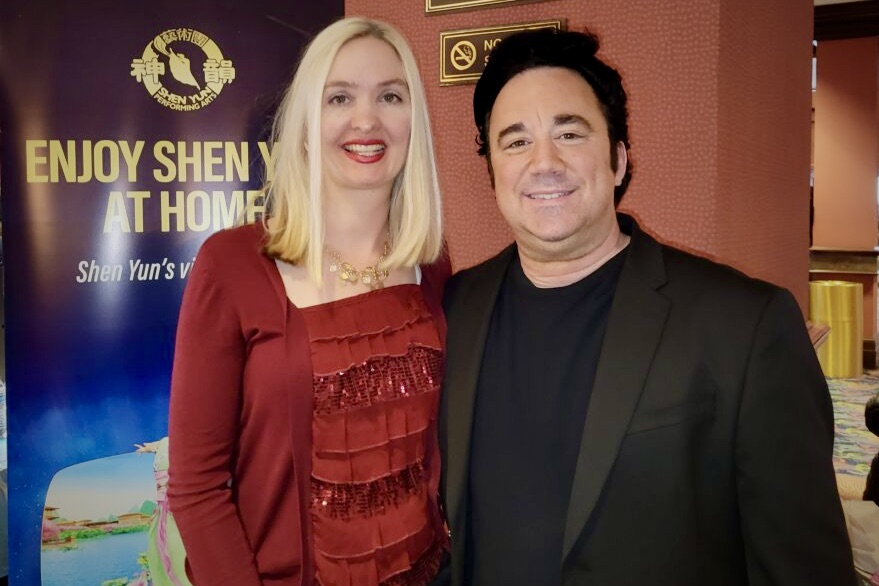 ROSEMONT, Illinois—David Amato, a federal trade commission economist, watched Shen Yun Performing Arts at the Rosemont Theatre on April 23.
"From an American point of view, we only see China today," said Mr. Amato. "It's great to know that there's thousands of years of history that we don't really ever see. We only see the modern stuff … since communism took over, so there's so much history and so much richness that we aren't usually exposed to. It's beautiful to be able to see."
Based in New York, Shen Yun was founded in 2006 and is the world's premier classical Chinese dance and music company. Now with eight equally sized companies touring the world simultaneously, Shen Yun's mission is to revive traditional Chinese culture and to give its audiences a glimpse of pre-communist China.
Shen Yun's program includes story-based dances, some of which are set in modern-day China and depict the Chinese government's persecution of followers of faith. Mr. Amato said it was good for an American audience to see what was happening in other parts of the world.
"We take a lot of our rights for granted," he said. "We don't sometimes realize that the rest of the world doesn't have the same freedoms that we do in this country, and to know that there's people being oppressed in places just for their religious beliefs, it touches your heart, and you want to support that. That's why we come to the show."
"[In] a Western world, you think of people having these human rights that can't be violated, but obviously, in other countries, religious freedom is taken away from them," Mr. Amato added. "Not just the religious freedom, [but] their life, their liberty, their actual physical body parts are taken from them. We want to support people knowing what's happening to people because the other way to have change is for people to be aware. Sometimes we get so caught up in our individual lives. You don't know that there's a whole world out there, and people are struggling."
Mr. Amato praised Shen Yun's live orchestra, which combines traditional Chinese and Western instruments, as well as the choreography and Shen Yun's patented animated backdrop, which allows performers to move between the stage and the background.
Mr. Amato also expressed his appreciation for the spiritual elements of Shen Yun's performance, which come from the foundations of traditional Chinese culture that are rooted in Confucian, Taoist, and Buddhist teachings.
"I love it. That's what's missing in the world today. People have become more secular. They don't have faith like they used to, maybe ten, twenty, fifty years ago. So it's nice to see a show that is talking about how these basic principles that have existed for thousands of years are how you get through life."
"You get through life having compassion, having faith, having family; all those things are what make society strong. And when you lose that, and you are only having a belief in the government as opposed to—in a Divine, then that's how people get lost, and that's how you get a society that's not as strong as it should."
Lastly, Mr. Amato wished to tell the performers, "Keep it up. Keep educating people."
"It takes a lot of courage … to dedicate their life to their craft and promote this message because it needs to be heard."
Reporting by Charlie Lu and Wandi Zhu.
The Epoch Times is a proud sponsor of Shen Yun Performing Arts. We have covered audience reactions since Shen Yun's inception in 2006.