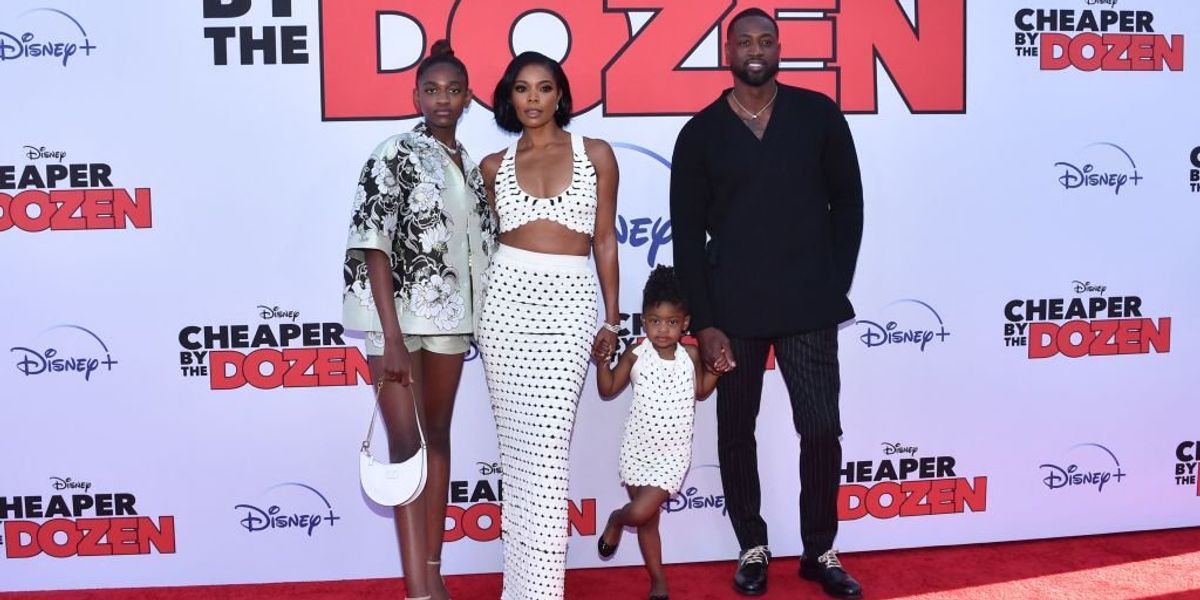 Dwyane Wade's biological son has legally changed his name and gender after a six-month court battle.
Wade's son was born a boy named Zion Malachi Airamis Wade. Now 15, Zion is legally Zaya Malachi Airamis Wade after a judge granted her a legal name and gender change. The judge upheld the teenager's transgender transition and allowed the sex markers on the documents to match the 15-year-old's preferred gender identity. The sentence was handed down Friday in Los Angeles Superior Court.
The November court filing stated, "A court order affirming her identity will allow Zaya to live more comfortably and honestly in all aspects of her life, from simple introductions and food orders, to applying for a permit of driving and filling out college applications."
The court document said: "This petition seeks to empower Zaya to live her truth."
However, the teenager's mother has opposed her son's transgender transition throughout the legal process. The mother wanted to delay the minor's ability to legally change gender until the teen was an adult.
Wade's ex-wife, Siohvaughn Funches-Wade, had previously tried to prevent the teenager from legally changing his birth certificate to a different name and gender.
Funches-Wade accused the NBA legend of trying to "take advantage" of the boy's gender change in a court filing last November.
Funches-Wade, 41, claimed her ex-husband told her last March "a lot of money had already been made and additional money will be made in relation to the name and gender of our child". Funches-Wade alleged that Wade said Disney might be interested in signing a deal with her son.
Wade's son had previously received modeling contracts from Tiffany and Dove.
Wade, 41, denied his ex-wife's allegations.
"I received a post on social media about my forcing our 15-year-old to be someone she's not and do something against her will," Wade wrote in an Instagram post. "These are serious and damaging allegations that have hurt our children."
"While none of us are surprised by Siohvaughn's attempt to fight Zaya's identity and her unwavering attempt to drag my name through the mud, I am very disappointed that she continues to find[s] ways to focus on HER and HER needs, without considering her children," the former Miami Heat star said.
Wade claimed that Funches-Wade "tried a similar attempt over a decade ago (with equally damaging lies and causing irreparable harm to her children) and 13 lawyers later, I was awarded sole custody of our two children as to active NBA player."
"All I wanted was to have my parenting time without interruption, as I knew it would be a very difficult time for our children to navigate their new normal," she added.
Wade accused his ex-wife of refusing to meet with their daughter's teachers, doctors and therapists.
Wade said of his ex-wife, "She hasn't been to a school, recital, graduation, school dance, play date, practice, parent-teacher conference, etc. and Zaya has given him every opportunity to try to get to know her . He won. don't!"
"No one in our house would ever force Zaya or any of our children to do anything against their will, let alone force them into an identity," Wade added. This is not a game for my family and definitely not for Zaya. This is your life! All the while, my wife and our village have been her rock in helping her pick up the pieces after heartbreak after heartbreak!"
The couple met when Wade was 9, dated in high school, married in 2002, had two children together, and divorced in 2007.
Wade married actress Gabrielle Union in 2014. Union, 50, has been very supportive of Wade's son's transition.
Wade has an 8-year-old son with ex-girlfriend Aja Metoyer and a 3-year-old daughter with Union.
Do you like Blaze News? Bypass the censors, sign up for our newsletters and get stories like this straight to your inbox. Sign up!