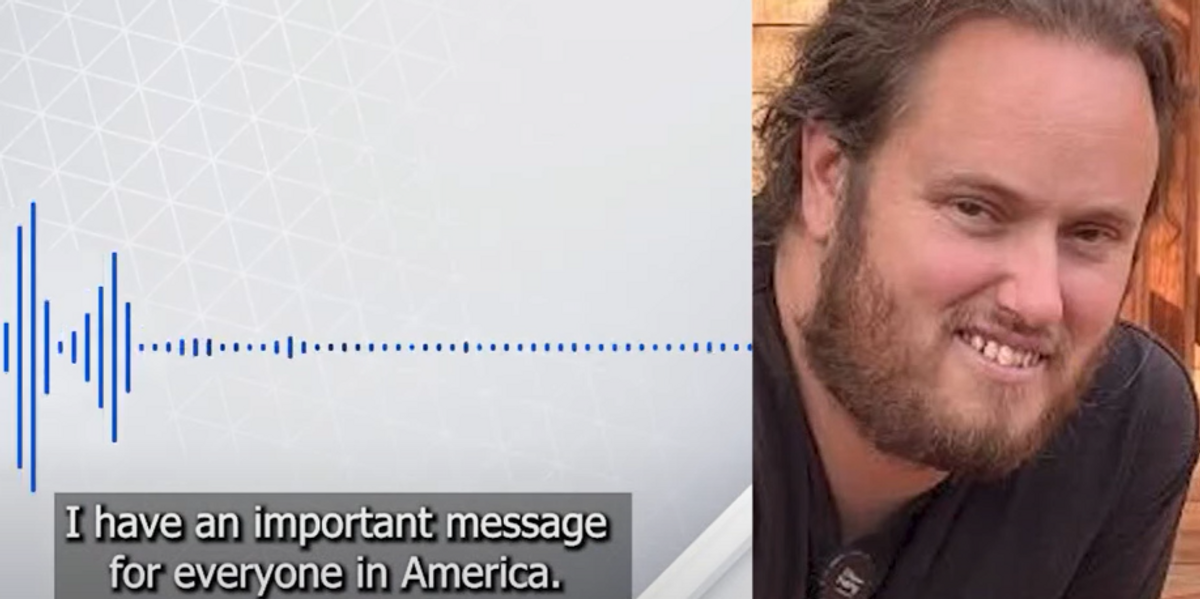 David DePape issued a chilling new statement about the hammer attack on Paul Pelosi. DePape called a San Francisco news outlet to deliver what he described as an "important message for everyone in America."
DePape called KTVU reporter Amber Lee from the San Francisco County Jail on Friday to make a strange statement about the October attack on the husband of former House Speaker Nancy Pelosi.
"I have an important message for everyone in America: Welcome," DePape said in the phone call that lasted more than five minutes.
"Liberty and liberty is not dying, it is being systematically and deliberately killed," DePape said. "The people who kill him have names and addresses. So I got their names and addresses so I can visit them a little. Have a heart-to-heart talk about their bad behavior."
DePape is not apologizing to Pelosi, 82, who needed emergency surgery for a fractured skull from the hammer attack. Instead, DePape stated, "I want to apologize to everybody. I was wrong. What I did was very bad. I'm sorry I didn't get more. It's my fault. It's nobody else's fault. I should "to have come better prepared".
DePape was upset that his website was being shut down, but he was trying to create a new website that was "out of reach of tyrannical global fascists and their internet censors."
The suspect allegedly wouldn't allow questions because it could jeopardize his case.
(WARNING: graphic content)
DePape in strange phone call to KTVU says he should have been 'more prepared': full report www.youtube.com
On the same day DePape issued his statement, police body camera video of the violent hammer attack was released.
San Francisco Superior Court Judge Stephen M. Murphy ordered the San Francisco District Attorney's office to also release investigative material related to the case. It included audio of DePape's police interrogation conducted shortly after his arrest last year.
Asked if he knew why he was arrested, DePape said, "Absolutely."
DePape claimed that Democrats committed a "crime record."
"They go from crime to crime to crime, and it's like four years until they finally were able to steal the election," DePape said of Joe Biden's 2020 run over former President Donald Trump. .
DePape revealed why he targeted Nancy Pelosi: "Day after day, the person who was lying on TV every day was Pelosi."
DePape told police that Pelosi had not done anything "specifically" to him, but "to the American public honestly." He added: "She was the leader of the pack."
He admitted that he planned to take Pelosi "hostage" and would let her go if she "told the truth."
"If she had told the truth, I would have let her go free," DePape said. "If she lied, I was going to break her kneecaps."
However, he said Pelosi would lie "without a doubt."
He added that it "originated" with former presidential candidate Hillary Clinton.
DePape said Paul Pelosi didn't hear him break the glass door of his home. He found Pelosi in bed. He asked where Nancy Pelosi was. After Paul told him his wife was in Washington, DC, DePape decided to wait until Pelosi returned home.
DePape asked Pelosi if she would consent to him being tied up.
He told police, "I'm like, 'Honestly, can I tie you up?' I just want to go to sleep."
The suspect explained that he knew Paul Pelosi was calling 911, and Pelosi was "pushing me into a corner where I have to do something."
DePape knew the police were coming to the Pacific Heights home after the 911 call, but he couldn't pull out because he was inspired by the "founding fathers."
"They fought the British. They fought tyranny, they didn't just surrender to it. When I left home I went to fight tyranny, I didn't leave to surrender," DePape said.
DePape confessed to attacking Pelosi with a hammer during police questioning.
"I think he's taking the hammer so he doesn't hit him in retaliation (for the police presence)," DePape admitted to police. "He thinks I'm just going to give up. I didn't come there to give up. And I told (Paul Pelosi) I'm going to go through him."
He continued, "So I basically took it out on him and beat him up. I'm there to fight. If you stop me from going after evil, you're going to take the punishment instead."
Asked if he regrets his actions, DePape replied, "No, it had to be done."
Do you like Blaze News? Bypass the censors, sign up for our newsletters and get stories like this straight to your inbox. Register here!
(WARNING: Explicit language)
Confession tape: DePape confesses and explains why he targeted Pelosiwww.youtube.com