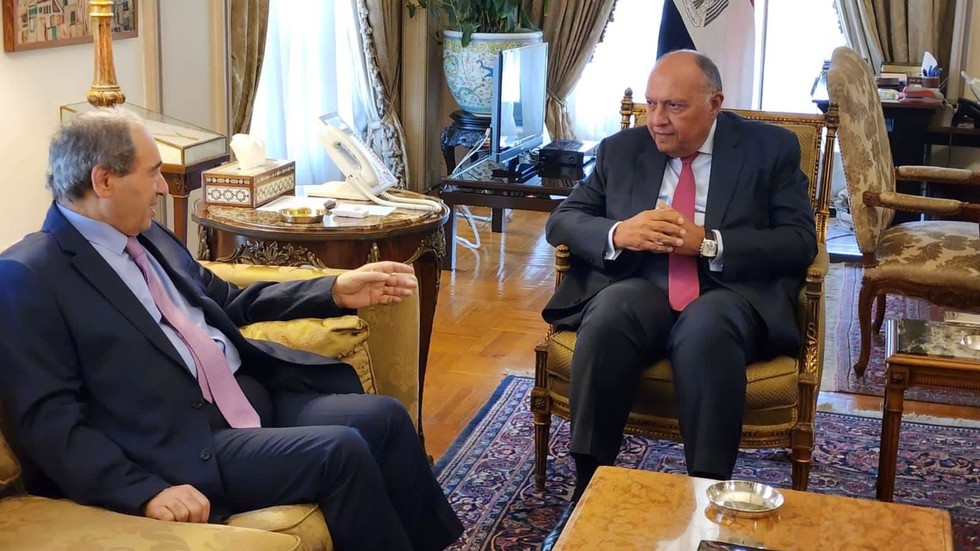 Syrian President Bashar Assad may soon meet with his Egyptian counterpart, Abdel Fattah el-Sisi, according to sources.
Syria and Egypt are in advanced talks to restore diplomatic relations that were broken after the outbreak of conflict in Syria in 2011, sources told the Wall Street Journal.
A summit between Syrian President Bashar Assad and his Egyptian counterpart Abdel Fattah el-Sisi is scheduled shortly after the Muslim holy month of Ramadan ends at the end of April, the US outlet reported.
On Saturday, Syrian Foreign Minister Faisal Mekdad made his first official visit to Cairo in more than a decade, holding talks with Egypt's top diplomat Sameh Shoukry.
According to the Syrian Foreign Ministry, the two sides discussed "various aspects of bilateral cooperation and ways to strengthen brotherly relations" during the meeting.
The Egyptian Ministry of Foreign Affairs in its statement reported that the ministers "agreed to intensify communication channels between the two countries at different levels during the next phase."
Read more
Saudi Arabia and Syria to restore ties – media
Shoukry reiterated Cario's support for a "comprehensive political settlement of the Syrian crisis as soon as possible," the statement said.
According to WSJ sources, the sides were also expected to discuss Syria's possible return to the Arab League during the talks in Cairo. Damascus' participation in the 22-nation group was suspended 12 years ago when members accused Syria of a violent crackdown on the opposition.
The Assad government, which insists it has been fighting international terrorism all these years, has been able to regain almost total control of Syrian territory with the help of its allies Russia and Iran.
Diplomatic relations between Cairo and Damascus were severed in 2013 under Egypt's previous Islamist government of Mohamed Morsi, which supported the Syrian opposition. As he announced the closure of the embassy in Syria, Morsi also denounced the involvement of the Lebanese armed group Hezbollah in the conflict next to Damascus and called for a no-fly zone to be established over the country.

READ MORE: Putin and Syrian President Assad meet in Moscow
The improvement in relations between Damascus and the rest of the Arab world has been spearheaded by the United Arab Emirates, which reopened its Syrian embassy in 2018 and has been visited by Assad twice in the past two years. Last week, Syria and Saudi Arabia also agreed to restore their diplomatic missions.