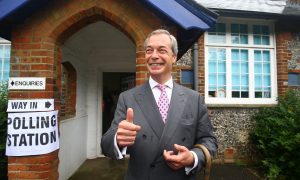 Natwest's chief executive, owner of the prestigious bank Coutts, has apologised to Nigel Farage and has promised a full review of the bank's processes after a dossier said that his views "were at odds with our position as an inclusive organisation."
On Thursday, Alison Rose, chief executive of NatWest Group, of which Coutts is part of the wealth management division, wrote to the former Brexit Party leader Mr. Farage to apologise for "deeply inappropriate comments" made about him in official documents.
Mrs. Rose did not give him the option of having his original Coutts account back.
In July, Mr. Farage claimed the prestigious bank he has been with for over 40 years has closed his account with "no explanation."
He said that he believe that he had been persecuted for his views and that he may have been deemed a politically exposed person (PEP), a term used for someone who, through their prominent position or influence, is more susceptible to being involved in bribery or corruption.
Political and Personal Views
The documents published in full in the Daily Mail contained a 40-page memo by the bank's Wealth Reputational Risk Committee.
The document, cited that he reshared a tweet by the comedian Ricky Gervais mocking transgenderism, which the document called "a transphobic comedy sketch" as well as his friendship with tennis player Novak Djokovic, who is opposed to Covid vaccinations. It also said that Mr. Farage is "xenophobic and racist."
In document cited Brexit 86 times, Russia 144 times and PEP ten times. His support for former President Donald Trump as well as his views on immigration, net zero and the COVID-19 vaccine are listed as reasons to exit him.
Mrs. Rose said: "Both freedom of expression and access to banking are fundamental to our society. It is not our policy to exit a customer on the basis of legally held political and personal views. Decisions to close an account are not taken lightly and involve a number of factors including commercial viability, reputational considerations, and legal and regulatory requirements.
"I fully understand the public concern that the processes for bank account closure are not sufficiently transparent. Customers have a right to expect their bank to make consistent decisions against publicly available criteria. Those decisions should also be communicated clearly and openly with them, within the constraints imposed by the law.
"To achieve this, wider change is required. But the experience of clients highlighted in recent days has shown we need to act now to put our processes under scrutiny.
"The deeply inappropriate comments made in the now published papers prepared for the Wealth Reputation Risk Committee, do not reflect the view of the bank. No individual should have to read such comments and I apologise to Mr. Farage for this. I have written to him today to make that apology and reiterate our offer of alternative banking arrangements."
Lobbying
Toby Young from Free Speech Union told The Epoch Times by email that after his organisation was de-banked by PayPal last year, they started talking to City and Treasury Minister Andrew Griffith about what "could be done to stop this happening to other people."
"He invited us to submit evidence to the Treasury about how widespread this form of censorship is. We duly did that, citing numerous cases, and the upshot is that the Payment Services Regulations are now being tightened up to stop banks and payment processors from closing people's accounts for exercising their right to lawful free speech," said Mr. Young.
He added that the government "deserves a lot of credit for acting quickly to stamp out this sinister new form of cancel culture."
"We kicked up a stink about it, the government listened and I'm happy to say it has done something about it," said Mr. Young.
Conservative MP Sally-Ann Hart told The Epoch Times by email that "this is an extremely worrying development that needs to stop now."
She said she was "appalled to see wider financial services being denied to individuals exercising their right to lawful free speech."
Last year, after the Free Speech Union's dealings with PayPal, Mrs. Hart had flouted a potential amendment to the Financial Services and Markets Bill, which would have made it illegal for a financial services provider to withhold or withdraw service from a customer if it was related to their freedom of expression. She removed it due to the issue needed to be looked at by the British government in more detail.
On Mr. Farage's case, she said: "We are not a totalitarian country that silences legitimate views, however much we might disagree with them, nor should we tolerate attempts by any individual or organisation to silence them."
"I am aware that the Chancellor will be setting out plans soon to toughen up the rules regarding account closures. This is absolutely necessary to protect freedom of expression," she added.
Cracking Down
On Wednesday, the government announced that it is in the process of cracking down on financial services being denied to anyone exercising their right to lawful free speech.
During Prime Minister's questions, Rishi Sunak said it "wouldn't be right" for financial services to be denied for lawful free speech.
MP Jacob Rees-Mogg called for an inquiry.
Mr. Rees-Mogg told the Commons: "Does (the prime minister) share my unease that a bank that has the Government as its largest shareholder should close the account of a senior opposition politician?
"Will he use the Government's shareholding to ensure that there is an inquiry into these circumstances?"
Mr. Sunak said: "It wouldn't be right if financial services were being denied to anyone exercising their right to lawful free speech.
"Our new Financial Services and Markets Act puts in place new measures to ensure that politically exposed persons are being treated in an appropriate and proportionate manner.
"Having consulted on the Payment Services Regulations, we are in the process of cracking down on this practice by tightening the rules around account closures.
"But, in the meantime, any individual can complain to the Financial Ombudsman Service, which has the power to direct a bank to reopen their account."
The Epoch Times contacted the Treasury for comment.
PA Media contributed to this report.