What Are a Few Things to Keep in Mind When Searching for a Sofa Companion?
When selecting a new sofa companion, there are a few things to consider to help make your choice a little easier.
First, what is the ultimate purpose of the piece? Will it be a place to kick up your feet or set a cup of tea? Will it primarily be used for styling your favorite accessories? The answer will help give you direction.
What kind of wear will the piece receive in your home? Is it likely to see condensation rings from stray cups, or do you have a kitten at home that would love to use the side of an ottoman as a scratching post?
Consider the design and feel of the room. How much wood exists in the space already? What colors and textures are at play? How much space do you have? With what existing pieces will the new piece work?
Lastly, consider the styles and colors of your sofa and other adjacent pieces. Are you looking for a standout piece or a supporting character that ties the rest of the pieces together?
When Is a Round Coffee Table or Ottoman Preferable to a Square or Rectangle One?
Oval and round coffee tables are great for breaking up an angular space and making edges seem softer. We often choose round when we just need another shape in the space so everything isn't so square, or for rooms and groupings where space is tight.
This living room is bursting with color, from the red and blue textiles to the multi-toned wood. (Handout/TNS)
A rectangular option is preferable for longer sofas (or ones with a chaise) to provide easy access to coffee, late-night snacks or cocktails of choice. Depending on fabric and wood finish choices, this look can be more informal than a round ottoman.
A wicker coffee table is reimagined with a scrolled silhouette and deep blue color. (Handout/TNS)
Having your designer create a floor plan for your space is a great way to see a bird's-eye view of your room, ensuring that pieces and walkways are the right size and in the right places before you make your selections.
Purchasing a Coffee Table
Coffee (and cocktail) tables come in many shapes and sizes and can range in texture from wood, metal and even stone. Incorporating natural elements into your space, like a wooden coffee table for instance, is one alluring way to enrich a design. Using multiple high-contrast wood pieces in a room adds depth and visual interest.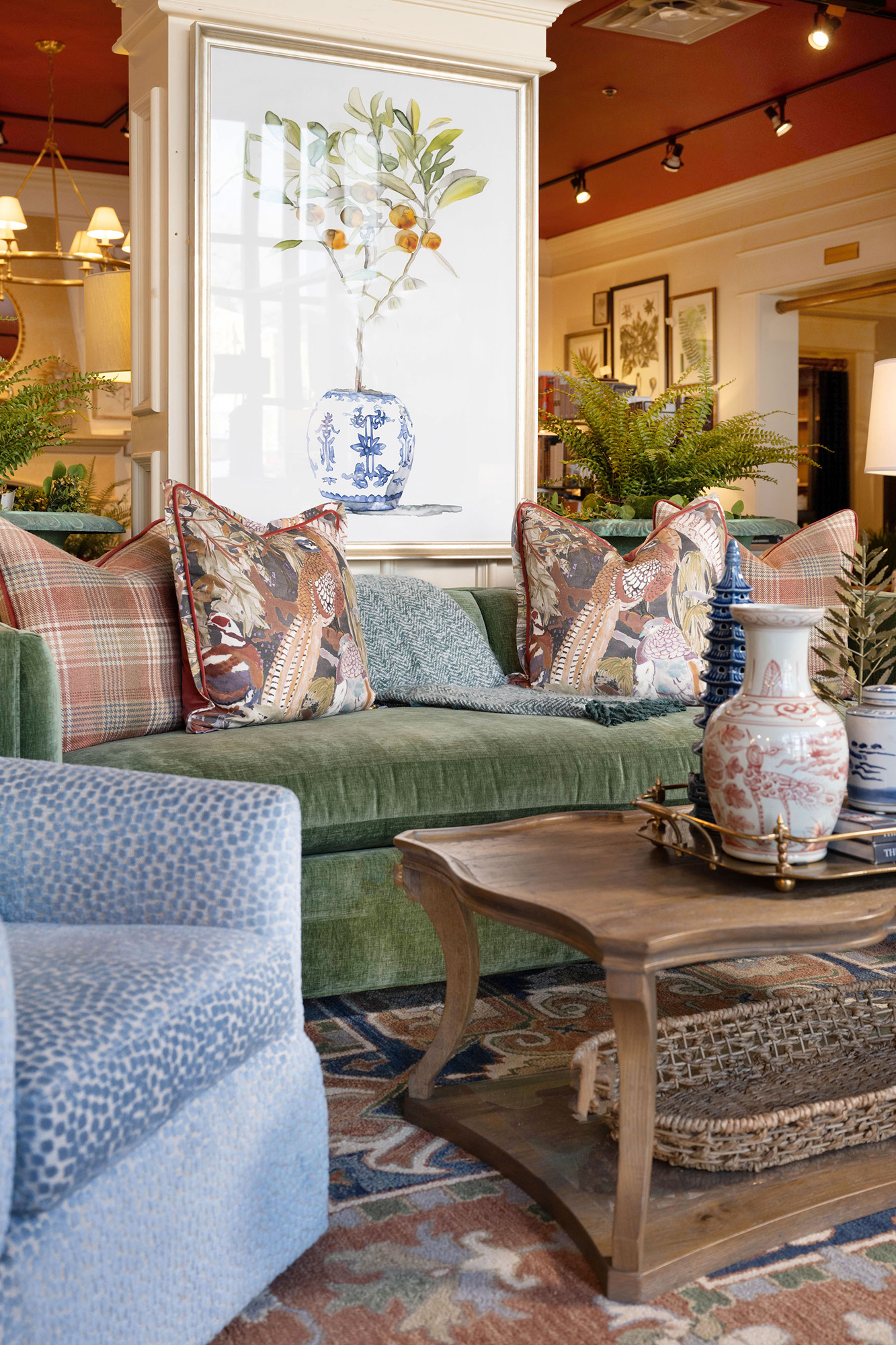 A coffee table with fluted edges adds softness to the colorful space. (Handout/TNS)
A coffee table may be preferable for:
A more formal room
A flat surface/high functionality
Extra storage
What are the limitations to a coffee table?
Not as comfy and casual as an ottoman – no place for feet to go
Easier to bang a knee or stub a toe on (and does not come childproofed)
Extra storage is visible (often just a lower shelf or tabletop)
Purchasing an Ottoman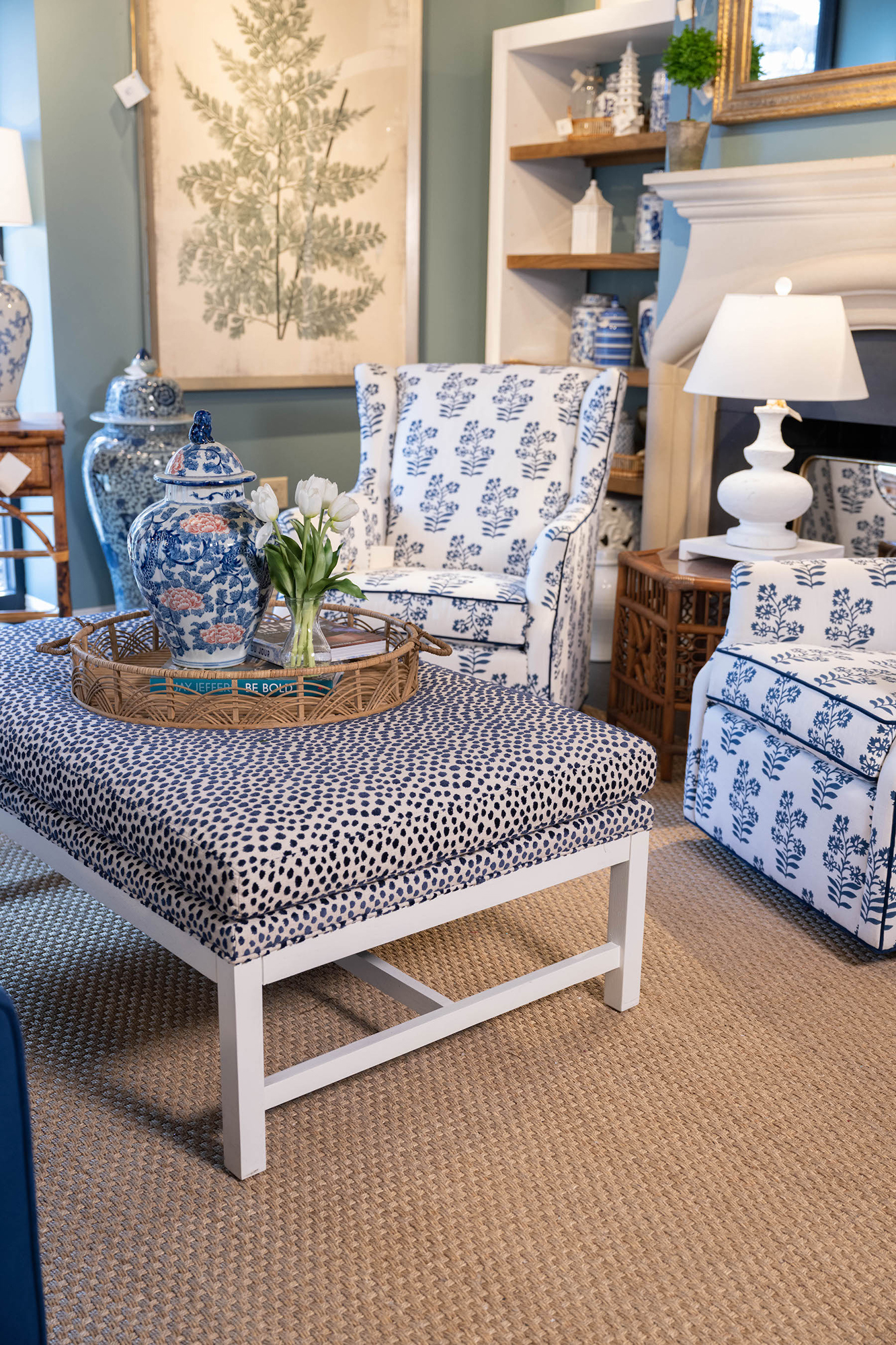 Ottomans are a great source of texture in a room, like this blue and white speckled design. (Handout/TNS)
An ottoman may be preferable for:
A more informal space
Comfort vs. functionality
Incorporating more pattern into room design
Extra seating in a pinch
Rooms with too much wood or too many hard surfaces
What are the limitations to an ottoman?
Not a flat surface for placing items – need a basket or tray to safely place things like drinks
Easier to stain and more challenging to clean
Can fall into the trendy instead of timeless design trap
Designing an Ottoman
We love ottomans for so many reasons. One of our favorites? They can be completely tailor-made to your style. Customers can choose the style, shape, leg, fabric, nail heads, trim and wood finish.
When it comes to designing your own sofa companion, just have fun with it. But I do have one piece of advice to impart for those of you looking to design with leather. Hides are a natural material, and therefore no two are alike. It's part of what makes them such a great texture-add to a space. But if you are a person who likes things to not show imperfection and wear (which is perfectly OK!), natural leather probably isn't the way to go.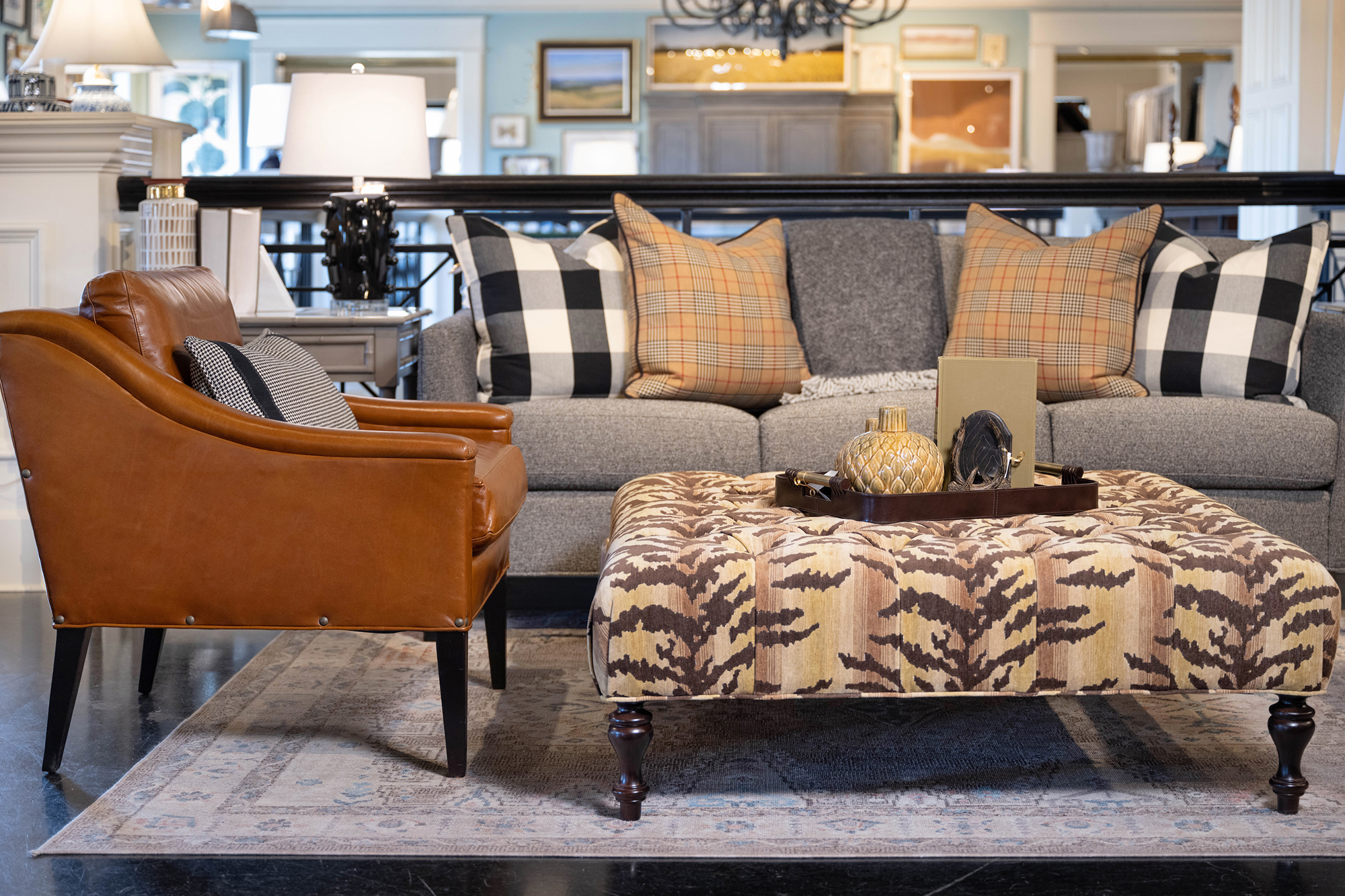 This neutral animal print ottoman shines front and center in this living room design.(Handout/TNS)
Adapted from nellhills.com. Katie Laughridge is the owner of Kansas City interior design destination Nell Hill's. For more information, contact Katie at info@nellhills.com. Copyright 2023 Tribune Content Agency, LLC.