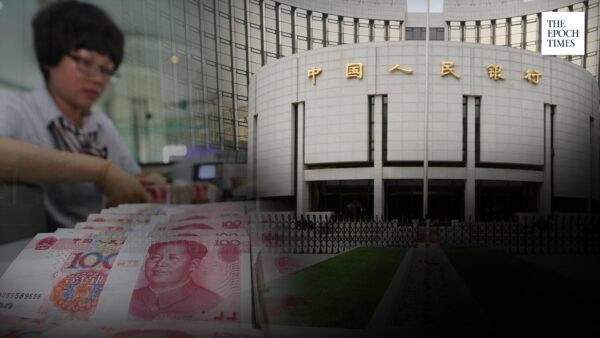 The Chinese communist regime admitted on July 17 that the GDP growth rate in the second quarter of the year was lower than expected. Observers pointed out that China's economy is actually in stagnation or even decline, as investment and demand both domestic and foreign continue to weaken, with domestic structural problems predicted to lead to higher government debt risk.
According to official data released by the communist regime's Statistics Bureau, China's GDP grew just 0.8 percent in April-June from the previous quarter, reporting slowing momentum in the world's second-largest economy.
However, the GDP growth rate in the second quarter reached 6.3 percent year-on-year, the highest quarterly growth rate in the past two years. The year-on-year growth rate of GDP in the first half of the year reached 5.5 percent.
Agence France-Presse said this figure is misleading as it only compared data for the same period last year, when economic growth in the second quarter of 2022 was only 0.4 percent, impacted by the regime's "zero-COVID" policies.
Even so, the acknowledged economic growth rate in the second quarter was slower than expected. Previously, Bloomberg, major Chinese financial Media Caixin, and Reuters' growth forecasts for the second quarter were 7.1 percent, 7 percent, and 7.3 percent, respectively. The story being told by the official data is significantly lower than those predictions.
Alvin Tan, head of Asia FX strategy at RBC Capital Markets, said that 6.3 percent is a pretty disappointing number, so obviously, the trend of recovery in the economy is slowing down.
People attending a job fair in Beijing on Aug. 26, 2022. (JADE GAO/AFP via Getty Images)
Meanwhile, the youth unemployment rate reached 21.3 percent—a record high since the statistics for it were made available in 2018.
Wang Dan, chief economist at Hang Seng Bank said, "It's not a strong recovery; the economy is quite weak."
Harry Murphy Cruise, an economist at Moody's, an international rating agency, said, "China's economic recovery has gone from not good to very bad."
Economic Engines All Stall
Current affairs commentator Wang He told The Epoch Times on July 17 that the official economic data for the second quarter shows that all three economic engines that drive China's economic growth are looking down: weak domestic demand, sluggish investment, and declining imports and exports.
He said that among them, consumption has been the main drag in the official GDP figures. Retail sales, a key indicator of domestic household consumption, fell sharply in June from the previous month. Although the indicator rose 3.1 percent year-on-year, the pace of growth was well below May's 12.7 percent.
In terms of investment, in the first half of the year, China's national investment in fixed assets was 2.4 trillion and 311.3 billion yuan, an increase of 3.8 percent. Among them, private investment in fixed assets decreased by 0.2 percent.
China's five largest state-owned banks face worsening bad debts. (Getty Images)
Mr. Wang pointed out this shows that China's investment mainly depend on government stimulus, "and the government's capacity is very limited.
"This does not bring in more private investment but increases the government's debt risk. The decrease of the private investment in fixed assets indicates capital outflows and industry outflows," he said.
Zheng Xuguang, an independent current affairs commentator, told The Epoch Times on July 19 that judging from the numbers, "investment and foreign capital from private enterprise have actually weakened, and mainly state-owned capital are investing, which is actually driven by the expansion of the debts of the state-owned business sector."
"On the one hand, the assets and liabilities of large state-owned enterprises and governments are expanding, the debts are increasing, which drives up the GDP growth. But on the other hand, the transactions of mid- and small-sized businesses have not recovered."
Mr. Zheng added that there is actually another important number related to the investment problem: "that is, China's current inflation is zero."
"The inflation rate is lower than that of Japan. That is to say, investors dare not invest in China and consumers dare not buy stuff, so only the state-owned sector is expanding [through more debt], which is a very dangerous situation."
Although the ruling Chinese Communist Party's (CCP) leader Xi Jinping and premier Li Qiang have continued to verbally encourage private enterprises to invest more in Chinese economy, the regime's clamping down on real estate developers and e-commerce companies through regulatory rectification still makes many private enterprises reluctant to invest.
According to the CCP's official data, in the first half of the year, national real estate development investment was 5.855 billion yuan, a year-on-year decrease of 7.9 percent; and the development and construction sector and sales volumes of commercial housing decreased by 6.6 percent and 5.3 percent respectively.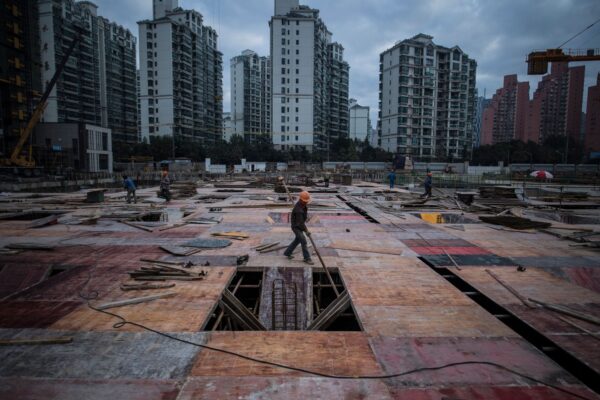 A man works at a construction site of a residential skyscraper in Shanghai on Nov. 29, 2016. (JOHANNES EISELE/AFP via Getty Images)
The official customs data released earlier shows that in June this year, China's export trade volume fell by 12.4 percent—the largest drop in three years—and imports fell by 6.8 percent year-on-year.
The outside world generally believes that the CCP has always falsified data, so China's true economic situation may be even worse than indicated by official data.
Cai Shenkun, an economic commentator, told Radio of Free Asia that economic data coming out of China has been sanitized by the communist regime—and suggests that China's economic performance is now so poor that the authorities are unable to continue to conceal the brewing economic crisis.
"China's economy in the third quarter will definitely get worse. It is very difficult to maintain 5.5 percent this year," he said.
Mr. Cai added China's failure to recover from its COVID-battered economy is not only due to external factors like derisking by the global market, but also a lack of confidence in the future among the Chinese domestically.
"Confidence is more important than gold," he said. "Without confidence, it is impossible to drive economic growth.
"In such a political atmosphere [in China], where the policy is unclear and fluid, the constant targeting of enterprises and ordinary people [by the regime] means that no businesses or individuals are willing to invest and grow together with the national economy."
Luo Ya and Cheng Jing contributed to this report.