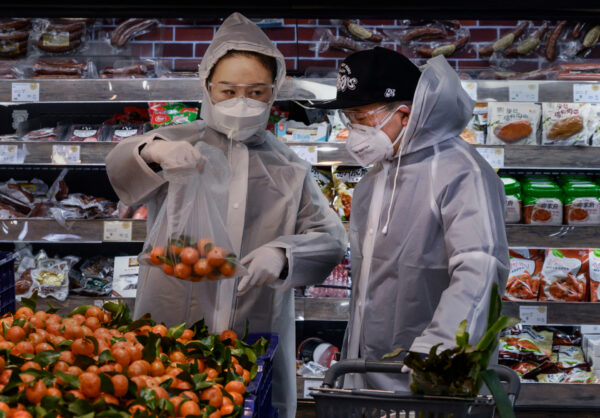 The news of "positive nucleic acid tests on imported food packaging" have appeared on mainland Chinese media frequently this month.
State-approved "experts" quoted by the media have given different opinions on the risk of contracting the virus from imported goods, causing confusion and panic among the people and huge losses for import businesses.
Faced with an increasingly severe domestic situation, as the pandemic worsens in various Chinese provinces amid growing international scrutiny, the CCP and its media mouthpieces in recent months have continued publishing reports claiming that the CCP (Chinese Communist Party) virus originated in other countries, in an attempt to shift attention away from the cover up in Wuhan at the early stages of the pandemic.
State-controlled media have also frequently reported that China has had "cases imported from overseas."
Contradictory Expert Opinions
However, Chinese experts have contradictory opinions as to whether people can be infected by any virus particles on imported products.
Last week, Zhang Wenhong, director of the Department of Infectious Diseases at Huashan Hospital, which is affiliated to Fudan University, said in an interview with state-run CCTV that, in terms of probability, "If someone bought something imported from abroad and became infected by it, so far, no such case has occurred.
"The probability is lower than an air crash," he said.
Another expert, Wu Zunyou, chief expert of epidemiology at China's Center for Disease Control and Prevention, told Chinese media, "If the food nucleic acid test was positive, it may be a live virus, or a dead virus or virus fragment, and it may not be infectious."
He added that the CCP virus does not spread through the digestive tract, and that human stomach acid is strong enough to kill it. So far, no diseases that cause respiratory infections through the digestive tract have been identified.
He advised that people could limit their risk of infection by paying attention to hand hygiene when eating fresh fruit and washing the fruit under running water. "There should be no risk of infection," he said.
But last December, Zhong Nanshan, China's top virologist, kept suggesting the CCP virus might have been transmitted from imported goods.
He told Chinese media on Dec. 19, 2020, that the CCP virus was originally transmitted person to person. But now, he claimed, there is environmental transmission (surfaces-to-person). This is a "new topic" that "needs scientists to find patterns and study on how to prevent it," he claimed.
In an interview with CCTV on Dec. 29, Zhong also mentioned that the increase in local cases in China may be related to the environment and material transmission, and that imported goods need to be monitored.
The WHO said in August last year, when reports first started to emerge from China, there is no evidence people can catch COVID-19 from food or food packaging.
Businesses Suffer Losses
Given contradicting expert opinions coupled with repeated headlines in mainland media that imported products have tested positive for the CCP virus, many Chinese people are now refusing to buy imported products to avoid any risk of contracting the virus, causing huge losses to import businesses.
For example, after media reported that "the surface of imported cherries tested positive" for COVID-19, a sharp drop in the price of imported cherries was seen in many places across the country.
Jumbo-sized cherries can only sell for 20 yuan (about $3) per kilo now in Guangzhou markets.
The fruit wholesale market in Jiaxing usually sells cherries for 60 to 160 yuan ($9 to $ 24) per kilo. Now, the cherries earn shop owners no more than 16 yuan ($2.4) per kilo. Kunming merchants have also said that the price for cherries for them has dropped to 20 yuan ($3)  per kilo and they're still hard to sell.
The public caution has put pressure on businesses who had already stocked up with imported goods for the upcoming Chinese New Year.
"One wholesaler sold a container of cherries worth more than 1 million yuan ($ 150,000) for only 100,000 yuan ($ 15,000)," one media reported. "It is normal for a truck of goods to lose hundreds of thousands of dollars."
Virus Testing Disrupting Global Cold Chain Operations
The CCP's practice of testing imported foods and other commodities has not only affected Chinese businesses but also disrupted global cold chain operations, with cargo ships waiting in long queues at major Chinese ports for testing.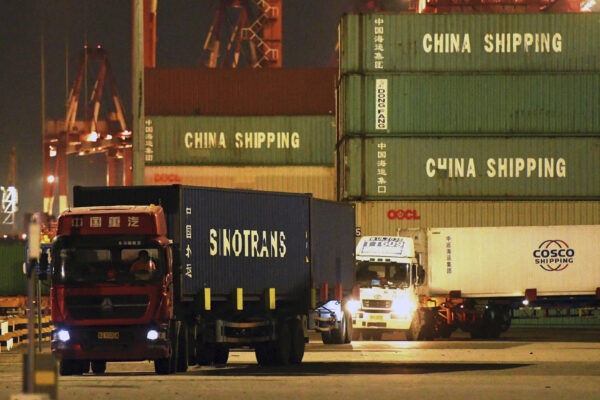 According to a recent report by Bloomberg News, at least four refrigerated ships have been forced to wait for two months near Dalian Port. Nine container ships have been berthed in the port and at least six more are lined up in the Yellow Sea. The congestion caused freight companies to transfer their refrigerated containers to other ports, which in turn has caused congestion in ports such as Qingdao and Shanghai.
And it's not just within China that shipping movements have been affected.
According to Philip Gray, an analyst at maritime consultant Drewry, Russian vessels filled with seafood heading to Dalian and Qingdao have had to be re-directed to South Korea's Busan, raising the risk that more ports may become congested.
Impacts have been seen in the United States as well, where companies have been left waiting for empty containers to ship their frozen goods over to China and across the Pacific, according to the Bloomberg report.
The report warned U.S. exporters that there may be further increases in supply chain costs in the near future as a result of the disruptions.