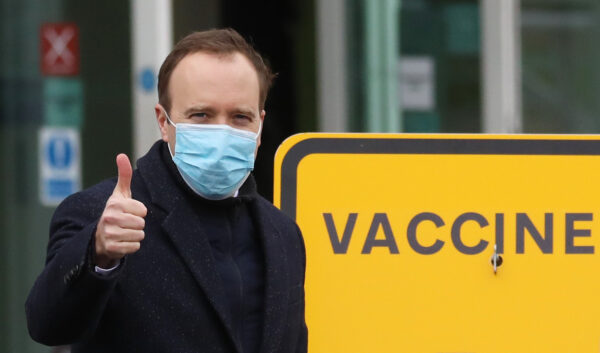 British Prime Minister Boris Johnson said his country reached a "significant milestone" on Sunday as 15 million people across the UK had received the first dose of a CCP virus vaccine.
"Today we have reached a significant milestone in the United Kingdom's national vaccination programme," he said in a video message posted on Twitter.
Today we have reached a significant milestone in the United Kingdom's national vaccination programme.

This country has achieved an extraordinary feat – administering a total of 15 million jabs into the arms of some of the most vulnerable people in the country. pic.twitter.com/wPKCXPT8Td

— Boris Johnson (@BorisJohnson) February 14, 2021
He said the government has hit its target of offering vaccines to everyone in England in the four priority groups, including frontline medical staff, care home residents and workers, people over 70 years old, and people deemed clinically extremely vulnerable.
"We've still got a long way to go, and there will undoubtedly be bumps in the road," he said. "But after all we've achieved, I know we can go forward with great confidence."
Britain's Health Secretary Matt Hancock also hailed the "fantastic news," stressing in particular the high take-up rate.
"Over nine in 10 of all over-70s in the whole country have now been vaccinated—much higher take-up than we could possibly have hoped for."
He said this is "really good news" because he sees vaccination as "the way out for all of us out of this pandemic to be able to get our lives back to something near normal."
"There is still an awful long way to go, but we're making really good progress," said Hancock.
This comes one day after a group of backbench Conservative members of Parliament wrote to Johnson demanding that he lift all CCP (Chinese Communist Party) virus restrictions by the end of April. The CCP virus causes the disease COVID-19.
The COVID Recovery Group (CRG), a group of Tory MPs who are skeptical about lockdown measures, said on Saturday that they welcomed "the tremendous pace of the vaccination rollout" and that the restrictions will no longer be justified once the high-risk groups have been protected by COVID-19 vaccines.
Johnson said on Saturday he was optimistic he could announce the easing of some lockdown measures soon, but also said "we have to be cautious."
Reuters contributed to this report.