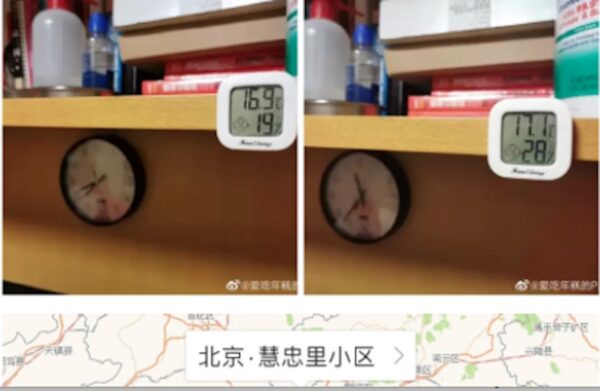 Beijing Electric Power Company announced on Jan. 7 that as of 9 p.m. Jan. 6, the power load of the Beijing Power Grid had reached 24.51 million kilowatts, setting a new historical record. Meanwhile, many Beijing residents complained on social media of insufficient heating.
The entire China has already entered an extremely cold winter. Temperatures in Beijing have been the lowest since 1966. On Jan. 7, the daily minimum reached -19.6 degrees Celsius (-3.28 degree Fahrenheit).
Residents in Beijing have said that the paid collective heating service has been insufficient, with indoor temperatures being lower than in previous years. Many have reported temperatures not even reaching the government-required minimum of 18 degrees Celsius (64.4 Fahrenheit). And the household AC needs to be turned on for heating all the time, which consumes a lot of electricity.
There have also been reports of power outages, water outages, and heating outages from some communities in Beijing. Water supplies are powered by electricity, while some residential communities' heating that are independent of the collective heating service are also powered by electricity.
A resident of Xinjie Compound in Chaoyang District said on Weibo, "In the extreme cold weather, power has been out two consecutive days, and the heating was stopped when it was -17 degrees (1.4 degree Fahrenheit) during the night of Jan. 6. There have been three power outages since entering 2021."
Mr. Zhang from the Taohuadao Community in Liyuan Town of Tongzhou District said, "The heating service is getting more and more disappointing. Many residents report that the heating is insufficient. Even when the sun is out during the day, the room temperature is only about 18 degrees (64.4 Fahrenheit). The children and the elderly at home have already caught a cold because of it. I called the district heating office countless times and no one solved it."
More Beijing residents have no other means but to report the heating situation on social media in an attempt to bring attention to their situation. They all complain, "the property management is not doing anything about it, the heating company is not doing anything about it, and the mayor's hotline is not doing anything about it."
A netizen also posted the "Heating Fee Charge Notice" issued by heating supply company Beijing Hongsentaiye Thermal Technology Development Co. Ltd. on social media. The notice showed that the annual heating fee was 2,437 yuan ($376).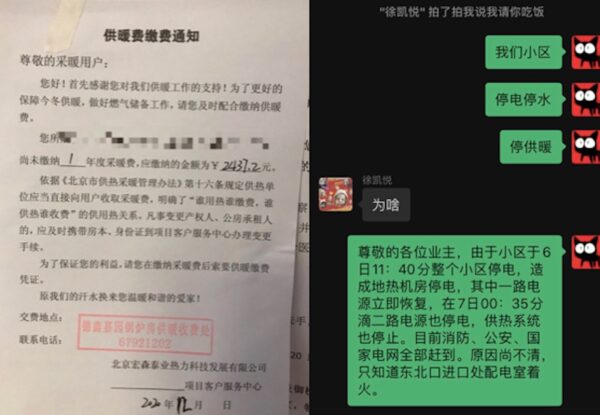 Another netizen named "Flying Snow" asked for a refund for her heating fees, with temperatures in her apartment being below the mandated 18 degrees Celsius (64.4 Fahrenheit).
According to a mainland media report, the director of the State Grid Beijing Electric Power Control Center said, "For the first time in the past 20 years, the maximum load of the power grid in Beijing appeared in winter. The heating load accounted for 48.2 percent—a record high."
Since last November, mass power outages have appeared frequently in China's major cities and more developed areas, such as Shanghai, Beijing, Guangzhou, and Shenzhen, sparking speculation over the severity of China's energy supply shortage and the possibility of it experiencing an energy crisis.
Hu Yuanzhen contributed to the report.