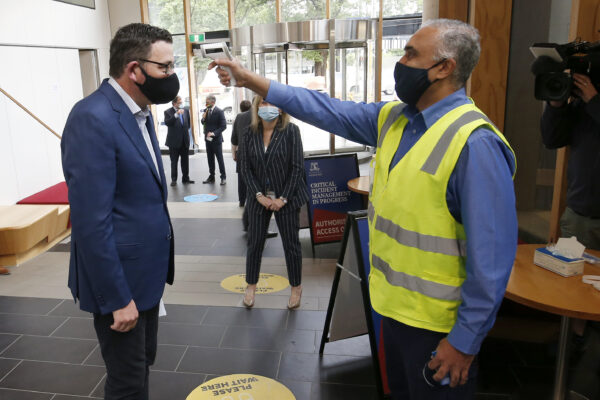 The University of Melbourne will get over $1.5 million to accelerate trials of two next-generation "targeted and tunable" COVID-19 vaccine. It comes as SARS-COV-2 mutations spread worldwide posing questions about the effectiveness of existing vaccines.
Announcing the funding on Dec. 3, Minister for Health Greg Hunt said: "These vaccines offer a number of potential advantages to 'first-generation' COVID-19 vaccines, and do not require storage in the extremely low temperatures needed for the Pfizer vaccine."
One of the universities vaccines is an mRNA vaccine similar to those produced by Pfizer/ BioNTech, used in the United Kingdom, Europe and the United States. The other is a protein vaccine with tunable capabilities to tackle new strains such as those recently emerging from in the UK and South Africa, both of which are alleged to be more transmissible than the original CCP virus that spread from Wuhan, China in 2019.
Head of the Vaccine and Immunisation Research Group (VIRGo) Professor Terry Nolan, who is heading up the trial, believes that new vaccines will provide a better response to any mutations COVID-19 virus makes as it spreads globally.
"The mutations which are occurring are changing all the time, and there is no guarantee that they will protect into the long-term and we need other types of vaccines that will be able to be tuned should those mutations get to a point where the vaccines don't work," Nolan told the Australian on Monday.
Acting Chief Medical Officer Paul Kelly has already warned Australia that  "the vaccines that we know most about don't appear to demonstrate any protection from transmission of the virus."
According to Nolan, the vaccine currently undergoing animal testing will be more effective as it focuses on a small part of the spike protein.
"It's very likely that this type of approach is going to lead to a more efficient vaccine, which will also be less likely to cause side effects and so forth as well," he said.
Serious concerns about the side effects of the Pfizer vaccine were raised after the U.S. Centre For Disease Control reported in December that thousands of people experienced "health impact events" such as being "unable to perform normal daily activities, unable to work," or "required care from [a] doctor or health care professional."
Similar reports have surfaced in the UK.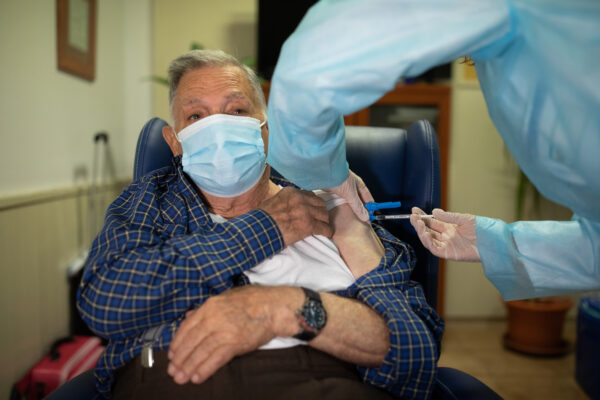 José Bruballa, 86, receives one of the first Pfizer/BioNTech Covid-19 vaccines in Spain at the Somontano nursing home on Dec. 27, 2020, in Barbastro, Spain. (Alvaro Calvo/Government of Aragon via Getty Images)The funding for the Safe, Effective, and Rapidly Tuneable SARS-CoV-2 Vaccine trial is part of a $10.1 million package for the Medical Research Future Fund's Clinical Trials Activity Initiative.
The project is scheduled to move to human trials by mid-2021, with recruiters looking for volunteers aged between 18 and 75 years-old.
The Therapeutic Goods Administration is currently reviewing the Pfizer mRNA vaccine for usage in Australia. Federal health minister Greg Hunt has said that the government is ahead of schedule to roll-out the vaccine as early as March.