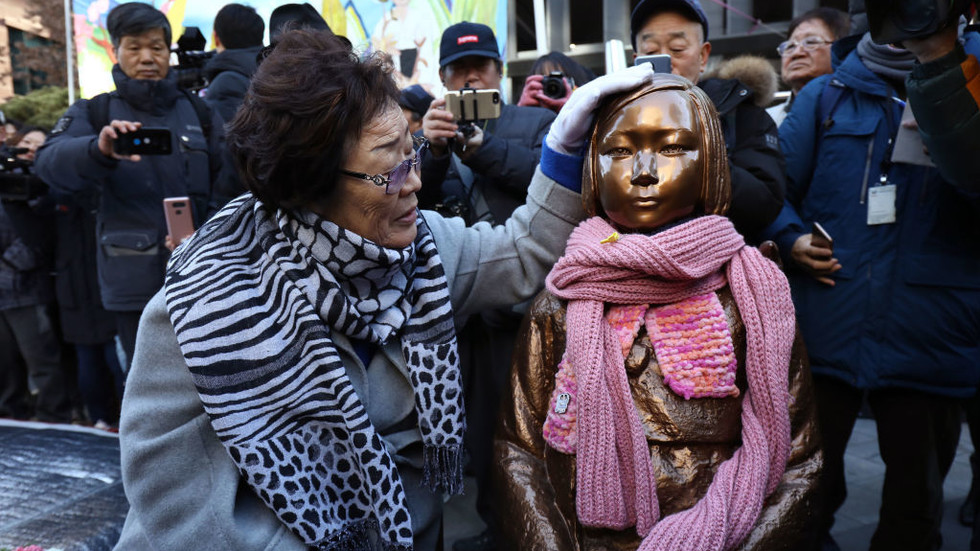 Japan and South Korea have reportedly settled their differences once again over compensation for Tokyo's historic atrocities
Japan and South Korea reportedly plan to establish a youth scholarship program under a deal to overcome decades of conflict over Tokyo's use of Korean sex slaves and other forced labor during World War II World War.
The deal, which is expected to be announced on Monday, is likely to be controversial in South Korea because it will not require Japan to directly compensate its surviving victims or issue a new apology, according to media reports. Japanese companies will pay for the youth fund, which will provide scholarships and promote bilateral exchanges.
However, Tokyo will not contribute to a foundation that is expected to compensate victims. It also will not comply with a 2018 South Korean court ruling that ordered Japan's Mitsubishi Heavy Industries and Nippon Steel to pay compensation to forced laborers who were mobilized during the occupation of the Korean peninsula from 1910 to 1945.
Read more
Former leading "comfort women" activist accused of fraud and embezzlement in South Korea
Japanese officials have argued that all compensation issues were resolved under a 1965 treaty that normalized relations between the countries. That deal included $800 million in aid and loans as a "reparation fee." The South Korean government will now look to the beneficiaries of this aid, such as steelmaker Posco Holdings, to fund the foundation for victims of slave labor.
The issue has flared up repeatedly in the decades since, with South Koreans decrying Japan's alleged lack of contrition and its use of textbooks that fail to teach Japanese children about their country's colonialist atrocities. Previous settlements have failed to end the controversy. For example, a 2015 settlement that was presented as an "irreversible" settlement of compensation claims fell apart amid criticism from surviving victims.
Under the new agreement, Japanese Prime Minister Fumio Kishida is expected to signal his government's intention to adopt a 1998 joint statement in which then-Prime Minister Keizo Obuchi expressed remorse for the "horrific damage and pain " inflicted on the Korean people during the occupation.
The new agreement calls for strengthening commercial and diplomatic ties between the countries. South Korean President Yoon Suk-yeol has been under pressure from the United States to mend fences with Japan so the three countries can work more closely to respond to North Korean security threats.

READ MORE: Japanese politician approves sex slavery of World War II 'comfort women'
Yoon is scheduled to pay a state visit to Washington next month. His national security adviser, Kim Sung-han, began a five-day trip to the United States on Sunday, after telling reporters that the deal with Japan was aimed at helping future generations as the countries enter "in a new era in bilateral relations".