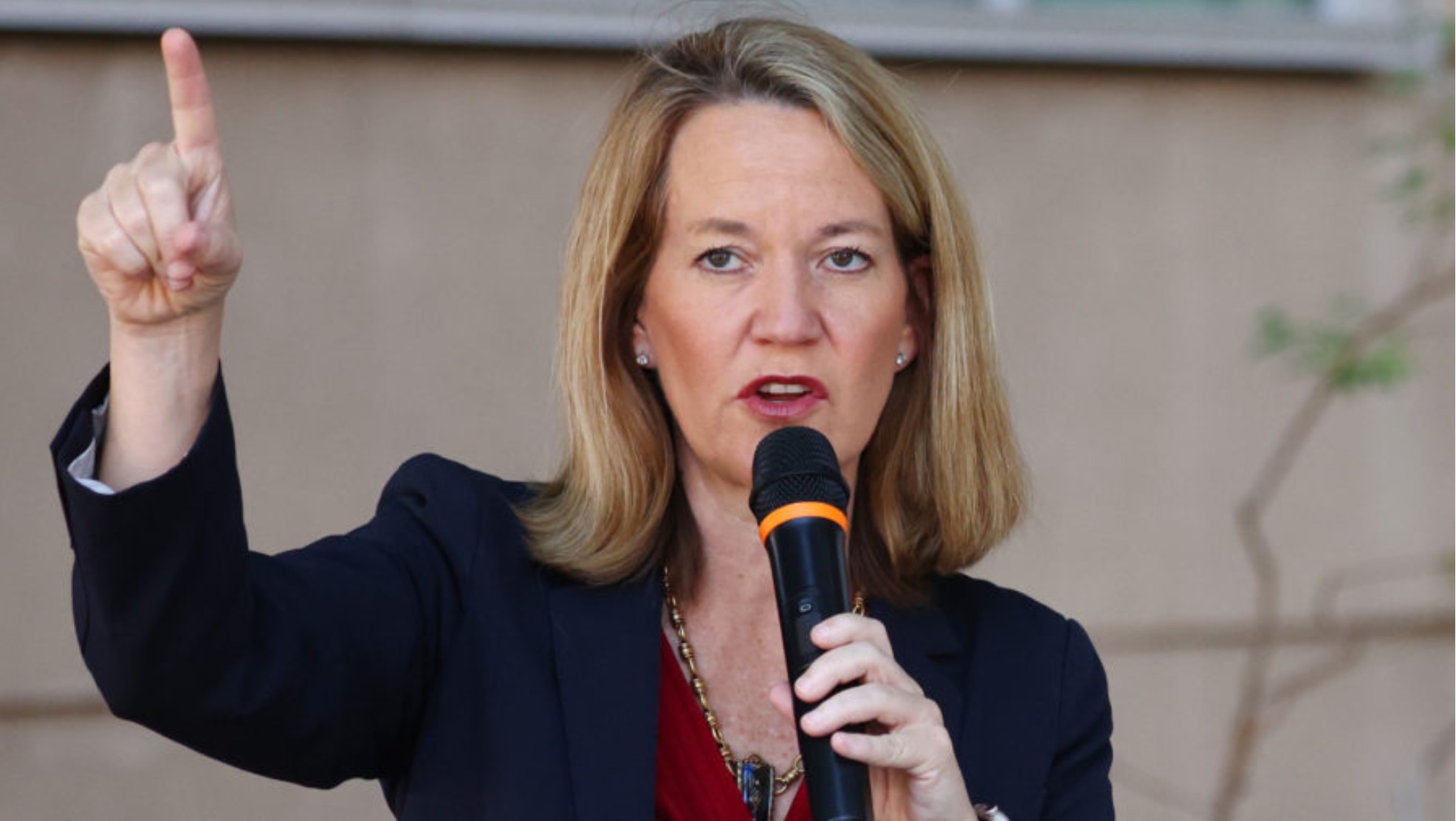 Arizona's 2022 election still has negative consequences for election security in the Sun Belt state.
Arizona Attorney General Kris Mayes has threatened legal action against Mojave County officials if they dare count ballots in the 2024 election.
BREAKING: Arizona attorney general threatens Mohave County officials with legal action if they decide to distribute recount ballots in 2024 election
"As an Arizona law enforcement officer, I have an obligation to warn you that the legal consequences would be severe"… pic.twitter.com/F3q7rwUOvD
— George (@BehizyTweets) November 20, 2023
"As an Arizona law enforcement officer, I have an obligation to warn you that the legal consequences would be severe," warns AG Mayes.
In the AG's letter to Mojave County, Mayes claims to be concerned that verifying the accuracy of ballots "undermines Arizona's democratic process."
It's not a joke. This is from the letter:
Re: Counting Ballots Manually Instead of Automatic Tabulation Equipment Dear Supervisors: I understand you will be voting tomorrow on whether to direct the Mohave County Department of Elections to count ballots for the election 2024 by hand, rather than an automatic tabulation machine. Before you cast this vote, I want to make sure you know that a "yes" vote would direct your Department of Elections to violate the law. As an Arizona law enforcement officer, I have an obligation to warn you that the legal consequences would be severe.
Equally important, I am concerned that this Board has received incorrect legal advice from bad faith actors who are trying to cast doubt on Arizona's elections and ultimately undermine Arizona's democratic process. Full manual recounts are impractical within the time allowed to certify election results, are less accurate than tabulating machines and, more importantly, are illegal under Arizona law. The resulting delays, inaccurate results, and illegal procedures of manual recounts will be used to cast doubt on valid election results. The Board should not endorse this attack on the democratic process.
The attorney general is clearly concerned that someone will verify that the electronic voting machine equipment is accurately recording the votes of Arizonans.
Arizona law does not allow counties to make a blanket decision to count ballots by hand.
Instead, the relevant statutes repeatedly provide that ballots must be counted by automatic tabulation equipment. See, e.g., ARS §§ 16-449, 16-468, 16-602, 16-621, 16-622. In particular, section 16-622(A) of the Arizona Revised Statutes provides that "[t]The result printed by the vote tabulation team, to which the written and anticipated votes have been added, constitutes, when certified by the board of supervisors or another responsible official, the official canvas of each precinct or electoral district." Except where expressly permitted by the bylaws, hand-counted votes are not part of the official candidacy. Therefore, the proposed measure could end up disenfranchising their constituents.
The returning officer may order the ballots to be "manually counted" only if "it becomes impracticable to count all or part of the ballots with tabulation equipment." ARS § 16-621(C). There is no evidence to support a general conclusion that counting ballots with tabulating equipment is impractical. Rather, as recent analysis by the Mohave County Department of Elections shows, manually counting all the ballots would be impractical in several ways. See Mohave County, Ballot Hand Tally Analysis, https://lfportal.mohavecounty.us/bos/0/doc/2038269/Page1.aspx (explaining that a full hand count can compromise confidentiality, impair timeliness and accuracy of results and significantly increase costs). Outside of a specific scenario where counting ballots with tabulating equipment is impractical, the Legislature has not provided counties with the authority to count ballots by hand instead of using tabulating equipment, and counties they may not choose to do so independently. See State v. Stapley, 227 Ariz. 61, 64–65, ¶ 15 (App. 2011) ("[T]The Council can only exercise the powers expressly granted to it by the legislator."
Likewise, the Electoral Procedures Manual makes it clear that ballots must be counted by machine.
Arizona continues to hide behind opaque, private, unelected, unaccountable voting machine companies to erect a wall between voters and their votes.
It should be added that the swing state of Arizona has featured prominently in contested elections for several years.
Before becoming governor, Secretary of State Katie Hobbs certified her own election victory over statewide objections to the way the 2022 election was run.
Cochise County voted to delay certification of midterm election results to more closely inspect the state's voting machines.
Mayes' letter also notes, "In 2022, Cochise County engaged in a misguided and illegal effort to conduct a full hand-count audit of all ballots cast in the 2022 general election. The superior court concluded that this was illegal. The Court of Appeals agreed."
In December 2022, following the reported defeat of Arizona gubernatorial candidate Kari Lake and
.@KariLake attorney Kurt Olson:
"Is it your testimony that the changes to the printer assembly that caused the so-called 'shrink to fit' problem were made on election day?"
Maricopa County Elections Director Scott Jarrett:
"That is correct." pic.twitter.com/hDAgiqdXU6
— Kari Lake War Room (@KariLakeWarRoom) December 22, 2022
"Is it your testimony that the changes to the printer assembly that caused the so-called 'shrink to fit' problem were made on election day?" Kari Lake's attorney Kurt Olson asked.
"That's right," Scott Jarrett replied.
"Elections Director Scott Jarrett Confirms Printer Configuration Change That Caused Mass Disenfranchisement of Arizona ES Voters Occurred Election Day Morning," Kari Lake reported War Room.
Also in his testimony, election modeling expert Richard Baris said his projections showed as many as 40,000 voters were disenfranchised by the Election Day chaos in Arizona's Maricopa County. Baris said he had "no doubt" he would have won the election if there had been no problems at the polling stations.
Baris said between 25,000 and 40,000 voters were disenfranchised in the county because of his estimate that about one in five polling places had problems with ballot tabulating machines in the early hours of Election Day. It is a difficult figure to verify, but it is indisputable that such an interruption would tend to suppress the vote to an uncertain degree.
"We have about 20 percent of the locations where there is a problem with tabbing," Maricopa Board of Supervisors Chairman Bill Gates said on election night. Election officials, however, told voters that their ballots would still be counted as a result of redundancy protocols.
The margin of vote between Lake and Hobbs was 17,117 votes.
As Kari Lake's War Room reported, Arizona election contractor Runbeck played a decisive role in the Maricopa County mayhem. Runbeck was also the ballot supply contractor for the dysfunctional 2022 Harris County election and the 2020 Fulton County election.
"Runbeck employees describe trucks coming in without proper paperwork," KLWR reported. "No chain of custody was maintained during this transport. When Runbeck contacted Maricopa County they said it was not 'necessary'. This is the complete breaking of election law."
"Remember that Runbeck's participation in this ENTIRE process is already in violation of Arizona statute," the account added. "Couple that with the fact that the ballots were left, counted (?) and removed without documentation."
During the court hearing, Maricopa County Recorder Steven Richer admitted the county doesn't even adhere to state law requiring a chain of custody for ballots. The county "considers" the correct amount in the central tabulation facility.
"Does anyone know when these ballots come out of the polling stations, how many are in the bins?"
"…No."
This is a MAJOR problem!
Maricopa County Recorder Admits Chain of Custody Makes No Sense, They Can Magically Tell How Many Ballots Appear in Central Tabulation Facility pic.twitter.com/WIJr7tS7Zx
— Liz Harrington (@realLizUSA) December 21, 2022
Internal communications between top Maricopa County election officials after Election Day reveal they struggled to reconcile a nearly 16,000 discrepancy in outstanding vote totals, as reported by Just the News.
"The SOS list cannot currently be reconciled with our estimates from yesterday," Richer wrote. Maricopa County estimated 392,000 ballots remained to be counted, while the secretary of state's website said 407,664 ballots remained.
"So there's a 15,000 difference somewhere," Richer said, but the discrepancy cited was closer to 16,000.
In the 2022 race, Republican Abe Hamadeh also "lost" to Democrat Kris Mayes by 511 votes.
Attorney Tim La Sota said the general election was "affected by certain errors and inaccuracies" in the operation of polling stations and how ballots were processed and tabulated.
"The cumulative effect of these mistakes is significant for the Arizona attorney general race," he said.
Election day chaos and lack of integrity is actually what causes people to lose confidence in election results. Manually counting paper ballots and comparing signatures would go a long way toward solving this crisis of confidence problem. Instead, state officials resist oversight and hide behind private voting machine companies, while attacking any county initiative to verify election results.
This is why the Arizona election has become a complete mockery of the democratic process.
NOW READ:
'I Love Your Ears': Creepy Joe Highlights 6-Year-Old Boy During 'Friendsgiving Dinner'