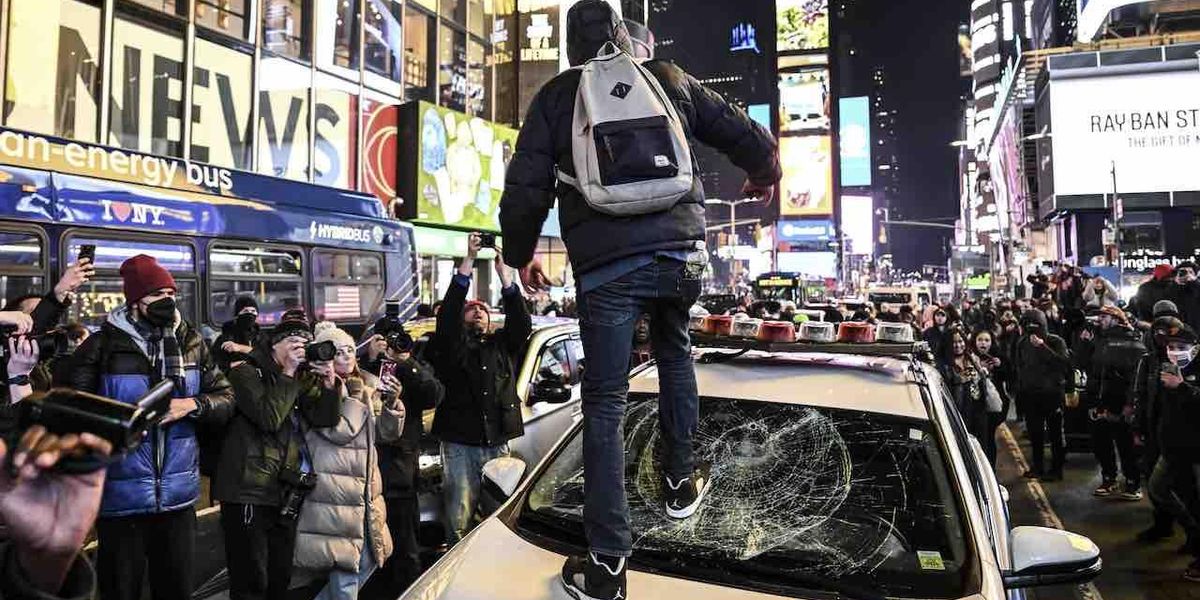 A woman arrested for allegedly punching two New York City police officers during a Times Square protest over the death of Tire Nichols has been released without bail, the New York Post reported.
What is the background?
Nichols, a 29-year-old black man, was hospitalized after he was pulled over on Jan. 7 for reckless driving in Memphis and allegedly assaulted by arresting officers. He died of his injuries three days later. After an internal investigation, five black officers were fired for violating department policies, arrested and jailed. Each officer was charged with second-degree murder, aggravated assault, two counts of aggravated kidnapping, two counts of official misconduct and official oppression.
What are the details of the New York protest arrest?
The newspaper said prosecutors from District Attorney Alvin Bragg's office did not object to Candy Nicole, 25, being released on her own recognizance after an appearance in Manhattan Criminal Court on Saturday.
An attorney for Nicole claimed her client was the victim of "unnecessary police force" during Friday night's protest, the Post reported, adding that attorney Caroline Glickler said Nicole "maintains her innocence".
On Friday evening, Memphis authorities released video of the beating of Nichols as officials braced for unrest not only locally but across the country.
As for Nicole, the paper, citing the NYPD, said she was arrested in October after an alleged "forcible touching" incident in Harlem in which she grabbed her partner's testicles during a discussion
Nicole is due back in court on March 20 in connection with her Times Square assault charge, the Post said. He also did not live at the East 28th Street address he gave to police, the newspaper added, citing residents of the building.
"Career criminal" steps on police car windshield
The Post said a "career criminal with a violent past" was arrested during the protest after allegedly smashing the windshield of an NYPD police cruiser with his foot.
Argenis Rivera, 33, faces a felony charge for smashing the windshield, the newspaper said, but was held on $10,000 bail after authorities drew attention to his arrest in October for allegedly strangling a mother pushing her 2-year-old son in a stroller in Chelsea and then assaulting another woman.
An attorney for Rivera asked for house arrest and electronic monitoring if he is released, the Post reported, adding that a judge agreed.
Rivera has 13 prior arrests, the newspaper said, adding that his parents, who did not give his name, said their son "always did what he wanted" as a child and was "hard to control." .
In the October incident, Rivera allegedly punched the mother in the face and began choking her while yelling, "I'm not letting go until the police come! … I want to die for the police," said the Post.
Rivera turned to a woman sitting on a nearby bench, pressed the keys to her throat, said, "Go ahead, call the police, I don't care," then punched her and pinned her to the ground, the newspaper said, citing the NYPD.
Sources told the Post that Rivera has a history of psychiatric problems and was also accused in August of punching a doorman at a Midtown building, but was released because the assault charge is ineligible for bail under the state's criminal justice reforms.
Manhattan resident Katherine Stone, 34, was charged with defacing a police cruiser and issued a desk appearance ticket for criminal mischief and possession of graffiti tools, authorities told the newspaper . The Post said Stone did not return messages.
'Mostly peaceful'
Here is an informative video showing the protest; an off-camera reporter characterizes him as "mostly peaceful." Another video news report from a different New York network also described the protest as "mostly peaceful":
Protesters surround NYPD vehicle in Times Square www.youtube.com
Do you like Blaze News? Bypass the censors, sign up for our newsletters and get stories like this straight to your inbox. Register here!