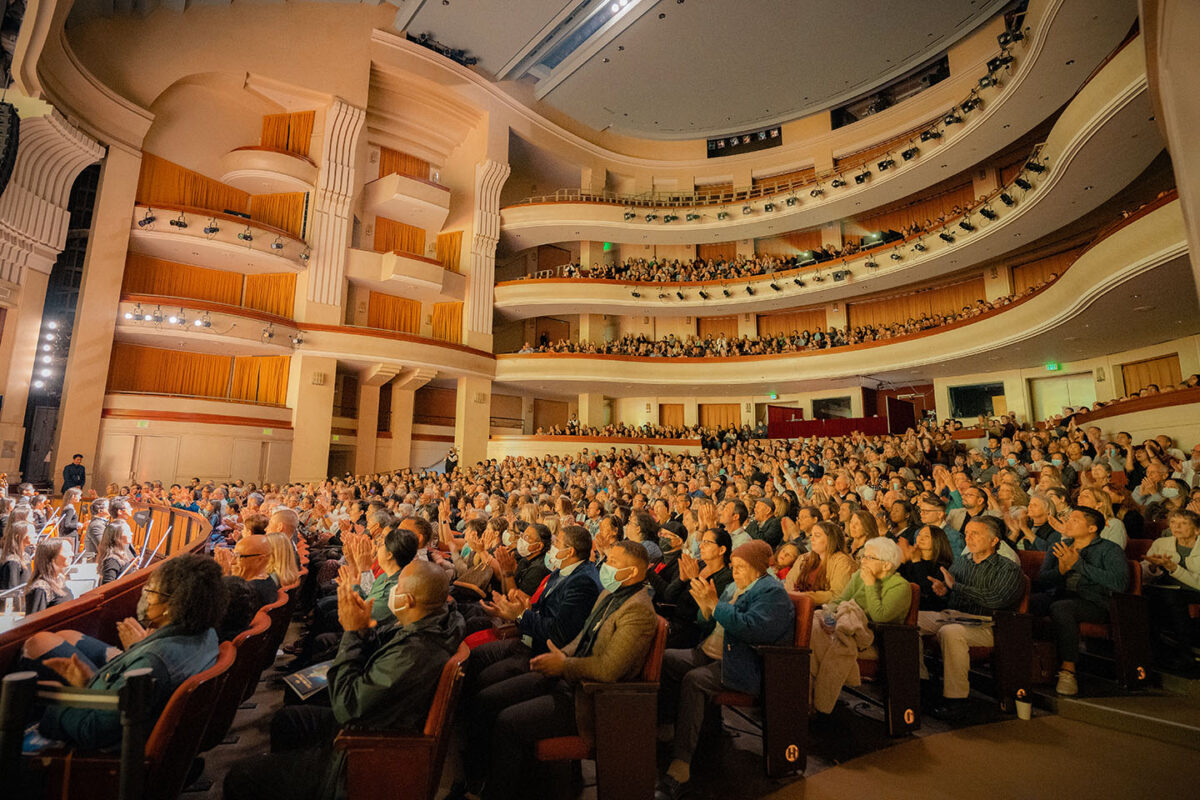 ESCONDIDO, Calif.— Josh Potter, freelance graphic artist in San Diego, said he found inspiration from the colors and beauty of Shen Yun Performing Arts.
"I thought it was really creative … it was like a living painting," he said, "brilliant colors, love the costumes, colors, and the lighting was perfect too!"
Mr. Potter and his wife Michelle attended the matinee performance of Shen Yun at the California Center for the Arts, Escondido on Feb. 11.
"I just thought it was a very beautiful and uplifting experience," said Mrs. Potter, "the dancers, the orchestra, everything about it."
Subscribers to The Epoch Times, the Potters said they first heard about Shen Yun and their mission to revive China's 5,000-year-old traditional culture in the paper.
"I just love the culture," said Mrs. Potter, "and just wanted to know a little bit more about China before communism."
In regards to the Chinese traditional dress, values, and art, she said, "it's just all so beautiful. It comes from a divine place."
Josh and Michelle Potter at the California Center for the Arts, Escondido on Feb. 11. (Jane Yang/The Epoch Times)
Based in New York, Shen Yun is the world's premier classical Chinese dance company. The production presents folk dances, solo performances, and story-based pieces that tell tales from ancient times to the modern day.
Shen Yun also features a one-of-a-kind orchestra that blends traditional Chinese instruments into a classical Western orchestra and a patented animated backdrop technology that allows for seamless interaction between the dancers on stage and the background scenery.
"I love the live orchestra," said Mr. Potter, "It sounded like you were listening to a recording, they're so good!"
As an artist, Mr. Potter was especially impressed with the dimensionality of the performance and the integration of an animated backdrop.
"How they integrated the digital background with the actors … how they interacted that way, was really different," he said, "I've never seen that before … overall I give it an A!"
Mrs. Potter commented that the performance uplifted her saying, "I feel very happy."
"I think everyone should come see this … kids and adults," she added.
Reporting by Jane Yang and Jennifer Schneider.
The Epoch Times is a proud sponsor of Shen Yun Performing Arts. We have covered audience reactions since Shen Yun's inception in 2006.